According to reports, Apple may launch a third-size Apple Watch next year, and the "Apple Watch 8" will be the Apple Watch with the largest display size so far.
When listing
Manner coffee
Foreign media reported that Manner Coffee plans to be listed on the Hong Kong Stock Exchange in 2022, and it is expected to raise US$300 million. In response, Han Yulong, the founder of Manner Coffee, responded that there is no relevant plan.
big company
"Squid Game" has over 100 million viewers worldwide in the 26 days it went online, setting a record in the U.S. list
According to reports, Netflix's original Korean drama "Squid Game" has been online for 26 days, with more than 100 million viewers worldwide. Netflix said that 111 million viewers around the world watched "Squid Game." Since its launch on the 17th of last month, the show has topped the "Today's ratings" in 94 countries. It is the first time that Netflix's non-English drama has led the top ten list in the United States for 21 consecutive days. (interface)
State Grid subsidiary sues Jia Yueting and LeTV Motors
According to data, recently, Jia Yueting and LeTV Automobile (Beijing) Co., Ltd. were sued by Beijing Yingda Capital Management Co., Ltd. (a wholly-owned subsidiary of State Grid Co., Ltd.) due to loan contract disputes. The relevant case number (2020) Jing 04 322 No., the case will be heard in Beijing Fourth Intermediate People's Court on November 10. (Technology Apes)
Kuaishou e-commerce lowers this year's GMV target to 650 billion yuan
Kuaishou e-commerce has set a total turnover (GMV) target of 650 billion yuan this year. According to the Kuaishou financial report, the GMV of Kuaishou e-commerce in the first half of the year was 264 billion yuan, 41% of the total target has been achieved. (LatePost is late)
The three major US stock indexes closed mixed, and popular Chinese concept stocks generally rose
36 Krypton learned that the three major US stock indexes closed mixed. The Dow fell slightly by 0.53 points, the Nasdaq rose 0.73%, and the S&P 500 rose 0.3%. Popular Chinese concept stocks generally rose, with Pinduoduo rising more than 4%, B station rising more than 3%, and Ali, JD and Baidu rising more than 2%. Fogcore Technology rose by nearly 15%, Xiaopeng Motors rose by more than 5%, and Weilai and Ideal Automobile rose by more than 2%. China Education stocks generally rose, New Oriental rose by more than 8%, and the future rose by more than 5%. Most of the large technology stocks rose, Microsoft and Amazon rose more than 1%, Google rose 0.83%, Netflix rose 0.77%, and Apple fell 0.42%.
Weilai responded to "Navigation interface pop-up advertisement": it is a business notification push
Regarding a car owner claiming that the NIO car navigation interface pops up an advertisement, the relevant person in charge of NIO said that this is a business notification push of NIO, and NIO will not use the car screen for advertising. (China-Singapore Jingwei)
Byte starts the second round of option repurchase this year, at US$132 per share
ByteDance launched the second round of option repurchase this year last week. The repurchase price for current employees is US$132 per share. Resigned employees have not yet received the option repurchase emails. Employees who joined Bytedance in the second half of this year were granted options at $190 per share. The email shows that the repurchase quota does not exceed 70% of the total amount of vested options, and the options participating in the repurchase have matured for at least one year. At the end of May this year, the repurchase price of Bytes' internal options was $126 per share. (LatePost is late)
Xi'an released the second batch of reference prices for second-hand housing transactions, and the average market price has fallen for 3 consecutive months
According to data from the Zhuge Housing Data Research Center, since Xi'an introduced the second-hand housing reference price mechanism in July this year, the popularity of the second-hand housing market has declined. The average housing market price remained stable. The average price per square meter of the second-hand residential market in Xi'an in July, August and September was 15,435 yuan, 15,406 yuan and 15,316 yuan respectively. (Surging)
Zhang Kun "organized a group" to investigate Dongpeng Beverage, and the fund began to "focus on" consumption
Recently, Dongpeng Beverages disclosed the survey records of institutions in September. In the list of participating in the survey, Zhang Kun, Fu Hao, Wang Yuanchun, Wuyang, Lin Gaobang and many other E Fund/investment managers appeared in the list. In addition, star fund managers such as Fu Youxing and Wu Xingwu of GF Fund also appeared. In addition to Dongpeng Beverages, since September, many consumer stocks have been investigated by organizations. From an institutional point of view, public funds generally believe that the overall trend of the consumer sector in the past few years is difficult to reproduce, but there are many investment opportunities in optional consumption and emerging consumption. (Securities Times)
Affected by the lack of cores, it is reported that Apple has lowered its iPhone production target for the year
After the market on Tuesday, the media quoted people familiar with the matter as saying that due to the inability of Broadcom and Texas Instruments to deliver enough parts on time, Apple has notified its production partners to lower its production target for the year by nearly 10 million. The company had previously expected to produce 90 million new iPhones in the last three months of this year. Affected by this news, Apple fell more than 1% after the market on Tuesday. (Associated Finance Press)
The actual controller of Huayi Brothers reduces holdings and repays debts, Huayi Brothers loses 6.2 billion in 3 years
On the evening of October 12, Huayi Brothers announced that one of the actual controllers, Wang Zhonglei (Wang Zhonglei), planned to reduce his holdings by no more than 55.585 million shares, that is, no more than 2% of the company's total share capital. The funds from the reduction of holdings are mainly used to repay stock pledge financing, reduce pledge risks, and better guarantee the stability of control rights. Financial report data shows that from 2018 to 2020, Huayi Brothers lost a total of 6.195 billion yuan in three years. (Boss Hookup)
Cook: Apple will donate to support Shanxi
On October 13, Apple CEO Cook @TimCook announced on Weibo that Apple would donate money to help rebuild Shanxi. He said, "As the Shanxi region gradually recovers, we want to do our part to support disaster relief and help reconstruction. Apple will donate money to help affected communities."
Ningbo: A house with common property rights can be listed for transfer after 10 years of obtaining a real estate certificate
It is learned from the Ningbo Housing and Urban-Rural Development Bureau of Zhejiang Province that the Bureau has drafted the "Ningbo City's Common Property Housing Management Measures (Trial)", which involves the preparation methods, fund raising, support policies, price, ownership issues and issues of common property housing. transfer. Regarding the issue of the repurchase of the property rights of the acquirer, the "Draft Opinions" proposes that the common property housing that has obtained the real property rights certificate for more than 10 years can be listed for transfer. (Surging)
Tesla reached another nickel supply agreement to purchase 42,000 tons of nickel
New Caledonia-based Prony Resources said on Wednesday that Tesla has agreed to purchase more than 42,000 tons of nickel in a multi-year agreement that will make Prony a key nickel supplier for Tesla. Prony did not disclose how many years the agreement with Tesla will last. According to Steven Brown, an independent expert on battery minerals in Sydney, Tesla expects to use about 30,000 tons of nickel in batteries this year, and nickel consumption may increase rapidly in the next few years. (Sina Finance)
Huawei applied for the "Hongche" trademark
36 Krypton was informed that the Tianyan Check App showed that recently, Huawei Technologies Co., Ltd. applied for the registration of the "Hongche" trademark. The international classification involves website services, scientific instruments, etc. The current trademark status is in application.
Blue Origin's second manned space flight, breaking the record for the oldest space flight of mankind
At 22:49 pm on October 13, Beijing time, Blue Origin, founded by Bezos, carried out its second space travel launch mission at the West Texas No. 1 launch site. The Shepard NS-18 aircraft used this time carried four passengers to the edge of space more than 100 kilometers high. The entire experience process lasted about 15 minutes. This time the passengers included the actor William Shatner, who had appeared in "Star Trek" Captain Kirk. The 90-year-old Shatner broke the 82-year-old Wally Fink as the oldest space tourist. A record set in a blue origin space flight. (Sina Finance)
Ou Feiguang: Estimated net loss of 58 million to 70 million yuan in the third quarter, and a profit of 237 million yuan in the same period last year
36 Krypton learned that OFILM announced that it expects a net loss of 58 million yuan to 70 million yuan in the third quarter, and a profit of 237 million yuan in the same period last year. Affected by the termination of the procurement relationship by specific overseas customers, the company's product shipments related to specific customers in the third quarter were 0, a year-on-year decrease of 100%; due to major changes in the international trade environment, the H customer's smartphone business suffered chip supply cuts, etc. Restrictive measures have led to a significant year-on-year decline in the company's shipments of many products.
Moutai International Hotel, a subsidiary of Kweichow Moutai, cancels guests' purchase of Moutai for RMB 1,499
If you cancel your check-in at Moutai International Hotel, you can enjoy 1499 yuan to purchase Feitian Moutai qualification, that is, "book a room and buy wine" activity. You can only buy Feitian Moutai at the original price by replacing it with dining in the dining area. The Feitian Moutai purchased at the original price can only be consumed on the spot, wine bottles, packaging boxes, etc. cannot be taken away. Earlier media reports indicated that Moutai International Hotel has become a transit point for scalpers to resell Moutai. (Associated Finance Press)
Investment and Financing
"National Automobile Intelligent Control" completed a pre-A round of financing of over 100 million yuan
36 krypton was informed that "National Automobile Intelligent Control" has completed a pre-A round of financing of more than 100 million yuan, and the investors are all old shareholders including Guoqi Zhilian. This round of funds will be used for R&D investment in China National Automobile Intelligent Control and the company's cooperation with automakers for mass production development. In June of this year, China National Automobile Intelligent Control also completed an angel round of financing of nearly 100 million yuan. The investment was led by China Military Financial Investment, followed by Zhongguancun Frontier Fund, Yiqi Lihe and other institutions.
"Huakong Clearing" completes 500 million yuan in Series B financing
36 Krypton learned that "China Securities Clearing Company" has announced the completion of 500 million yuan RMB B round of financing. Investors in this round of financing include old shareholders Lenovo Ventures, Zhongguancun Science City, OPPO Group, Xunce Technology, CICC, Puxin Capital of Shanghai Pudong Development Bank, Huaxing Capital, Langmafeng Capital, and Tongchuang Weiye. According to the company's introduction, the post-investment valuation of Huakong Clearing's Series B financing exceeded RMB 4 billion. It is observed that this valuation is currently at the top of the domestic privacy computing field.
Suzhou Best Electric Co., Ltd. Receives A-round Financing of Over 100 Million RMB
On October 12, Suzhou Best Electric Co., Ltd. received a round of financing of over 100 million yuan, invested by Shun Capital, SDIC China Merchants, Su Gaoxin Venture Capital Group, Northern Light Venture Capital, Qianhui Capital, and Shenzhen Venture Capital. The company is mainly engaged in the research and development, production and sales of power distribution systems, high-voltage generators, combined X-ray sources and other products; to provide customers with overall solutions for the core components of X-ray imaging systems. The company's products are mainly used in high-end X-ray imaging systems, such as: DR, CT, mammography, C-arm, CBCT, safety inspection and industrial inspection, etc.
Shanghai Neusoft Reach completes 650 million financing
Recently, Neusoft Reach announced the completion of an investment of 650 million yuan, led by SDIC China Merchants. Neusoft Reach is an unmanned driving technology developer, providing users with multiple types of object detection and recognition technology, multi-sensor fusion technology and multi-core-based high-performance computing technology. The main products include new energy vehicle power battery systems, intelligent charging systems and advanced Assisted driving system. (Neusoft Group)
Cloud native open source data platform "StreamNative" received $23 million in Series A financing
36 Krypton learned that the cloud-native batch-stream integrated data platform "StreamNative" announced that it has received US$23 million in Series A financing. This round of financing was jointly led by Prosperity7 Ventures, a diversified venture capital fund under Saudi Aramco, and Huatai Innovation, a subsidiary of Huatai Securities. Shan China and Source Code Capital continue to increase their weight. This round of financing will be mainly used for product research and development and team talent recruitment, to increase investment in messaging, stream storage and stream processing technology, and to accelerate iterative optimization of product services and customer growth.
Cool product
It is reported that Apple will launch Apple Watch 8 next year: with 3 sizes
According to reports, Apple may launch a third-size Apple Watch next year, and the "Apple Watch 8" will be the Apple Watch with the largest display size so far. So far, all Apple Watch models have two sizes, "small" and "large". For example, Apple Watch 7 has two configurations: 41mm and 45mm. (Sina Technology)
Apple wants to make AirPods a health device: it can monitor body temperature and posture
According to reports, after more than 7 years of hard work, Apple has begun to extend some of the health monitoring functions of Apple Watch smart watches to AirPods wireless headset products. Some of the latest public documents and people familiar with the matter said that in the future AirPods may support body temperature monitoring, and there are already "prototype products." It can also enhance hearing and help the hearing impaired. (Sina Technology)
Send WeChat voice call will automatically play Moments
Recently, users who have upgraded the latest version of WeChat discovered a new feature: When making a friend's voice call, WeChat will automatically scroll through the Moments of the other party's posts within three days. WeChat official did not mention this feature, and it seems that not all users can experience it now. (Sina Technology)
Successfully developed China's first composite signal intelligent bionic hand
Recently, the first composite signal intelligent bionic hand developed by Yang Yong's team at the Department of Hand Surgery of Beijing Jishuitan Hospital was successful. Based on the original EMG signal, this smart bionic hand uses an original muscle redistribution technique (MRT) to convert the thumb's motion intention into a limb deformation signal, which is collected by a self-developed deformation sensor. Enriching the output of human motion signals makes the control of the intelligent bionic hand more natural and smooth. (Xinhua News Agency)
Lucid said the Air series car will become the first lidar version in the United States
Lucid Group stated that its first electric car, Lucid Air, will be the first mass-produced car in the United States equipped with a dedicated laser sensor or lidar, which can implement a variety of advanced driver assistance functions. Lucid will include this system as standard in the first version of the car. (Zhitong Finance)
After wave small data
Over 93 million people watched the movie on National Day, and the ideal ticket price in the hearts of the audience is less than 30 yuan
This year's National Day films "Changjin Lake" and "My Fathers and Me" are hot. The cumulative box office from October 1st to 7th reached 4.387 billion yuan, and more than 93 million people entered the theater to watch the movie. In recent years, as more and more audiences have begun to enter movie theaters, movie ticket prices have also risen year by year, with some 3D giant screen movies even reaching 100 yuan.
In this regard, 36Kr·Houlang small data surveyed the current young people's acceptance of movie ticket prices, and finally a total of 1,343 netizens participated in the survey. The results show that 50.6% of young people's ideal fare is less than 30 yuan, and 41.1% of young people are willing to accept a ticket price range of 30 to 60 yuan, and only 3.3% are willing to spend more than 30 yuan for a movie. 100 yuan.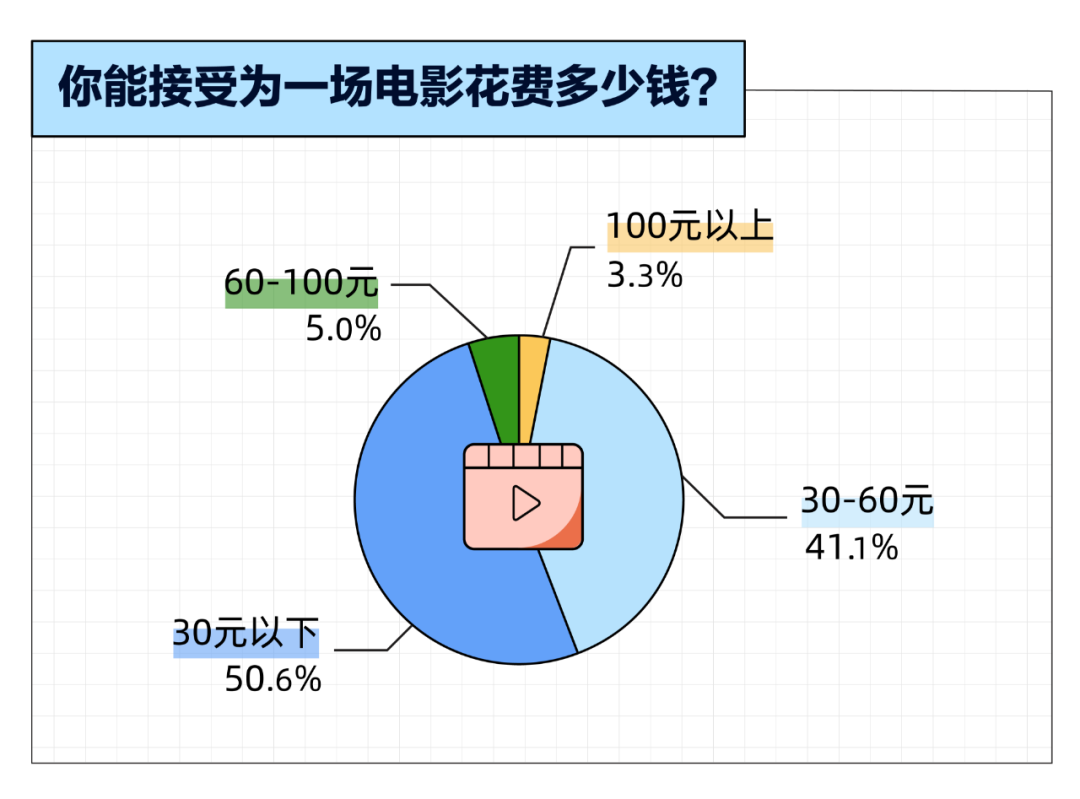 After wave small data
Krypton Events
Don't guess the boss' salary, what truth about the salary revealed by Lenovo's high salary?
The new short video column "Krypton Events" will be launched at 8:01 Krypton, which will provide a fresh interpretation of the major events in the business world every 2 minutes.
Information Board
Transferring ByteDance shares, the valuation is adjusted from the original 360 billion US dollars to 400 billion US dollars, the seller is a first-hand financial adviser, the asset size is equivalent to 100 million US dollars, and the FA fee is 2.5%. The specific transfer of the entire Spv, of which the valuation of 400 billion US dollars ends on October 15, is expected to increase in price in the later period. Contact email ([email protected])
This article is from the WeChat public account "36氪" (ID: wow36kr), 36氪 is authorized to publish.
.