Source title: 8BitDo new product release: Arcade rocker authorized by Microsoft to wirelessly connect to Xbox host
On the occasion of the release of "Street Fighter 6", the well-known game peripheral brand 8BitDo released a brand new 8BitDo arcade joystick Xbox version. This is an arcade joystick that is officially authorized by Microsoft and is wirelessly connected to the Xbox console. It has been upgraded in all aspects in terms of function and quality, bringing a better gaming experience to the majority of game lovers.
Babitang Arcade Joystick Xbox Edition adopts the classic industrial aesthetics design. It provides Dreamland Black and Milky White. It is moderate in size, exquisite and simple. It can be said to be a work of art among arcade joysticks. It is an arcade joystick that is authorized by Microsoft and supports wireless connection, allowing game lovers to experience the fun of games without the limitation of wires.
Babitang Arcade Joystick Xbox version is compatible with Xbox Series / Xbox One series consoles, Windows 10 / 11 system, supports wired connection / 2.4G wireless connection, and has good adaptability and compatibility.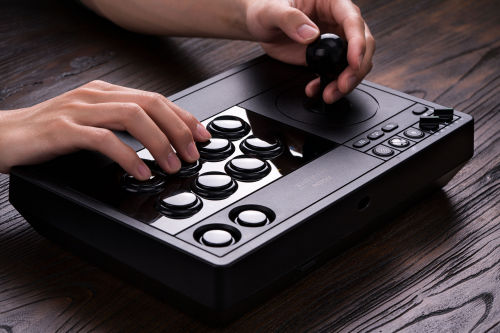 The 8BitDo arcade joystick Xbox version integrates the advantages of 8BitDo products, inherits the brand's excellent industrial aesthetic genes, uses high-quality joysticks, buttons and other components, supports wireless headset functions, and supports elite The software is customized, and the joystick can be switched conveniently, providing consumers with a full range of game control blessings.
Babitang Arcade Joystick Xbox version does not need to be paired, just plug and play. Built-in 1000mAh battery, fully charged within 4 hours, can be used continuously for 30 hours, and the battery life is even more impressive. At the same time, the joystick also has a power indicator light and an Xbox status indicator light, which is more convenient and intuitive to display the working and standby status of the joystick.
The joystick function area is set above the product, including a series of function keys such as headset switch, left and right joystick switching, quick exchange button function, Home button, configuration switch, and joystick mode/handle mode switching key, which can be quickly set and Switching is convenient for users to preset personalized joystick functions, and start a wonderful game experience in the way they are most familiar with.
In terms of price, the Xbox version of Babitang Arcade Joystick is priced at US$119.99 overseas and 699 yuan domestically. It is expected to be listed at the end of June, so stay tuned!
As an innovative technology company focusing on game peripherals, and also the first Chinese game peripheral brand authorized by Microsoft, 8BitDo has always been committed to using the latest technology and unique appearance design for Players have created a series of high-quality, high-performance, high-compatibility, and high-portability game controllers, which have successively obtained Microsoft and other brand certifications, and won many international design awards such as the Red Dot Award. The release of the Xbox version of Babitang arcade joystick has further enriched the product line of the brand and provided users with another new choice for high-quality gaming experience. In the next step, Babitang will continue to forge ahead, and through continuous innovative products, let every consumer experience the charm of games and feel the fun of games.
Disclaimer: The purpose of reposting this article on this website is to provide readers with more information, and the content involved does not constitute investment or consumption advice. If you have any questions about the facts of the article, please check with the relevant parties. The opinions of the article are not the opinions of this website, and are for readers' reference only.