December 29,Snowman sharesThe "Earth and Sky Board" was staged, and an organization madly bought 122 million yuan. However, some stockholders cut their meat in the morning, "cry and faint in the toilet."
  Snowman sharesStaged "Earth and Sky Board"
  Recorded 4 boards in 6 days
December 29,Snowman sharesThere was a trend of "earth and sky board". Snowman shares, which once hit the limit in early trading, began to rise in the afternoon. As of the close, the stock had a daily limit of 13.49 yuan, with a total market value of 10.4 billion yuan. On the disk, hydrogen energy stocks have performed well recently.
It is worth noting that the recent share price performance of Snowman shares has been strong, with daily limit on December 22, 23, and 27, achieving 4 boards in 6 days. Since the beginning of this year, the stock has already doubled, and the stock price has risen by more than 104% during the year.
  Hydrogen fuelBatteryConcept stocks are active
On December 29, hydrogen fuelBatteryConcept stocks continue to be active. Affected by the news,Chunhui Intelligent Control20% daily limit,Shouhang Hi-Tech、Bao Tai LongThe previous daily limit,Hengguang shares、Capital sharesWait for the increase in the top.
On the news, Zhang Jianhua, director of the National Energy Administration, announced the seven key tasks of energy work in 2022, among which they put forward the key to promoteGasTechnological breakthroughs in key areas such as turbines, nuclear power, renewable energy, oil and gas, energy storage, and hydrogen energy.
SafetySecuritiesSaid that in the context of the dual-carbon strategy, hydrogen energy will usher in a period of accelerated development. After China's carbon peak in 2030, in order to meet the requirements of carbon neutrality in 2060, it is estimated that about 300 million tons of carbon dioxide will be reduced each year. Therefore, in addition to equipment energy-saving transformation, photovoltaic wind power, CCUS and other means, the replacement of traditional fossil energy with low-carbon energy and carbon-free hydrogen in the energy field has become the promotion of dual-carbon hydrogen production-storage and transportation-refueling/application three The relevant listed companies have been sorted out in each link for institutional investors as a reference. With the help of policies, the hydrogen energy industry is ushering in a period of rapid development. It is recommended to pay attention to the industrial chain links with high technical barriers, industrialization/industrialization soon, and listed companies with clear main businesses.
  Snowman shares frequently listedDragon and Tiger List
  One institution bought 122 million yuan
On December 29th, Snowman shares became the price fluctuation of 15% on that day.Securities, The day's increase deviated by 7%Securities, Securities with a turnover rate of 20% on the same day, and the deviation of the closing price increase in three consecutive trading days by a cumulative 20%, and boarded the dragon and tiger list.
The total net purchase of the top five seats is 102 million yuan, of which one is dedicated to institutions, 122 million yuan is bought and 52,891,300 yuan is sold, and the net purchase is 69.019 million yuan; the third is "quantitativefund"CICC Fortune Securities Beijing Songzhuang Road Sales Department.
And this institution's dedicated seats frequently appeared. From December 22 to 24, an institution bought more than 100 million yuan in Yeti shares. In addition, from December 27th to 29th, the dedicated seats of institutions occupied the first place in the list of buy one and sell one. During the period, net purchases were 3.488 million yuan.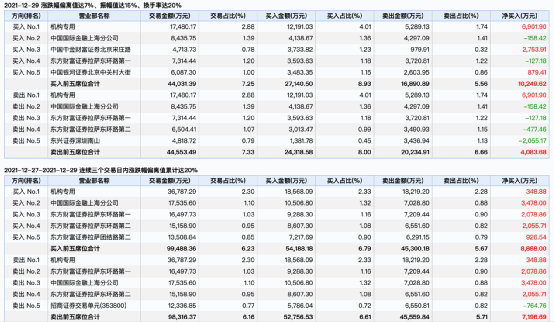 On December 27, the hot money relay sealed the shares of Snowman. Longhuban data shows that the two business departments from Hangzhou have a combined net purchase of over 60 million yuan. In addition, the Shanghai branch of Huaxin Securities has a net purchase of 12.9463 million yuan. Judging from the data from the Snowman's post-market Longhu List, funds have also moved from institutional initiation to hot money relay.

  Investor: I cut the meat and sold it in the morning, crying
On the evening of December 26, Snowman shares announced abnormal fluctuations in stock tradingannouncement.After verification, Snowman shares stated that there is no need to correct or supplement the information disclosed in the previous period; the company has not found recent public media reports that may or have had a significant impact on the company's stock trading price undisclosed material information; recent company production and operation status Normal, no major changes have taken place in the internal and external business environment; the company, holdingshareholderWith the actual controller Mr. Lin Rujie, there are no major matters that should be disclosed but not disclosed about the company, or major matters that are in the planning stage.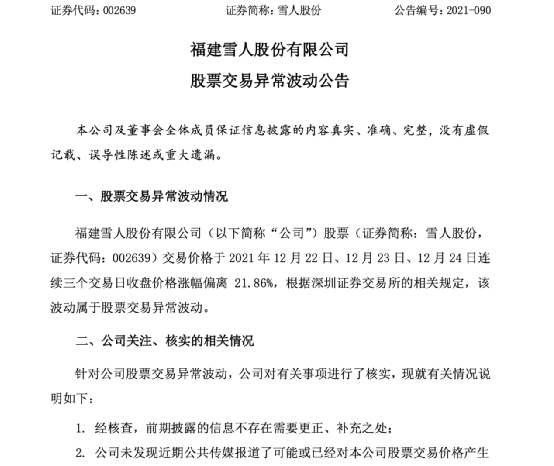 At the same time, upon inquiry, the company's controlling shareholder and actual controller Mr. Lin Rujie did not buy or sell the company's stock during the period of abnormal fluctuations in the company's stock transactions; the company did not violate the fair disclosure of information.
However, the above announcement does not seem to stop investors' enthusiasm. Some investors said, "Pray that the daily limit is finally reached for a day."


However, some netizens also said, "I lost more than 10,000 in the morning, and I lost more than 10,000. I turned the daily limit in the afternoon and cried."


As of the end of the third quarter, Snowman shares a total of 62,200 shareholders.

  Snowman shares related industries in the field of hydrogen energy
On December 24, Snowman disclosed the record of investor relations activities. More than 30 well-known institutions participated, includingChina SecuritiesSecurities,Shen Wan HongyuanSecurities,China Asset Management, Qianhe Capital, etc.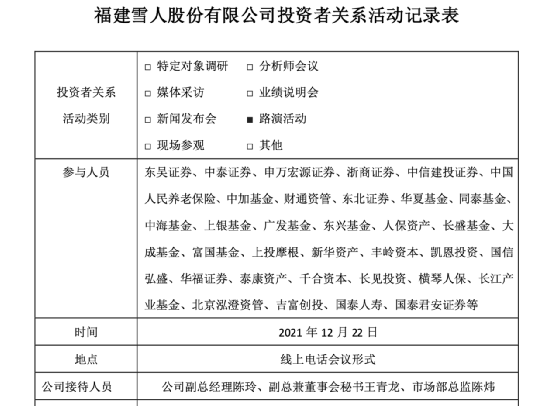 According to reports, Snowman Co., Ltd. is a high-tech enterprise that manufactures cold and heat equipment and new energy equipment with compressors as its core, complete industrial chain, advanced technology, first-class equipment, core technology and world-renowned brands. The company has always developed around the field of thermal energy and power, and is committed to providing efficient, clean and sustainable cold, heat and energy utilization equipment for the world. The company's business covers more than 60 countries and regions in the Middle East, Southeast Asia, America, Europe, and Africa.
In terms of the development of cold chain logistics, Snowman shares a basis for cooperation with many cold chain logistics companies. Customers include more than 200 companies and customer resources such as agricultural and sideline products and food manufacturers, fresh food e-commerce, supermarkets and agricultural markets, etc.Jingdong, Cargill, Tyson, LG, Swire Cold Chain, GLP, Shuanghui Cold Chain and other domestic and foreign cold chain logistics companies provide complete cold chain logistics equipment solutions for Muyuan, Shengnong, Mengniu,Tang Ren ShenThe cold chain logistics facility project for meat and poultry slaughtering, processing and circulation such as Shuanghui, COFCO, and Si Nian Foods provides new public cold storage reconstruction and supporting facilities for Meituan,Yonghui Supermarket, COFCO Womai.com,Daily Fresh、HaidilaoAnd other new retail companies provide standard urban turnover distribution warehouses and e-commerce logistics cold storage.
In addition, Snowman also mentioned that the current development of new energy refrigerated trucks is lagging behind, and lithiumBatteryAutomobiles cannot meet the requirements of heavy-duty endurance and refrigeration and refrigeration. Hydrogen refrigerated vehicles will usher in development opportunities. The company is committed to developing the application of natural refrigerant compressors and refrigeration systems. For the refrigeration industry, it can replace fluorine refrigerants and reduce carbon emissions.
It is worth noting that in April this year, Snowman issued an announcement to enter the field of hydrogen energy. On April 1, Snowman issued an announcement that the company used its own funds to invest 20 million yuan to establish a wholly-owned subsidiary, Snowman Hydrogen Energy. Snowman shares stated that Snowman Hydrogen Energy will be the undertaking unit of the company's fuel cell stack and system R&D and production, which is in line with the company's long-term development strategy needs.
On April 23, Snowman plans to issue shares in a non-public offering, raising no more than 670 million yuan for hydrogen fuel cell system production base construction projects, hydrogen energy technology research and development center construction projects and supplementary liquidity. The actual controller Lin Rujie will pay 6000 Ten thousand yuan to subscribe for the company's shares issued this time.

Snowman said that from the perspective of industry trends, hydrogen fuel cell vehicles are one of the important routes for new energy vehicles. From the perspective of development planning, the project can provide assistance for the transformation of the regional industrial structure. From a product perspective, this project is conducive to my country's breakthrough in hydrogen fuel cell technology. From the perspective of the company's development, the project can enhance the company's product competitive advantage and seize industry opportunities.
.