[Epoch Times October 27, 2021](Epoch Times reporter Xu Jinxiu comprehensive report) Ma Ling, a mainland actress who lives in Beijing, suddenly became more than 100,000 yuan in her monthly electricity bill and bombarded the State Grid on October 23. However, two days later, Ma Ling was asked to delete the post. She bluntly stated that she was "insecure."
On the afternoon of October 25, a mainland netizen discovered that Ma Ling had deleted the post about electricity bills and asked why. Ma Ling replied: "They said that the problem can only be solved by deleting it." "If you don't delete it, they won't solve it. Solving the problem is the key."
Ma Ling continued to post: "It's terrible! No sense of security", "No sleep for three consecutive days, no sense of security."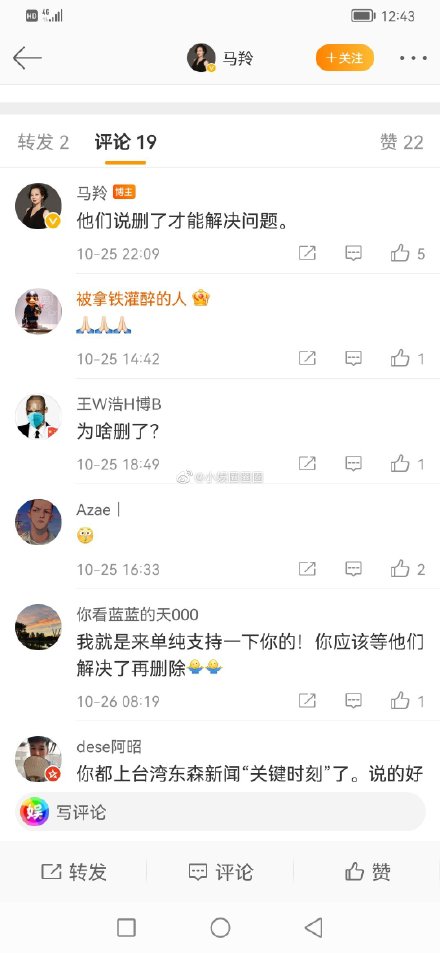 Earlier on the evening of October 23, Ma Ling directly shouted to the State Grid of China on Weibo: "State Grid…Is this going to be fraud? Extortion? Or what is it going to do???"
She went on to say: "It's terrible! My family of two, how can I spend more than 100,000 yuan a month on electricity bills????? In the days without air conditioning and heating, only lighting, more than 100,000 yuan?? I have paid dozens of dollars. Years of electricity bills! How could such a strange thing happen, with an electricity bill of 130,000 yuan a month. What does this mean???"
Ma Ling then posted his own electricity bill, which showed that the electricity bill in July 2019 was 503 yuan (RMB, the same below), the electricity bill in July 2020 was 988 yuan, and the electricity bill in July this year became 135,557 yuan.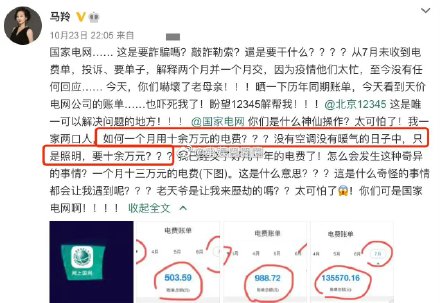 Not long afterwards, Ma Ling said on Weibo to update the progress. After posting, she sat at home and only turned on the light, TV, and a WIFI machine. After about an hour, she would check the electricity bill. This time she went straight to 150,000. 2,468 yuan, an increase of nearly 20,000 yuan in just one hour.
She said that although she called her to complain quickly, she had not been dealt with before posting a complaint on Weibo.
Editor in charge: Zhou Yiqian#
.