Today, #轮斯拉斯下线网红妻642事件# rushed into the hot search on Weibo and once occupied the second place in the hot search. The reason is that on October 10, Rolls-Royce officially released a promotional video, inviting the famous car critic Chen Zhen, as well as the founders of the Mumu Art Museum Lin Han, Lei Wanying (late night) and his wife. Test drive. After the release of the video, it quickly aroused heated discussion. Nearly 10,000 commentators were mostly questioning and criticizing voices, targeting Lin Han and Lei Wanying (late night) couple.
access:
Microsoft Surface Pro 8/Go 3 National Bank Edition starts with a pre-sale minimum of 2988
Many of these commentators are car owners, who believe that the spokesperson has lowered the customer base and accused Rolls-Royce for failing to back-tune before looking for a spokesperson. One of the most well-known car owners, Wang Sicong, said bluntly, "Suddenly I feel that RR is very low, and I will not buy it in the future."
This time the controversy is actually very simple. In essence, it is the conflict between Rolls-Royce's owner's sense of identity and brand identity, and the brand's demand for youthful marketing.
Take Wang Sicong as an example. Although he can show up at roadside stalls in the middle of the night to eat mala Tang, he can also eat hot dogs without hesitation while watching IG's live broadcast, and he can even tear various stars on social platforms, much like Internet celebrities. He is indeed more in line with the positioning of Rolls-Royce owners than the spokesperson in the video.
In fact, Wang Sicong is a big fan of Rolls-Royce. According to reports, Wang Sicong owns a customized Rolls-Royce Phantom that sells for over 10 million and a blue Rolls-Royce Shadow that starts at 5.2 million. In addition, his garage is said to have luxury cars such as Lamborghini, Porsche and Bentley.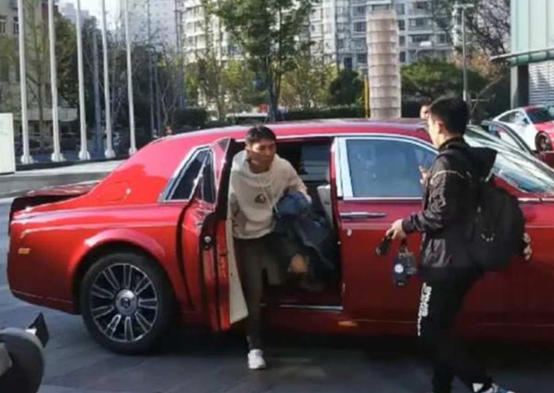 More precisely, Wang Sicong is a Rolls-Royce and a typical user of other luxury car brands in the Chinese market.
Data show that in 2020, Rolls-Royce sales were 3576 units, a year-on-year decrease of 26.4%. However, in 2020, the proportion of sales in the Chinese market increased to nearly 30%, an increase of about 5 percentage points from 2019. As early as 2019, the Chinese market has become the second largest market in the Rolls-Royce brand after the US market. As China takes the lead out of the impact of the new crown epidemic, Rolls-Royce's dependence on China has become more serious.
In China, the average age of owners who buy Rolls-Royce is 40, and even 20% of them are under 20. In other words, one out of every five Rolls-Royce owners is born after 00.
Wang Sicong is a typical of these young car owners and a trend in luxury car consumption in the Chinese market. Chinese luxury car consumers are getting younger and younger. Their average age is less than 39 years old. Compared with their parents, they are more educated, good at innovation and daring to consume.
Precisely because of this, whether it is Leslie or other luxury car brands, it is in line with the future development trend of China's luxury car market to seize young users. For this reason, Bentley has launched a two-door version of the Continental GT, and Rolls-Royce has also launched an SUV model that is more inclined to younger users.
The trend of younger car owners has also prompted many luxury car brands to shift from the original "wine fragrance is not afraid of the deep alleys" to adopt creative marketing, cross-border cooperation with celebrities and other means to add heat and youthful vitality to the brand, and attract more young users. attention.
In this endorsement video of Rolls-Royce, in addition to using the car critic Chen Zhen to endorse the car, the invited Mumu Art Museum founder Lin Han, Lei Wanying (late evening) and his wife, etc. highlight the rejuvenation of marketing need.
In addition to the disagreement between the spokesperson and the brand positioning, the Mumu Art Museum itself is also quite controversial. This is a non-profit art institution established by the two in 2014. According to reports, in March 2021, the Mumu Art Museum caused concern due to a worker's death during construction. However, the parties took a cold approach to the matter and did not publicly apologize until about 100 hours after the incident was exposed.
Subsequently, in May, Mumu (Beijing) Art Consulting Co., Ltd., which was actually controlled by Lin Han, was fined 340,000 yuan by the Beijing Dongcheng District Emergency Management Bureau due to "safety hazards".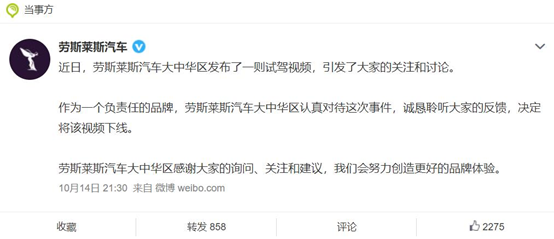 It can be seen that netizens, including car owners, criticize Rolls-Royce's ads for being irresponsible. After the matter was fermented, Rolls-Royce posted a note on the official Weibo on October 14:
Recently, Rolls-Royce Motor Cars Greater China released a test drive video, which aroused everyone's attention and discussion.
As a responsible brand, Rolls-Royce Motor Cars Greater China takes this incident seriously, sincerely listening to everyone's feedback, and decided to take the video offline.
Rolls-Royce Motor Cars Greater China is grateful for your inquiries, concerns and suggestions. We will work hard to create a better brand experience.
However, this apologetic statement rejected any comments from users.
Sina Technology Hua Zijian
.