© Reuters. Boeing rises about 4%: first-quarter revenue growth of 28% year-on-year will increase 737 aircraft production
Investing.com – Boeing (Boeing) (NYSE: ) announced a mixed first-quarter financial report before the market on Wednesday (26th). More than expected, but Boeing said it would boost 737 production.
Boeing's first-quarter revenue rose 28% year-on-year to $17.92 billion, beating market expectations of $17.43 billion as demand for aircraft increased. Meanwhile, the loss of $1.27 per share was much higher than the market's expected loss of $0.97.
Adjusted free cash flow for the quarter was only -$318 million, which was a big improvement from the previous quarter's -$3.22 billion and, while still negative, was above expectations of -$1.4 billion.
In terms of delivery volume, Boeing said that it delivered 64 aircraft in March, and the total number of aircraft delivered in the first quarter reached 130, slightly higher than the total number of 127 aircraft reported by Airbus EADSY, while Boeing surpassed Airbus for the first time in nearly five years. Breaking it down, Boeing delivered 113 737 Max and 11 787 Dreamliners in the first quarter.
Boeing reaffirmed its previous guidance to expect full-year operating cash flow of $4.5 billion to $6.5 billion and free cash flow (non-GAAP) of $3 billion to $5 billion.
Regarding delivery prospects, Boeing also reiterated its guidance to deliver 400-450 737 Max this year. The company also said it would increase production of the 737 to 38 per month. Earlier in mid-April, production of the Boeing 737 MAX suffered setbacks due to problems with fuselage brackets.
The company also said it would boost production of the 787 Dreamliner from three a month now to five by the end of the year and 10 by 2025/2026. However, the delivery of the 787 was also delayed in February.
Before the deadline, Boeing shares rose 3.84%.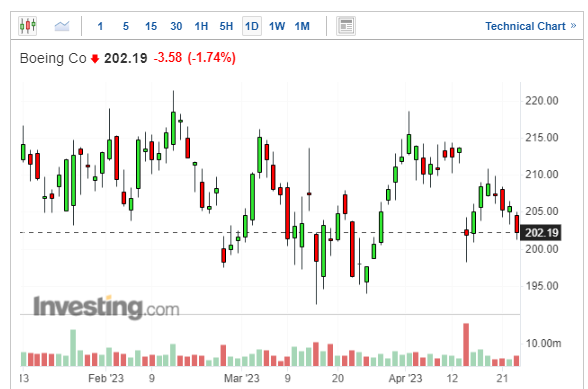 [This article is from Yingwei Caiqing Investing.com, to read more, please log in to cn.investing.com or download Yingwei Caiqing App]
recommended reading
Compiler: Liu Chuan