On June 25, Changan Deep Blue's first model SL03 officially opened for pre-sale at the Chongqing International Auto Show. The pre-sale price ranged from 179,800 to 231,800 yuan. It is planned to be officially launched before July 30, and large-scale delivery will be realized in August.
This is also the first model of the Changan Deep Blue brand since its establishment. In April this year, the Changan New Energy pure electric brand was officially named "Changan Deep Blue". So far, Avita, Changan Deep Blue, UNI, Auchan and LUMIN series under Changan Automobile have their own new energy businesses.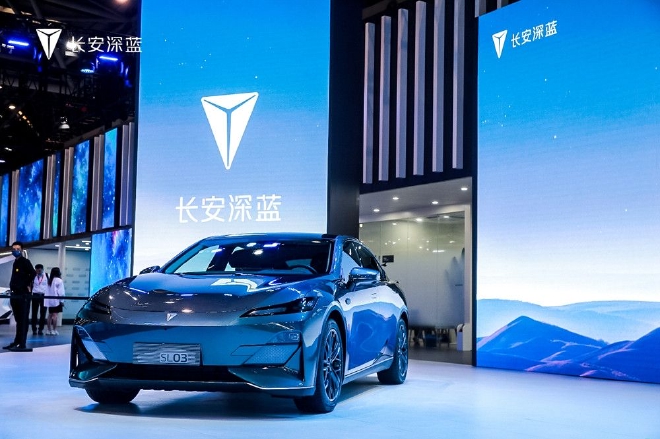 Specific to the product of Changan Dark Blue SL03, it undoubtedly brings fresh elements to Changan Automobile in the field of new energy. The new car comes from the Changan DeepBlue all-electric digital platform and is the culmination of Changan DeepBlue's leading technology. It is not uncommon to receive special attention from the market from years of industry experience and technology accumulation to first-line suppliers and new talents in digital technology.
In addition, Changan Dark Blue SL03 also launched three power models: pure electric version, extended-range version, and hydrogen fuel cell version, which also demonstrated Changan Automobile's thinking in this field.
The appearance design of the new car is very distinctive, with simple and neat lines, and the pursuit of low wind resistance does not make the rear part feel bloated and hunchbacked. The front line is simple, and although there is no split light source, the overall visual effect is still sharp and sporty.
Through the optimization of aerodynamics such as the fastback body, sports kit, hidden door handles, and closed wheels, the drag coefficient of Changan Dark Blue SL03 is as low as 0.23Cd.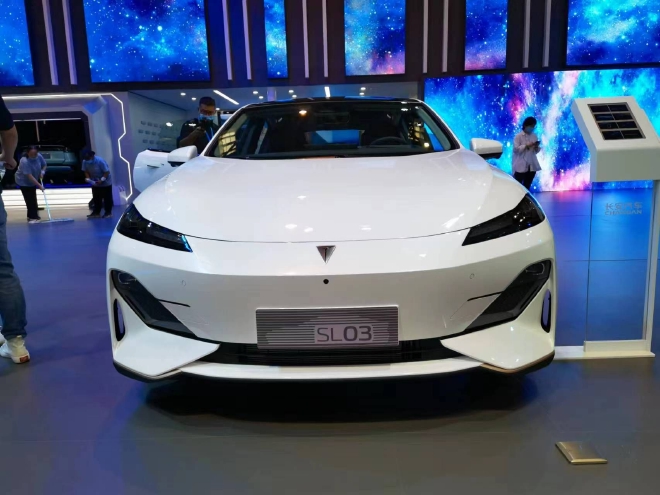 The Changan Dark Blue SL03 has a body size of 4820*1890*1480mm, a wheelbase of 2900mm, an aspect ratio of 0.78, and an axle-to-length ratio of 0.6.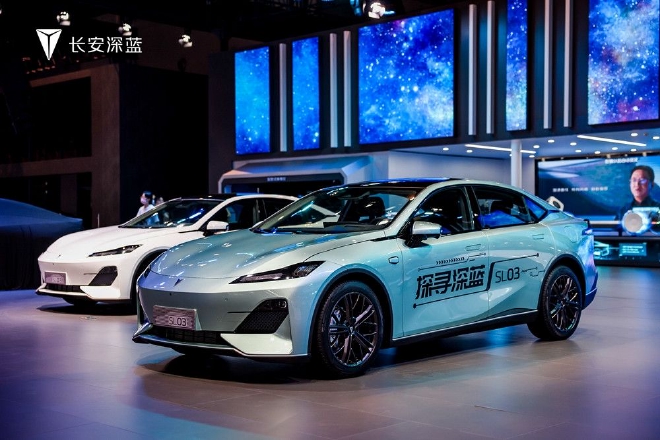 The new car is equipped with a number of technologies such as Changan's new-generation super-collector drive and the world's first micro-nucleus high-frequency pulse heating, which achieves a good balance in power and energy consumption. The pure electric version has two battery life versions of 515km and 705km, while the performance version has a maximum power of more than 190kW. The extended-range version has a comprehensive range of more than 1,200km under CLTC conditions, a pure-electric range of more than 200km, and a fuel consumption of less than 4.5L/100km. The hydrogen fuel cell version has a battery life of more than 700km under CLTC conditions, and consumes less than 0.65kg/100km of hydrogen without power, and it only takes 3 minutes to refuel.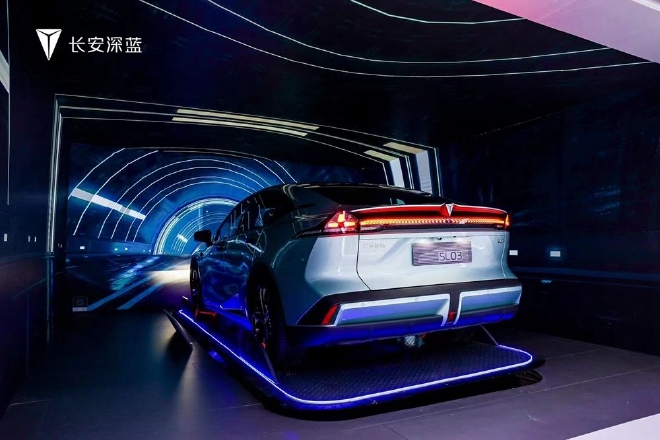 Two months ago, based on the long-range durability verification of the product in all scenarios, I also hoped that Changan Deep Blue SL03 would take a trip that said it would go.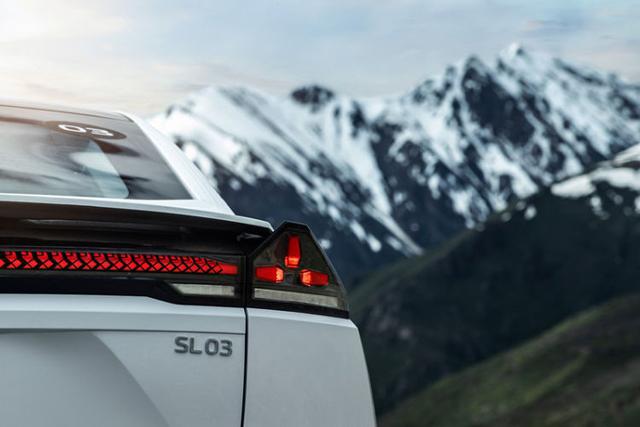 On May 30, 7 Changan Deep Blue SL03s set off from Chongqing, and started a magnificent journey around China in two routes: south and north. The northern line is along the most American road 318, passes through Kangding, crosses the Zheduo Mountains, passes through Nyingchi, arrives at Lhasa, and reaches the Yanghu Lake in Tibet in the west. The other convoy went all the way to the south, passing through Zunyi, Guiyang, Guilin, Beihai, and finally reaching Wanning in the south.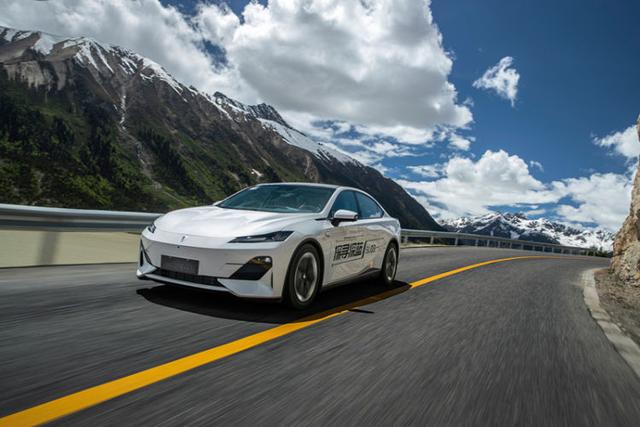 During the nearly one-month journey, the Changan Deep Blue SL03 has a north-south dual-line mileage of more than 16,000 kilometers, and the cumulative mileage of 7 vehicles has reached 60,000 kilometers, which is equivalent to the user's daily car mileage in the past two years.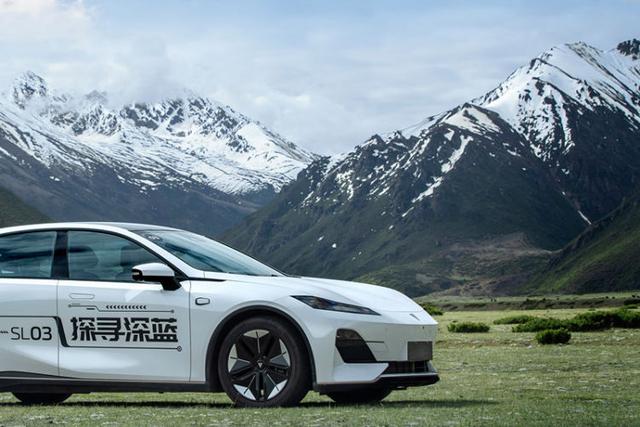 The altitude difference of Changan Dark Blue SL03 is as high as 5,000 meters, and the Changan Dark Blue SL03 Extended Range Edition, based on the pure electric drive configuration, not only the performance is not affected, but the super collector drive also presents a strong, efficient and stable power output.
Compared with Avita, which develops high-end smart pure electric vehicles and undertakes the brand upward task, the Deep Blue brand mainly faces the mainstream passenger car market and takes on the heavy responsibility of Changan New Energy. Changan Dark Blue SL03, as the leading model, has indeed given the market a sincere and interesting choice.