daily economic news


2023-03-25 13:15:00

Edited by Wang Yuelong
The 2023 annual meeting of the China Development Forum will be held at the Diaoyutai State Guesthouse in Beijing from March 25th to 27th.The meeting focused on the theme of economic recovery, and the forum focused on discussions on macro policies and global cooperation. The strategy of expanding domestic demand, the resilience and security of industrial and supply chains, the business environment, investment, and green development are all key issues.
It is worth noting that this is the first time that the China Development Forum has resumed offline since the outbreak of the new crown epidemic in 2020. Lu Hao, director of the Development Research Center of the State Council, served as the chairman of the forum, and Oliver Bethe, chairman of the board of directors of Allianz AG, served as the foreign chairman of the forum.Guests includeHan Wenxiu, Deputy Director of the Office of the Central Financial and Economic Commission in charge of daily work, Ray Dalio, founder of Bridgewater, Apple CEO Tim Cook,Abbott CEO Loft,Aberle, CEO of Pfizer, Anmon, President of Qualcomm, Kissinger, former US Secretary of State……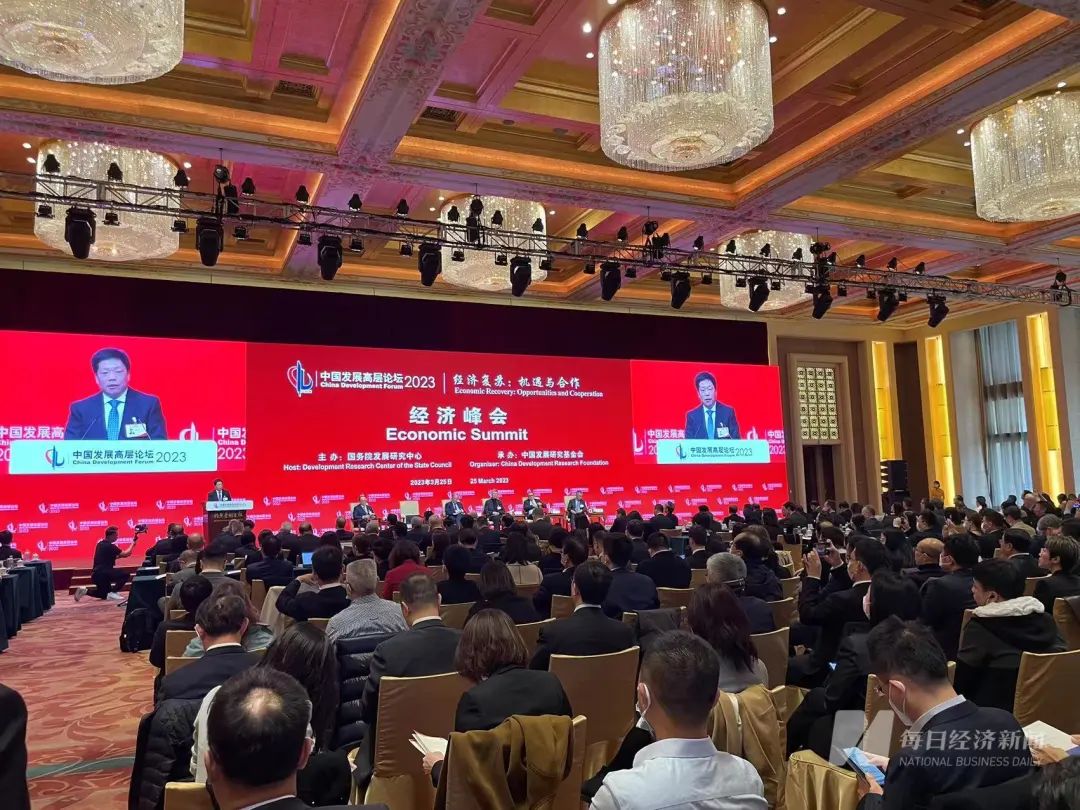 Photo source of the event site: Photo by reporter Li Keyu
There was an episode before the meeting, Apple CEO Cook came to Beijing Sanlitun Apple retail store. Cook himself also posted on Weibo that night, saying that he was very happy to meet the team and customers.

Han Wenxiu: Welcome to China, "Long-term fishing for big fish"
According to The Paper, on March 25, Han Wenxiu, deputy director of the Office of the Central Financial and Economic Commission in charge of daily work, said that China is a safe haven for international finance. For many years, China has implemented a sound monetary policy and insisted on the independence and normalization of monetary policy. In the process of supporting economic development, the financial system has been stabilized, a large number of hidden risks have been eliminated, and the bottom line of preventing systemic risks has been maintained.There is currently no obvious inflationary or deflationary pressure, and monetary policy has a large room for maneuver.
Opening up to the outside world is China's basic national policy. It will continue to expand market access, steadily promote institutional opening up of rules, regulations, management, and standards, and continue to create a market-oriented, law-based, and international first-class business environment."We welcome companies from all over the world to invest in China, and we also expect foreign companies to establish a long-term vision and deeply cultivate the Chinese market. Investing in China can 'grow big fish with a long-term horizon'."
Han Wenxiu also said that China has set the expected target of economic growth this year at about 5%, which not only considers the needs of expanding employment and improving people's livelihood, but also considers the potential growth capacity and various difficulties and challenges. Make steady progress.Judging from the current development situation, the realization of this goal is sure.

Apple Cook talks about accelerating AI innovation:
Inventors are responsible for ensuring technology is used correctly
On March 25, at the 2023 Annual Meeting of the China Development Forum, Apple CEO Tim Cook said: "Innovation is developing very fast in China, and I think it will accelerate again."
Cook said that the current pace of global innovation in artificial intelligence and other aspects is very rapid, and these technologies will have a major impact on human beings.As the inventor of technology, we must ensure that people use these technologies correctly so that technology can help human beings.He believes that this is a very heavy responsibility for any technological inventor.
"The company thinks it's very important for young people to learn that, even if young people don't want to be programmers, they need to have some programming skills and understand the possibilities that programming brings."Cook said that Apple is promoting the addition of programming education in schools. "When students acquire the basic ability of programming, they can keep up with the world of rapid innovation. If they don't have this basic ability (programming), I will worry that some children will not be able to keep up." This rapidly innovating world."
Cook said that programming skills and critical thinking are very important,Apple has developed the programming language Swift, which is easy to use and free for schools around the world. It is hoped that schools all over the world can learn to use this language.Currently, 35 million kids are using it to learn to code right now.
also,Apple announced today that its donation to the China Development Research Foundation has increased to RMB 100 million.To create growth opportunities for teachers and students across China. Apple's new donation of 50 million yuan will fund the three-year "Smart Gardener" project, focusing on digital teaching in underdeveloped areas in China, which is expected to affect more than 120,000 teachers and more than 2 million students.

Huang Qifan: China's population advantage is getting bigger and bigger
convertMarket advantage for hyperscale
According to China Business News, at the 2023 annual meeting of the China Development Forum, Huang Qifan, the former mayor of Chongqing, said that in the past decade or so, China's population advantage has increasingly transformed into a super-large-scale market advantage. Forty years ago, when we talked about China's demographic dividend and demographic advantages, we generally talked about the comparative advantages of unlimited supply and low-cost labor. In the past ten years, with the expansion of our economic scale, industry and import and export trade have become the world's first, and our per capita GDP has gradually caught up with and surpassed the world average.The more people who exceed the average value, the larger the GDP scale, and China's demographic dividend is gradually becoming more and more reflected in the advantages of scale.
Huang Qifan said that special attention should be paid to the core products transformed by the fourth industrial revolution. At present, special attention should be paid to the final products transformed from the core technologies of the fourth industrial revolution. Every industrial revolution produces a batch of key technologies. Now comes the fourth industrial revolution: the age of artificial intelligence. We may have all three states of leading, running, or following.In this process, if several types of major products of our final industrial chain cluster are made in China, then we have truly grasped the initiative in the layout of the industrial chain.

Schneider CEO Zhao Guohua:
Electrification is the only way to achieve decarbonization
On March 25, Zhao Guohua, chairman and CEO of Schneider Electric, said at the "China Development Forum 2023" that the Internet has changed our lives, and the Internet of Things will interconnect everything. Digitalization means a higher level of efficiency, andElectrification is the only way to achieve decarbonization, and the combination of digitalization and electrification equals a sustainable future.
Zhao Guohua believes that GDP is closely related to energy use, and energy is needed for development; now the energy structure is being re-changed, and currently 70%-80% of energy investment is invested.
Zhao Guohua said that currently 75% of the world's energy comes from energy. The supply side can achieve carbon reduction through electrification, digitalization to improve energy efficiency, and low-carbon distribution on the supply side. At the same time, carbon reduction needs to be carried out on the demand side.Now we have entered the era of electricity 4.0, everything is connected, and all cities are looking for renewable energy, and this also requires the full realization of the digitization of everything around, putting data in the cloud, and processing dataThrough data twins, operations can be performed anywhere in the world and at any time, which can achieve higher security and resilience, and better efficiency.

Tian Guoli, chairman of CCB, talks about real estate
At the event site on March 25, a reporter from "Daily Economic News" asked Tian Guoli, chairman of CCB, how to improve the role of real estate in promoting consumption?
Tian Guoli responded to the reporter: "In fact, it is necessary to change the way of real estate, because real estate will always be needed by the market, but the way in the past was too simple, such as the rent-to-sale ratio. Almost 10% of people in China rely on leasing.If future real estate leasing can be increased from 10% to 20%-30%, the real estate market will undergo major changes."
In his speech, Tian Guoli also mentioned that consumption upgrades call for the advent of the era of large leasing, and industrial development will become more specialized and intensive. With the upgrading of housing consumption, major changes have taken place in the transaction form of China's real estate. The era of large leasing calls for more professional, standardized and high-quality management agencies. By deepening the social division of labor,To promote the continuous improvement of economic efficiency, it is also necessary to further improve relevant laws and policies, so that renting and buying a house can obtain similar public services.
In addition, Tian Guoli also pointed out that the transformation of real estate and the development of the leasing market require long-term capital financing. In the past, real estate development mainly relied on bank loans, and the asset-liability ratio was high, which brought about a relatively large financial risk. Now, more and more real estates are being revitalized and upgraded to meet the needs of consumers.
edit |Wang Yuelong Du Hengfeng
proofreading|Lu Xiangyong

The daily economic news is compiled from The Paper, China Business News, Beijing News, and Jingjing.com (Reporters Li Keyu and Xiao Shiqing)