European natural gas futures prices soared to a record 100 euros/MWh.
Extended reading
The energy crisis is spreading!Natural gas has soared more than 10 times, ten British gas companies have gone bankrupt and 1.7 million people affected
Natural gas prices have soared, the energy crisis has spread, and three more energy companies in the UK have been forced to close their doors. Since August, ten gas companies in the UK have closed down and 1.7 million customers have lost supply!
EuropeIntercontinental ExchangeData shows that, intersecting the price of about 6 euros in the middle of last year, the price of natural gas has now soared by more than 10 times, and the price has hit a record high.
The index U.S. natural gas price is also rising rapidly, setting a new high in seven years. Since the beginning of this year, the natural gas futures traded in New York have risen 1.2 times, and the price of natural gas for delivery in January has exceeded the high point in early 2014. Prices for deliveries from December to February are even higher, indicating that traders are concerned about insufficient supply.
Not only in European and American markets, spot natural gas prices in Asia have soared to a record high of US$34.47 per million British heat.
  More companies will go bankrupt
  The UK government needs funding to take over clients
This unfolding energy crisis is hitting Europe. In the United Kingdom, France, Spain, Germany and Italy, natural gas wholesale costs have risen to record highs, and household and business bills have soared.
Spain has announced emergency measures to cut energy expenditures, France plans to pay 100 pounds ($117) to nearly 6 million low-income families in one lump sum, and the soaring gas prices in the UK have begun to exacerbate food shortages. With the advent of cold weather, this crisis kicked off:
The United Kingdom, as a microcosm of the tight gas supply in Europe, has seen a wave of bankruptcy of small gas companies. On September 29, British Igloo Energy, Enstroga and Simbio Energy declared bankruptcy, and a total of about 233,000 households were affected. In just two months, ten small gas companies in the UK closed down, affecting more than 1.7 million customers.
As one of the most loosely regulated countries in the energy market, the UK can buy natural gas directly from large or small gas suppliers. The market works well under normal conditions, but during a special period of tight supply and demand, small gas companies will get into trouble because of low market bargaining power.
In addition, the British regulatory agency has set a ceiling for consumer energy prices, which are reviewed twice a year, which means that the company has limited room for price adjustments. The price ceiling determines that small companies will be more susceptible to market squeeze, and will be forced to withdraw from the market after losing money. After the agency recently raised the ceiling, starting October 1st, the price of gas and electricity for British households will rise again.
British regulators have warned that more companies may go bankrupt this winter.Britain's largest energy supplier is seeking emergency government assistance in the billions of pounds, including the establishment of a so-called "bad debtBank"To accept customers who may be affected by the bankruptcy of small companies.
  Multiple factors have led to a tight global energy supply
  It may not be alleviated in 2022
The bad prospect is that just as the natural gas reserves are being consumed in large quantities, Europe's current inventories are now at the lowest level in more than a decade, and the energy supply inventories of European countries are rapidly declining.
It is not enough to rely on foreign aid alone. The flow rate of the pipeline from Russia to the United Kingdom has dropped, and the current pipeline's gas flow has dropped by about one-third. At the same time, Asia is still the preferred sales destination for LNG. As the demand for coal and LNG in China and other countries remains high, many places have begun to "compete for gas" to ensure energy supply.
Not only are natural gas, coal, and hydropower in short supply, this means that the rapid rise in electricity prices in Europe is difficult to contain. Affected by this, electricity prices in many European countries have jumped: electricity prices in Germany jumped 12% next year to 132 euros per MWh, while electricity prices in France rose 10.3% to 135.50 euros per MWh.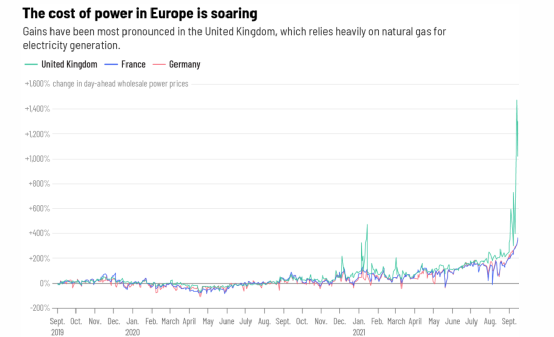 UK electricity prices (green), which mainly use natural gas for power generation, have risen the fastest
The scope of the form of energy supply tension may extend far beyond household heating costs. The long-term rise in energy prices has led to a rapid increase in production costs of enterprises, which has exacerbated people's concerns about inflation. Capital Investment Macros pointed out that Europe will definitely see an increase in inflation in the short term. Inflation in Europe may rise to 4% by the end of this year, and this situation may continue until next year.
BASF, Europe's largest chemical producer, cut production due to soaring raw material costs. It is expected that more producers will follow up, leading to increased production costs for farmers, and possibly aggravating global food inflation, leading to a slowdown in economic growth.
  AnalystIt is believed that the form of tight energy supply will not be alleviated in 2022. Bloomberg think tank pointed out that low natural gas inventories in Europe, reduced gas pipeline imports, strong demand in Asia, these factors constitute the background of price increases. With the economic recovery in the post-epidemic era, the reduction of domestic production in European countries, the fierce competition in the global LNG market, and the increase in demand for gas-fired power generation due to fluctuations in carbon prices, these factors may continue to keep the natural gas supply tight in 2022.
(Article Source: Interface News)
.