Original title: European stocks to bear the danger of Germany's almost "locking the country" Thanksgiving Day stocks and debts all rose, the black series of the night market all fell
Source: Wall Street
Thursday is the U.S. Thanksgiving holiday, and U.S. stocks and U.S. Treasuries are closed all day. During Thanksgiving, the European market was lightly traded. US stock futures and most European country stock indexes rose. The US dollar index fell slightly and is still close to a 16-month high. This week, it is set to rise for the fifth consecutive week.
The epidemic in some European countries is severe, with more than 100,000 deaths in Germany, which almost followed Austria's footsteps in implementing a nationwide blockade. Led by defensive sectors such as utilities, European stocks still rebounded stubbornly. The public utilities sector benefited from the new German government's efforts to increase climate protection, accelerate the application of renewable energy, and reduce coal-fired power. The technology sector, which had been hit by rising European bond yields for several days, ended its five-day losing streak. French Cognac giant Remy Cointreau Group, whose performance was better than expected, soared by more than 10%, becoming the largest stock pusher for the pan-European stock index to rise.
The information released on Thursday in the minutes of the ECB's October meeting is similar to the recent inflation-related statements of the ECB policymakers. The market's response to the minutes of the meeting was muted. Investors continue to pay attention to the signal that the European Central Bank will send. On Tuesday and Wednesday, due to the risk of rising inflation, the enthusiasm of the European Central Bank to raise interest rates next year has been suspended.
Among commodities, international crude oil generally stabilized, while Brent crude oil fell slightly. The Russian Foreign Minister stated that the United States is trying to persuade Russia to increase oil production, and OPEC advisory agency recently predicted that the dumping of oil reserves in many countries may increase the excess crude oil by 1.1 million barrels per day early next year.JPMorganIt is expected that the dumping of reserves in many countries and the European epidemic will reduce the demand for OPEC+ operations, and OPEC+ operations will be suspended from January to March next year.
After the government of Germany, the largest carbon dioxide emitter in Europe, stated that it would set a long-term minimum price to prevent domestic carbon emissions prices from falling below 60 euros per ton, the EU carbon emission trading system's carbon emission allowance futures price hit a record high for the second day in a row.
The National Development and Reform Commission announced the holding of a symposium to study the long-term mechanism of regulation and control to prevent coal prices from rising and falling behind. The fundamentals of supply and demand are not optimistic about domestic coal commodity futures during the day. % Of coking coal fell nearly 2% in night trading, and another black iron ore fell more than 6% in night trading.
Base metals rose and fell mixed. After China showed signs of positive real estate recovery in housing loans, Lun Copper hit a new intraday high in a month on Thursday, but failed to maintain its gains. Nickel and Lunxi fell to seven-year highs and historical highs respectively.
  U.S. stock futures rose, pan-European stock index rose for two consecutive times, German stocks, French stocks out of a three-week trough, travel stocks continued to lead the decline, utilities sector led the rise, French Remy Martin rose more than 13%
The three major U.S. stock index futures all rose. Approaching 13 o'clock on Thursday, Dow futures rose less than 0.1%. S&P 500 and S&P 500Nasdaq100 futures rose more than 0.1% and 0.2% respectively.
The pan-European stock index rose for two consecutive days after ending its four-day losing streak. The Stoxx Europe 600 index closed up 0.42% to 481.72 points, further from the low closing since November 1 created by Tuesday's fall of more than 1%.
Among the Stoxx 600 sectors, only 5 closed down on Thursday. Travel and leisure, which fell more than 1%, led the decline for the second consecutive day. Telecom, which led the gains on Wednesday, fell more than 0.6%. Second, the auto and mining stocks were in the sector Basic resources fell by about 0.4% and 0.25% respectively, and retail sales fell slightly by less than 0.1%. Among the gainers, public utilities, which rose more than 1.7%, and real estate, which rose nearly 1.2%, led the gains. Food and beverages rose nearly 1%, the largest increase. Technology rose nearly 0.6%. It closed for the first time in the last six trading days. Chemicals and insurance at the bottom rose by less than 0.1%.
Among individual stocks, the French Remy Cointreau Group, whose profits in the first half of the year were higher than expected due to stronger-than-expected demand for high-end products and raised its full-year guidance, closed up 13.4%, leading the rise of Stoxx 600 constituent stocks; After launching related businesses, Swedish online gaming company Evolution launched an internal investigation into related issues, and its stock price closed down about 16%, the largest decline among the STOXX 600 constituent stocks. Radiation therapy equipment maker Elekta, whose profits fell less than expected for the first quarter of October, rose 5.7%. Swiss insurance giant Swiss Life, which announced that it would repurchase 1 billion Swiss francs and raise its dividend payout ratio, rose 3.6%. Norwegian classified advertising giant Adevinta, whose revenue was lower than expected in the third quarter, fell 7.2%.
Most of the major European country stock indexes closed up on Thursday. British stocks rose for four consecutive days, setting a new high since last Wednesday on November 17, while German stocks and French stocks ended their four-day losing streak, and went out of the November 1 and 11 respectively set on Wednesday. Since the trough on May 5th, the western stock market bid farewell to the two-day losing streak, while the Italian stocks, which rebounded on Wednesday, fell slightly. The German DAX 30 index closed up 0.25%, the French CAC 40 index rose 0.48%, the UK FTSE 100 index rose 0.33%, Italy's FTSE MIB index fell 0.04%, and Spain's IBEX 35 index rose 0.56%.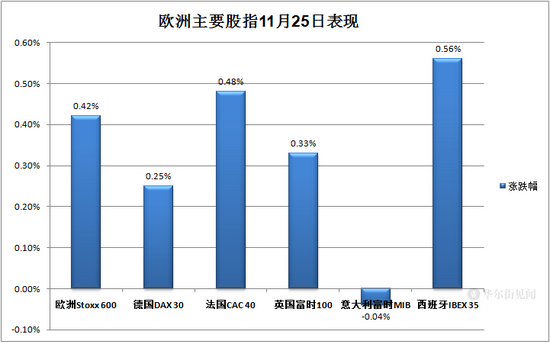 The U.S. dollar index fell slightly to close to a 16-month high, and Bitcoin broke through $59,000 in intraday trading, setting a five-day high
The ICE dollar index (DXY), which tracks the exchange rate of a basket of six major currencies of the U.S. dollar, once fell below 96.70 in the early trading of European stocks to set a new low, and fell by more than 0.2% within the day. It broke 96.78 at the close, and the intraday decline narrowed to less than 0.1%, which was close to the high since last July set after breaking 96.90 in the intraday session on Wednesday.
The Bloomberg US dollar spot index maintained a slight upward momentum after the European stock market turned up. European stocks rose above 1190 points after closing, approaching the high level set in Wednesday's intraday session since last July, with a slight increase of less than 0.1% during the day.
According to CoinMarketCap data, mainstream cryptocurrencies rebounded on Thursday. At the close of US stocks on weekdays, Binance Coin (BNB), the third largest cryptocurrency in market capitalization, has risen by nearly 8% in the last 24 hours. Bitcoin's second largest cryptocurrency, Ethereum (ETH), rose more than 5%, ranking second among the top ten cryptocurrencies.
Bitcoin (BTC) European stocks rose above 59,000 U.S. dollars to 59,400 U.S. dollars in late trading, setting a new intraday high since last Sunday, November 21. Compared with the intraday low before European stocks, it rose by more than 2,000 U.S. dollars, a percentage increase of more than 4%. By the time the US stock market closed on weekdays, it was above US$58,000, and it has risen by more than 2% in the last 24 hours.
Ethereum (ETH) has risen above US$4,500 after the European stock market closed, setting a new high since last Monday on November 15th, up nearly 7% from the intraday low before the European stock market.
  European bond prices rose for the first time in three days, yields fell
The prices of European government bonds rose across the board on Thursday. The prices of French, Italian, and Western bonds ended their decline in the past three trading days. The prices of British and German bonds continued to rise and yields fell for two consecutive days. By the end of the European market, the British 10-year benchmark government bond yield fell 2.8 basis points to 0.969%, the largest decline among European government bonds; the German government bond yield fell 2.3 basis points to -0.251% during the same period.
  Domestic iron ore fell more than 6% in night trading
Domestic black products all fell overnight. Coking coal, which rose more than 6% during the day, closed down 1.98%. Thermal coal, coke and threaded coal, which rose more than 2% during the day, closed down 5.42%, 2.36%, and 1.54%, respectively, and rose more than 1% during the day. Iron ore and hot coil night trading closed down 6.08% and 1.5% respectively.
European natural gas ended its two-day streak. On Thursday, ICE British natural gas futures fell 1.43% to 232.00 pence/kcal in late trading in Europe. TTF benchmark Dutch natural gas futures fell 0.80% in late trading in Europe, to 92.700 euros/MWh.
The ICE EU carbon emissions trading permit futures price rose 2.87% in the European market late Thursday, to 75.00 euros/ton, once set a new high to 75.05 euros, setting a record high for the second day in a row.
International crude oil futures fell slightly. Brent's January crude oil futures closed down 0.03% to US$82.22/barrel, and closed down for two consecutive days with a drop of less than 0.1%, continuing to fall away from the one-week high set on Tuesday. The US WTI crude oil market was closed early during the holiday and there was no closing quotation. It was generally in a downward trend throughout the day.
  Lun Copper fell from its one-month high, Lun Nickel ended five consecutive rises, bid farewell to the seven-year high Lunxi Ended a three-day record high
London base metal futures were mixed on Thursday. LME copper and LME zinc, which rebounded on Wednesday, fell again. LME copper broke US$9,900 and hit a new high since October 22. Although it closed down from a one-month high, it held the US$9,800 mark and closed at US$9,802/ton for two consecutive times. The daily close was above US$9,800, and Lun Zinc fell to its lowest point on Thursday.
Lun Ni and Lun Xi ended their five-day and three-day gains respectively. Lun Nickel dropped to a seven-year high. Lunxi fell by more than $200 from its historical high of nearly $40,000, closing at $39,709 per ton, still stably above $39,000, and closed at $39,000 for two consecutive days. Lun Aluminum and Lun Lead rose for two consecutive days, both hitting new highs for more than three weeks and more than one week.
After closing up slightly on Wednesday to stop the four-game losing streak, New York gold futures continued to rebound slightly on Thursday. COMEX December gold futures European stocks broke through 1975 U.S. dollars to set a new day high, rose more than 0.6% during the day, and then continued to fall. European stocks fell $1,790 at midday.
8.××% wealth management vouchers, the quota is limited, first-purchase first-served, each user is limited to one purchase >>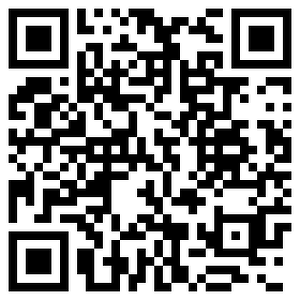 Massive information, accurate interpretation, all in Sina Finance APP
Editor in charge: Qi Qiqi
.