On the morning of June 29, the theme conference of the 2022 (Fifth) GIS Software Technology Conference opened online. With the theme of "Geographical Wisdom Multi-dimensional Foundation", the conference focused on GIS empowering the informatization construction of various industries, sharing the achievements of GIS innovation and technology, and discussing the future application and development of GIS. Experts in many fields of production, learning, research, and application have made wonderful discussions and discussions on GIS (Geographic Information System Software) technology, and the application of real 3D China, natural resources informatization, CIM and many other fields.
Xu Guanhua, former Minister of Science and Technology and Academician of the Chinese Academy of Sciences, Guo Renzhong, Academician of the Chinese Academy of Engineering and Dean of the Smart City Research Institute of Shenzhen University, Wu Zhiqiang, Academician of the Chinese Academy of Engineering, Academician of the German Academy of Engineering, Academician of the Royal Swedish Academy of Engineering, Wu Wenzhong, Chief Planner of the Ministry of Natural Resources, Jiang Wenbiao, Director of the Cyberspace Administration of the Ministry of Natural Resources and Director of the Information Center, Chen Jun, Deputy Director of the Department of Land Surveying and Mapping of the Ministry of Natural Resources, Li Weisen, President of China Geographic Information Industry Association, Zhong Ershun, founder of SuperMap Group and other guests attended the conference. Wang Zengning, vice president and secretary general of China Geographic Information Industry Association, presided over the conference.
GIS Independent Innovation Faces Opportunities and Challenges
Academician Xu Guanhua delivered a speech at the meeting. He pointed out that the accelerated integration of geospatial information technology and modern information technology, and the continuous emergence of new business forms and services, has increasingly become an important manifestation of the national scientific and technological competitiveness and national defense competitiveness of various countries. We have made important progress in the field of surveying and mapping spatial geographic information. The performance of UAV aerial photography system, Beidou positioning chip, geographic information system software and technical capabilities of map services have been comparable to the top international products. However, a large number of geographic information data management applications still rely on foreign GIS software, and the independent alternative pattern has not yet been formed, nor has it played a strategic role in international technical checks and balances.
Xu Guanhua said that with the gradual diversification of geographic information applications, geographic information has played an irreplaceable role in serving my country's economic construction, national defense construction, social development and ecological civilization construction, but there are also some problems. To develop China's GIS software, we must continue to adhere to the drive of innovation, take the road of independent innovation, accelerate the development of the GIS software service industry, strengthen data opening, standardize the market order of industry development, and accelerate the pace of entering the international market. He called on relevant departments to regard the geographic information industry as a national strategic industry, increase national support for the basic software of geographic information, seize the commanding heights of the geographic information industry, and realize the comprehensive and autonomous replacement of geographic information products as soon as possible. Increase efforts to support the internationalization of independent geographic information software.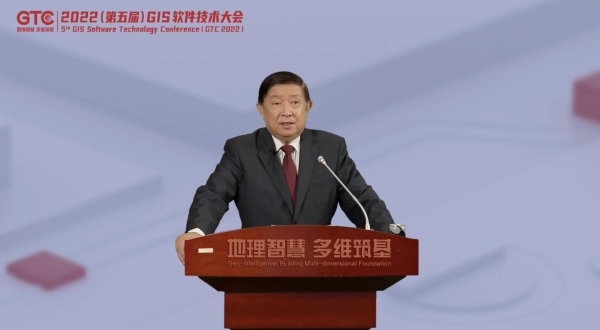 Academician Xu Guanhua's speech
Wu Wenzhong, chief planner, delivered a speech at the meeting. He said that surveying, mapping and geographic information work is an important basic work, and that surveying, mapping and geographic information is related to national sovereignty, security and development interests. At the same time, it is a basic and strategic information resource and an indispensable necessity for an information society. In recent years, the technology of surveying, mapping and geographic information has been continuously integrated and developed across borders, and the characteristics of intelligence and ubiquity have become increasingly prominent. He emphasized that in the face of current opportunities and challenges, we should pay attention to three points in the future:
First, we should increase support for domestic high-tech enterprises in surveying, mapping and geographic information in terms of policies and business environment, promote the innovation and development of domestic geographic information technology, and build a platform and create conditions for domestic geographic information technology to go global.
Second, it is necessary to continuously deepen and expand the application fields and application scenarios of geographic information technology, provide powerful and efficient geographic information service support for the modernization of my country's management system and governance capabilities, and inject new impetus and vitality into the in-depth development of my country's geographic information industry.
Third, it is necessary to deeply explore the key technologies and scientific mechanisms for the service of surveying, mapping and geographic information in the "two unification" management of natural resources, especially the optimization of natural resources protection and utilization of land and space layout, and resource monitoring and investigation.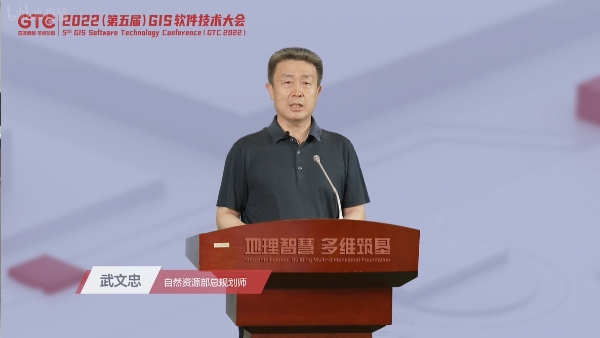 Wu Wenzhong, chief planner, delivered a speech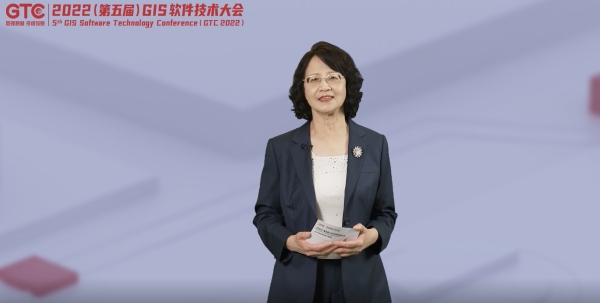 Vice President Wang Zengning presided over the meeting
GIS builds the foundation of multi-field informatization construction
At present, with the continuous evolution of science and technology and application requirements, the pace of GIS technology innovation is accelerating, and it has played an increasingly important role in building the foundation of informatization. The academicians and experts present at the meeting conducted wonderful discussions on hot topics such as CIM, natural resource informatization, land space, real 3D China, GIS technology and application.
GIS was born out of cartography and inherited the scientific thinking and technical methods of cartography. However, the increasingly rich application scenarios have broken through the underlying logic of traditional maps and challenged the basic capabilities of Map-based GIS. Academician Guo Renzhong said in his report that, from Map-based to Space-oriented and Object-oriented, with the transformation of GIS concepts, the role of GIS in the social field has also changed. It is not only a visualization and analysis tool, but also a It is a carrier of data link and a platform for technology integration. GIS is no longer an exclusive technology in the field of geosciences, but has become a general-purpose technology for the general public. It has entered thousands of industries, and its application scenarios and application models are very different. Cross-border integration is inevitable, and the market will be richer and more diverse.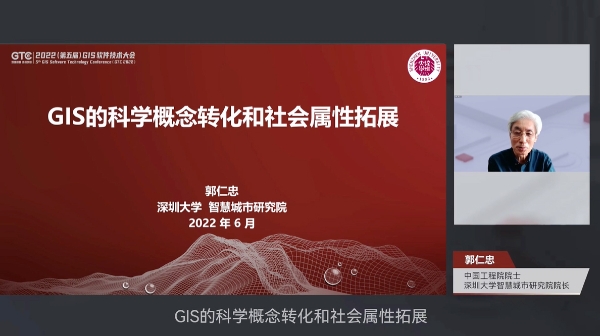 Academician Guo Renzhong made a report
At present, CIM is facing a development bottleneck. How to improve the application value of CIM? Academician Wu Zhiqiang believes that the combination of CIM and AI is a new breakthrough. In his report, he shared that the cross-generational thinking from history to the future has been integrated into the construction of the first-generation CIM—the command center system of the Shanghai World Expo. "When CIM falls in love with AI", the biggest improvement is to achieve cross-generational, That is to say, the era of G (Generations) X (Cross) has come. The combination of CIM and AI can not only see the past and future of the city, but also realize the cross-generational digital twin.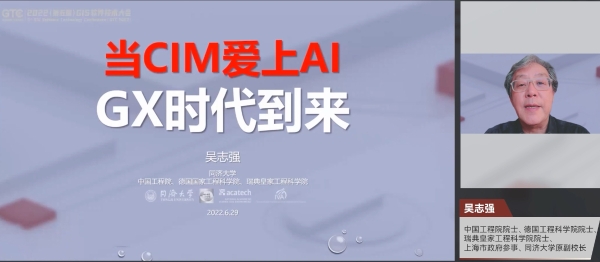 Academician Wu Zhiqiang made a report
Director Jiang Wenbiao focused on how to promote the management, control and governance of land and space in accordance with the requirements of the "four unifications" in the report. He pointed out that to realize the "four unifications", we must establish a unified basic information platform for land and space based on unified base map and unified planning according to unified standards, form intelligent applications and services, and promote the scientific utilization of natural resources and land space. , control and governance.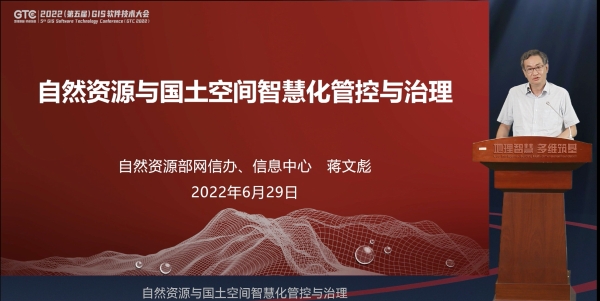 Director Jiang Wenbiao made a report
Real 3D China is an important strategic data resource and production factor for digital government and digital economy. Chen Jun, deputy director of the Department of Land Surveying and Mapping of the Ministry of Natural Resources, shared the current situation and future of real-world 3D China construction in the report. She said that at this stage, the construction of 3D reality in China should focus on promoting the rapid construction of 3D urban models, the production of geographic entities, and the integration of data, as well as the construction of a 3D application ecosystem for reality.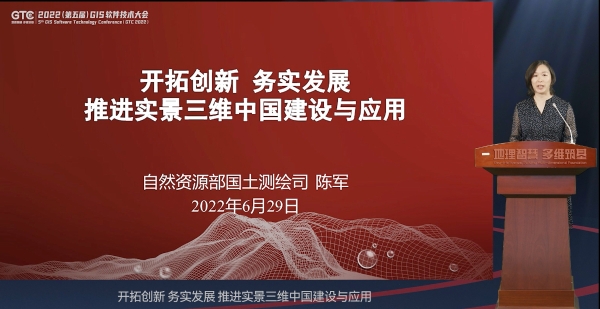 Deputy Director Chen Jun made a report
SuperMap released new products of SuperMap GIS and jointly released new products with Huawei
At the meeting, SuperMap and Huawei jointly released a new product – Yugong Open Source Spatial Database. Chairman Li Weisen said at the release ceremony that SuperMap and Huawei have formed a good cooperative relationship since 2007, and have achieved extensive cooperation in various fields such as operator business, enterprise business, smart city, and smart government affairs. , and achieved fruitful results. The joint release of the Yugong open source spatial database by SuperMap and Huawei will not only bring more solutions to the industry, but also solve new needs in the fields of new basic surveying and mapping and real-world 3D China construction.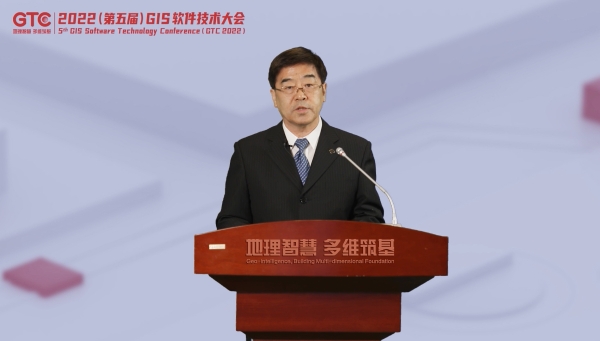 President Li Weisen's speech
In the global database ecosystem, PostgreSQL is the most advanced open-source relational database. On top of PostgreSQL, there is PostGIS, which extends the spatial database in the background. However, the upgrading of PostGIS data models is slow and does not yet support data such as 3D models. type. In May of this year, the openGauss open source database has jumped to the top of the domestic database popularity rankings. At present, the market needs a more powerful open source spatial database that supports 2D and 3D integration.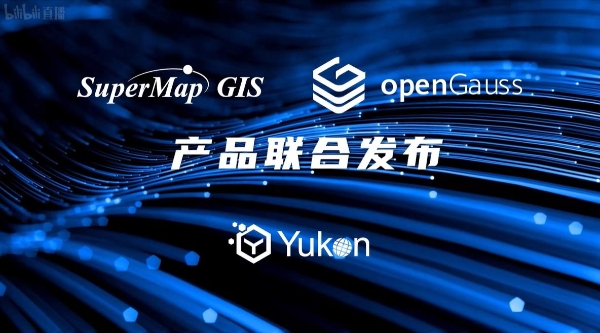 SuperMap and Huawei jointly release Yugong open source spatial database
SuperMap Yugong Spatial Database is based on the open source database openGauss, which provides storage, computing and management capabilities for spatial data. In response to domestic GIS application requirements, Yugong supports two-dimensional and three-dimensional integrated spatial data models, builds two- and three-dimensional integrated storage, calculation, and management capabilities, and provides support for national standard grid coding to facilitate the construction of real-world three-dimensional China. It is a new open source 2D and 3D integrated spatial database.
At present, Yugong spatial database is deeply integrated with SuperMap GIS 11i (2022) products, which can be deployed with one click of SuperMap iManager. Components, desktops, and server products also provide comprehensive support for Yugong. At the same time, the Yugong spatial database code is open source and the format is open. It will work with the openGauss community to build a new ecosystem of open source spatial databases and jointly promote the process of localization and replacement of spatial databases.
In the future, SuperMap will release a high-fidelity 3D GIS plug-in based on Huawei's HMS Core 3D Engine, which will create a localized high-fidelity 3D GIS technology solution, enabling applications in digital twins, CIM, and real-world 3D China construction. .
SuperMap officially released a new product – SuperMap GIS 11i (2022) at the conference. Zhong Ershun spoke at the launch ceremony. He said that since its establishment 25 years ago, SuperMap has insisted on GIS technology innovation, devoted itself to the research and development of new GIS products, and strived to meet market demands and serve the national informatization construction. Pursuing the development of technology and creating a newer, faster and smarter GIS has become an important spirit of SuperMap people and a distinct corporate culture.
Zhong Ershun's founder speech
Song Guanfu, Chairman and CEO of SuperMap Group, and Chen Yong, Vice President of SuperMap Research Institute, jointly introduced the new features of SuperMap GIS 11i (2022) and the ability to build information-based construction. The technology system, artificial intelligence GIS technology system, new generation 3D GIS technology system, distributed GIS technology system, cross-platform GIS technology system) and new upgrades of other key technologies are introduced in detail.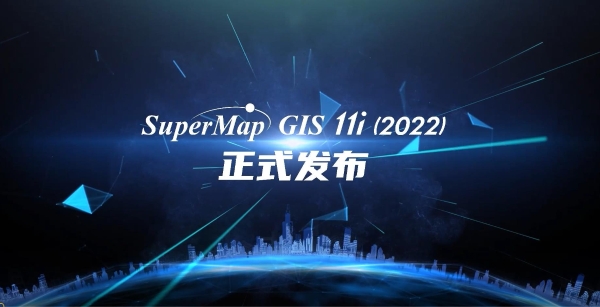 SuperMap GIS 11i (2022) is officially released
Song Guanfu introduced that applications in many fields such as digital government, digital society, digital national defense, and industrial digitization require the support of geographic intelligence. GIS basic software supports geographic intelligence and is the root technology of geographic intelligence. SuperMap GIS 11i (2022) will empower the informatization of various industries with more powerful geographic intelligence.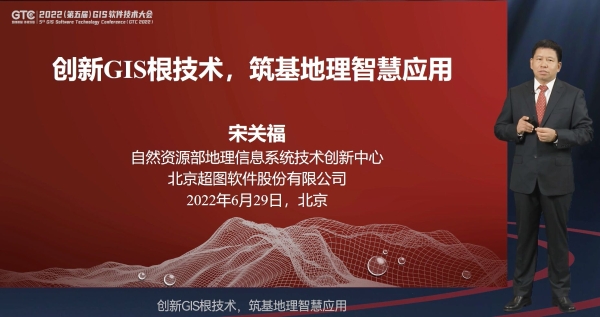 Chairman Song Guanfu made a report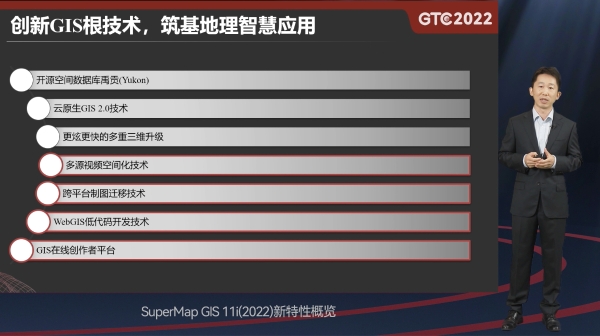 Vice President Chen Yong made a report
About 2022 (5th) GIS Software Technology Conference
The 2022 (5th) GIS Software Technology Conference, with the theme of "Geographical Wisdom and Multi-Dimensional Foundation", is guided by the China Association for Science and Technology, and organized by the China Geographic Information Industry Association, the Chinese Society of Surveying and Mapping, the Chinese Geographical Society, and the International Federation of Surveyors (FIG). ), China Land Society, China Urban Planning Society, China Software Industry Association, Beijing Chaoyang District People's Government, Institute of Geographical Sciences and Natural Resources Research, Chinese Academy of Sciences, and 10 units of SuperMap Group, jointly sponsored by the Ministry of Natural Resources Geographic Information System Technology Innovation Hosted by the center.
The conference has a total of 1 theme conference, 38 thematic forums in 10 major sections, 7 overseas offline sub-venues, and 4 overseas online forums in 4 languages. 240+ reports cover many fields such as Xinchuang, natural resources, agriculture and rural areas, security emergency, smart city, transportation, etc.