24K99 News On Tuesday (January 3), the price of gold performed strongly at the beginning of 2023, testing the $1,850 mark. The precious metal generated unusual momentum heading into the new year, erasing all of its losses for 2022 before turning flat. Can gold hit $1,900 in Q1 as the new year kicks off?
Gold's sister commodity, silver, also rallied to ring in the new year. Silver has also erased all of its losses for 2022, having gained about 8% last year.
The precious metals market rallied strongly despite the dollar surging in the first trading day of 2023.
The U.S. dollar index hit a high of 104.86 at one point, up more than 1% on the day. The index has risen about 9% in the last year, which is a very good performance. But the index rose as much as 20% at one point before the Fed took a less hawkish stance.
A stronger dollar is generally bad for dollar-denominated commodities because it makes buying commodities more expensive for foreign investors.
The U.S. Treasury market was broadly lower, with the benchmark 10-year yield down 8.6 basis points to 3.745%. The one-month note rose two basis points to 4.024%, while the 30-year note fell 9.4 basis points to 3.844%. The spread between two-year and 10-year yields, which signal a recession, widened to nearly -70 basis points.
"Inflation concerns, central bank monetary policy and the Russia-Ukraine war will likely remain the main concerns for markets in 2023," Kitco News metals analyst Jim Wycoff wrote in a note.
"From a technical perspective, gold futures bulls have the solid overall near-term technical advantage. Prices are in a two-month-old uptrend on the daily histogram. Bulls' next upside target is a breakout at the close in February futures Solid resistance at $1900.00. Bears' next short-term downside target pushes futures below solid technical support at $1775.00. First resistance is seen at $1850.00, then today's high of $1856.60. First support It was seen at an overnight low of $1831.30, then $1820.00."
Meanwhile, investors will be keeping a close eye on the December non-farm payrolls report due this week, which could offer two big messages: The labor market is slowing, while headline data could support a slower pace of rate hikes by the Federal Reserve.
FXDailyReport wrote an article to analyze and predict the trend of gold, silver and crude oil, and gave an operation strategy:
Gold: Successful break above the $1850 level
After a strong upward momentum, gold prices managed to reach the $1850 resistance today. If the price initiates a bearish correction from current levels, then it will target the $1780-$1800 area. When a retest and bullish reaction occurs, traders can prepare to initiate long positions around this area. On the other hand, if the price closes below $1,780 or the 200-day moving average, the bearish move could gain more momentum.
500)this.width=500″ align="center" hspace="10″ vspace="10″ rel="nofollow" />
(Gold daily chart, source: FXDailyReport)
Support: 1700, 1680, 1600, 1585
Resistance: 1780, 1800
Silver: Further gains above $23.90
Silver prices jumped above $23.90 today with strong bullish momentum. Moving forward, silver is expected to target the $25.00-$26.00 area, and traders would do well to avoid initiating short positions, at least until there is a significant bearish price reaction. On the downside, if the price declines towards $23.90 or $23.00, traders can use this level to initiate long positions.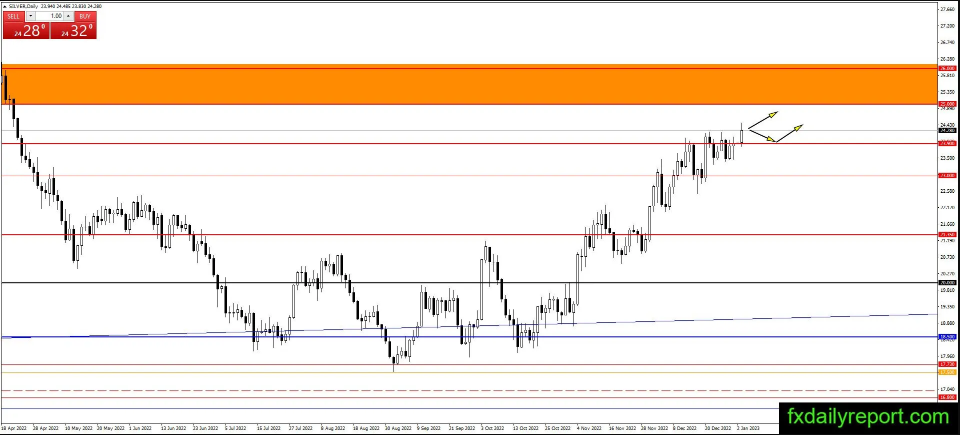 A practical guide to gold investment, sharing the know-how of high-quality investment and financial management, and taking you on the road to wealth appreciation! Everyone lost money when the stock market plummeted, but I made money investing in gold! Support precious metals to check the market price within 1 second. Click on keywords such as "gold jewelry", "gold" and "silver" in the menu bar to know the real-time market quotation. Dear, do you pay attention to the fluctuation of gold price? Do you want to buy gold?
Gold.com statement: Gold.com reprints the above content, does not mean to confirm its description, is for investors' reference only, and does not constitute investment advice. Investors operate accordingly at their own risk.