He was the eighth employee at Google, and as senior vice president he is now responsible for the technical infrastructure of the Internet giant. We met Urs Hölzle for an interview at the Swiss Economic Forum (SEF).
Urs Holzle
Google pioneer

Open the person box
Close the person box


The Swiss Urs Hölzle sits in the power center of Google. As Senior Vice President, he is responsible for the technical infrastructure of the IT giant and thus the functioning of the servers and networks. Alongside the two founders, Hölzle is the longest-serving employee at Google.
SRF NEWS: You are responsible for the global infrastructure at Google, what exactly is your job?
Urs Hölzle: If you use Google or Gmail or Youtube, then it just works. But in reality, of course, it doesn't work that easily, there are data centers everywhere, including Switzerland, and a network that connects everything.
A company with ten people and one with 100,000 people cannot be the same.
My job is to construct this on the one hand and, above all, to further develop and operate it. The entire infrastructure, i.e. the engine in the search engine, is my job.
Google also started small and developed into a billion-dollar corporation. Did you ever think that?
I never would have expected that, not at all. One thing led to another back then, but I didn't realize at the beginning that it would be so important.
If you look back now, is there something left of the original groove or spirit or is everything different now?
So certain things are of course still similar, certain things are completely different and have to be. A company with ten people and one with 100,000 people cannot be the same. But let's look back. Our initial task was to organize and make the world's information available, and that is actually still relevant today, if not more so than it was 25 years ago.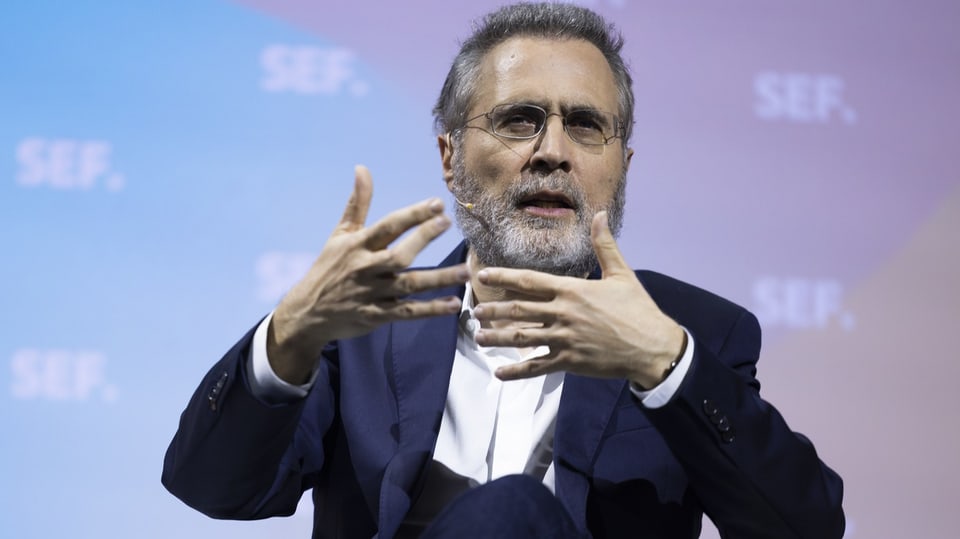 Most tech companies have come here with the ambition to change the world for the better. And now many have the feeling that they have caused us more problems than they solve. What do you think?
Of course, we still want to improve something, and I think we take that really seriously. But of course I only see it from the inside. That's why it's difficult for me to see it from the outside. But we really have the best in mind.
Tech companies like Google also need a lot of energy, the whole internet needs a lot of energy. Is it also part of your job to try to reduce energy consumption and possibly make it carbon neutral as well?
Of course we are a major energy consumer, much smaller compared to all cars, but significant nonetheless. That's why we started covering part of our needs with renewable energy 15 years ago, and since 2017 we've managed to buy as much energy each year, i.e. buy renewable energy, as we use ourselves.
Let's talk about artificial intelligence. Google is known as a search engine and one asks oneself: do we still need search engines when ChatGPT or some robot provides us with the answers?
But we're still a long way from that. Just because a machine can now formulate really perfect sentences, you somehow assume that there is also a perfect brain behind it. But of course that's not the case at all.
Our goal has always been not to have a search engine, but an answer engine.
It can talk just perfectly, but it can also talk complete nonsense. The content is not necessarily correct and at the moment the hit rate, i.e. the accuracy, is still very modest compared to the search. Our goal has always been to have an answer engine rather than a search engine, but technically that's still a long way off.
Reto Lipp conducted the interview.