[The Epoch Times, May 23, 2022](The Epoch Times reporters Li Xinan and Gu Xiaohua interviewed and reported) It has been more than a month that four rural banks in Henan have been unable to withdraw funds normally, but the official news that depositors have been waiting for is that the major shareholders of the banks Henan New Wealth Group is suspected of illegally absorbing public funds. Relevant information shows that several banks that cannot withdraw money normally involve nearly one million depositors with tens of billions of deposits.
On April 18, depositors of four rural banks in Henan suddenly found that they could not withdraw money normally. On April 18th and 19th, Yuzhou Xinminsheng Rural Bank and other banks issued notices to "upgrade and maintain the system" and "suspend online banking and mobile banking services".
On April 25, the official website of the Xuchang Municipal Government replied that in order to block the fraudulent behavior of criminals, the system is being upgraded and optimized. The central bank responded that it is paying close attention to the matter, and relevant departments have already launched an investigation.
The depositors said, "It seems to have been maintained for a long time." "Who will save our depositors!?? Hard-earned money!!" "Withdrawal freedom, the bank has lost even the most basic credit, so what do people have about the national financial system? confidence?""Make a deposit, and disaster will come.Henan Bank cannot withdraw money34God, all the departments that can be found have been found. Disappointing…""Other banks and village banks are only a hundred steps away from fifty steps…"
The victim depositor, Mr. Cheng, told reporters a few days ago that he had opened a card at the bank's front desk and had undergone such a standardized deposit through the face-swiping procedure. Deposits are fixed and seven-day notice deposits, and the interest is a little higher than that of big banks, and it also meets the national interest rate requirements.
According to reports, several banks have carried out online promotion, publicity to the whole country, and word of mouth among friends, so there are many foreign depositors. Online deposits are operated by financial institutions such as Du Xiaoman and Du Caibao.
"As a common person, what can go wrong with the bank's deposits, regardless of whether it is a foreign country or a local? From the common people's point of view, a bank is like a country. ? This is happening now." He said, "The interest is paid normally in the card. But the principal cannot be taken out, and the interest cannot be paid out. The bank just keeps delaying and not paying it."
The depositor victim, Ms. He, told reporters that it has been more than 30 days, and many people cannot get their pension money and medical treatment money. Banks often change their statements. At the beginning, they said that there was fraud, and later they said that there was economic crime. Now it is unclear.
Ms. He started making deposits in village banks through the online platform two or three years ago. She can withdraw it on an annual or monthly basis, but it cannot be withdrawn since April 18. "The bank's internal management problems are pushed to the depositors. Weibo has been searched many times and has been suppressed." She said, "We are legal deposits. Banks shirk their responsibilities and let depositors bear their losses. They dare not even face Respond to the legality and compliance of deposits in the bank's applet."
An explanatory document from the Binhai Financial Assets Trading Center provided by Ms. He on the difficulty of withdrawing cash from five banks shows that the company is one of the third-party platforms that cooperate with banks, providing customers with jumping entrances to use banking services. The behavior of customers opening accounts in banks and purchasing deposits all take place on the bank platform. "Our company can show the proof of deposit business printed at the bank counter in the early stage as a basis."
In 2021, the financial supervision policy will be promulgated, prohibiting banks from collecting deposits in different places through the Internet, and each bank will use the electronic bank operated by the bank.
Foreign depositors do not allow withdrawals
Junzheng Zhida Technology Co., Ltd., which provides technical operation and maintenance for 4 rural banks in Henan, stated in a letter to the superior that the above-mentioned four rural banks forcibly shut down the online channel fund payment business, and now there are large-scale customer complaints on the Internet platform. Severe online and offline runs. According to reports, the above-mentioned four village banks have tens of billions of existing Internet deposits on major Internet platforms, involving nearly one million customers.
According to CCTV Finance and other official media reports, on May 18, the person in charge of the relevant department of the China Banking and Insurance Regulatory Commission stated that Henan New Wealth Group absorbed public funds through internal and external collusion, the use of third-party platforms and fund brokers, etc., suspected of illegal crimes, and a case has been opened for investigation. At present, the deposit and withdrawal business of the business outlets of 4 village and township banks is being carried out normally.
Ms. He told reporters that the so-called normal operation of deposits and withdrawals is to whitewash peace. "In fact, foreigners do not give withdrawals. Because they are afraid of local people's trouble, it is not convenient for foreigners to make trouble during the epidemic." According to the local epidemic prevention policy, people from other provinces will be 120 Car pulled away and quarantined for 7 days.
A depositor called the customer service of Yuzhou Xinminsheng Rural Bank, and the other party made it clear that the deposit processed offline can be operated offline, and if the deposit is not processed offline, it cannot be operated at the bank.
In fact, savers who open their cards offline are not so lucky. Some depositors told the Qilu Evening News that from the 19th, each bank branch will only issue 50 accounts, and will handle 50 deposits and collections a day. "Out-of-town customers will not withdraw money. Waiting here for three or four days will not give you a dime. Local customers who come to withdraw money can use their number to withdraw money normally. As soon as you see that your ID card is not from Henan, you will not be given any business. manage."
"People live, money is gone"
A university teacher reported to the Yuzhou police that she asked to report to her superiors that it was the major shareholder who colluded inside and outside the bank to transfer the bank's assets, rather than absorbing public deposits. The China Banking Regulatory Commission will soon deduct the "non-sucking" cap on depositors. It has clearly seen this argument, and the whole direction is biased.
She said, "As depositors, we deal directly with banks, and we never know who the New Wealth Group is? 2 million depositors will not agree to label the common people as 'non-sucking'. Because we reasonably and legally put The money was deposited in a state-listed bank."
"If we say that we participated in non-sucking fraud because of this, what have you been doing with the CBRC and the People's Bank of China for so many years?! Why did you let such a bank deceive us for two or three years? You represent the national credit!"
She pointed out that the country introduced the Banking Law in 2015, which requires compensation for deposits of less than 500,000 yuan. "Once it becomes a non-sucking person, and it becomes a crime of fundraising fraud, then (money) will be gone. Just like P2P, it may not be possible to even have a 20% discount or a 100% discount in ten or eight years."
She asked the state to recognize the status of depositors' deposits in compliance with laws and regulations, and the common people must not be oppressed like this. She cried that people have no money to live, and it is meaningless to live. "The common people have deposited in China's listed banks and become illegal fundraising. What kind of impact will it have on the world? What kind of shock will it have on China's credit system?"
Ms. He also told reporters, "I've been dragging it on now, not to let the bank go bankrupt, not to pay compensation under the deposit insurance law, and I want to say that the depositors are investments. We are obviously deposits, and black and white are reversed. If they want to rely on illegal fund-raising, they don't have to lose money. ."
Depositors were arrested for spraying pepper water
From May 18 to 21, depositors went to the Zhengzhou provincial government and the China Banking and Insurance Regulatory Bureau to defend their rights for four consecutive days. He asked Henan village banks to repay the money and ensure the safety of deposits. Depositors were expelled, beaten, sprayed with pepper spray by the police, and many were taken away.
Ms. Ho said that many people took the risk during the epidemic to go to the scene to petition. According to the description, on May 20, a woman of about 70 years old was forcibly arrested by the police on the grounds of "not wearing a mask" while drinking and eating. Other people could not see it, but stepped forward to stop it. The police officer with the police number 080519 violently attacked the depositors, used chili water and other attacks on the unarmed people, and forcibly handcuffed them. Other depositors were pinned to the ground by police officers and forcibly arrested.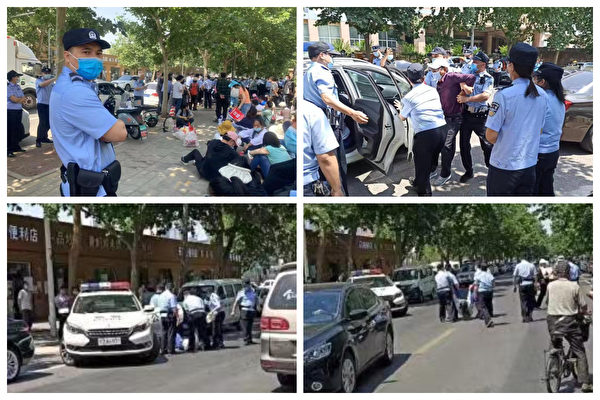 "A few people who were arrested have now been released. They withdrew and went back. Today, people still insist on defending their rights. So far, there are more than 200 people." Mr. Cheng told reporters on the 21st that everyone shouted the slogan "Henan Bank, still I deposit", which is to ask the state to make decisions for the democracy and restore the freedom of depositors to withdraw money.
"We are normal savers, and normal savings are completely different from other investments, funds, and financial management. He has no reason not to give us. But if we don't come to fight for it, I'm afraid it's hard to say. "Mr. Cheng said.
The major shareholder of the bank involved is Xuchang Rural Commercial Bank
During the same period, the same situation occurred in two banks including Xinhuaihe Rural Bank in Guzhen, Anhui Province and Xinhuaihe Rural Bank in Yixian County. The information from Qichacha shows that in the equity structure of the four involved banks in Henan and Xinhuaihe Rural Bank in Guzhen, Anhui, the sponsoring bank and the major shareholder are Xuchang Rural Commercial Bank.
The essence of a village bank is a rural community bank. The China Banking Regulatory Commission stipulated in January 2007 that "the largest or only shareholder of a village bank must be a banking financial institution". The new measures in 2013 stipulated that "there should be at least one banking financial institution among the promoters".
Reuters reported that village banks have become an important channel for private capital to invest in the banking industry, with private capital directly and indirectly holding 70% of the shares.
In recent years, Henan Xuchang Rural Commercial Bank has repeatedly been caught in the whirlpool of public opinion. According to Shenzhou Observatory, the employees of Xuchang Rural Commercial Bank jointly exposed Chairman Xing Jinjun, former Chairman Zhang Jinbao, and Henan New Fortune Group Chairman Lv Yi, who colluded with each other and hollowed out Xuchang Rural Commercial Bank's funds of more than 10 billion. The New Fortune Group was cancelled in February 2022.
In March this year, the Xuchang Municipal Public Security Bureau issued a "Reward Notice", offering a reward of 100,000 yuan for the wanted suspect of "serious economic crimes" in the former Xuchang Rural Commercial Bank's deputy president Sun Zhenfu.
According to the latest news, the heads of relevant departments of the China Banking and Insurance Regulatory Commission stated at the briefing meeting of the China Banking and Insurance Regulatory Commission on May 20 that the next step would be to "deeply promote the reform of small and medium-sized rural banks to reduce risks" and "encourage high-quality banks, insurance companies and other qualified institutions to participate in mergers and acquisitions." Restructuring small and medium-sized rural banks."
In this regard, Ms. He believes that the relevant departments are shirking their responsibilities, and the bank is guarding itself. "All kinds of innuendo, just not solving the problem, let us wait for more than a month, and we are utterly disappointed!"
Responsible editor: Li Qiong#