Everything is in place, only mass production is owed.
inFaraday Future(Faraday Future, FF) listing scene, 6 partners completed the bell ringing ceremony together, and Jia Yueting stood in the audience, smiling and applauding.
From the first SEE (Super Electronic Ecosystem) plan proposed by LeTV in December 2014, to the successful listing of FF in July 2021, Boss Jia has been moving forward in controversy and suspicion for seven years.
This time successfully seizing the turning straw of going public, Jia Yueting's dream of building a car for seven years seems to have gone further.
  Backdoor listing, funds are in place
This timeNasdaqThe FF stock code is "FFIE", the issue price is US$13.78/ADS, and the opening price is US$16.8, a 22% increase from the issue price. The total market value is US$5.4 billion, far exceeding the previous estimate of US$3.4 billion.
Affected by FF's listing, holding 20% ​​of FF's sharesEvergrande MotorTake the lead to usher in a carnival in Hong Kong stocks. As of the close,Evergrande MotorIt rose by more than 20%, sweeping away the decline of the previous few days.
As early as January 28 this year, FF announced its plan to "backdoor listing"-in cooperation with the shell company Property Solutions Acquisition Corp (PSAC), through a special purpose acquisition transaction (SPAC)NasdaqListed.
Compared with the traditional initial public offering (IPO), SPAC has become a popular way for companies to seek less regulatory review and obtain more certainty of listing.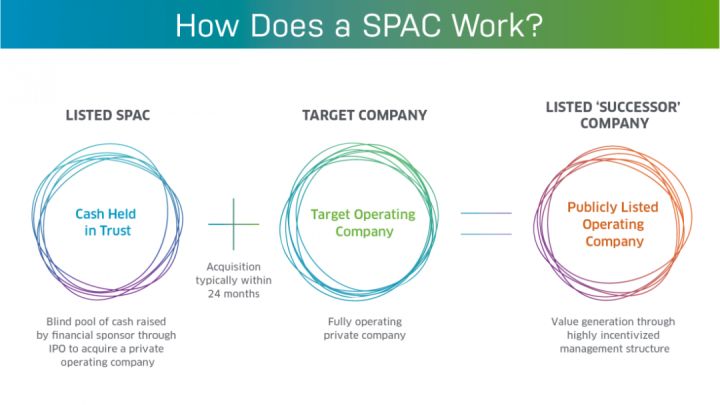 To put it simply, it is to raise funds through a shell company's public offering and IPO, and then install and go public in another company.
In July last year, PSAC raised approximately US$200 million through an IPO. In addition, FF itself also received US$775 million in private investment support led by Geely.
As FF approaches its listing date, PSAC has "advanced" FF's stock price expectations in the eyes of investors, with an increase of 28%.
After the listing of FF, PSAC officially merged with FF and completed its mission.
After this, FF will raise more than 1 billion US dollars to provide sufficient funds and a financing platform for FF 91 Futurist's timely and high-quality mass production delivery, subsequent product development, and continuous product competitiveness. ,
  It's not easy to get to the market
After Jia Yueting founded FF in California, USA in April 2014, he once becameTeslaAfter that, electric vehicles have received the most attention from startups. In 2016, FF obtained the California Autonomous Driving Test License, and the first mass-produced electric car FF 91 shined at the CES show.
However, the good times didn't last long. In China, the collapse of the LeTV system caused Jia Yueting to flee the United States. By the end of 2017, FF had burned out Jia Yueting's US$900 million in capital injection, and the company was in trouble.
In the first half of 2018, Jia Yueting sold 45% of FF's equity in exchange for Evergrande's US$2 billion investment, but in just 6 months, FF spent the first US$800 million investment and even asked Evergrande to advance the remaining investment in advance.
By the end of 2018, the contradiction between FF and Evergrande had intensified. At that time, FF had only US$18 million in cash in its accounts, defaulted on supplier payments of US$59 million, and began to layoffs.
In September 2019, Jia Yueting was unable to advance due to personal credit bankruptcy and the delay in financing. FF changed the former BMW i8 project leader, Bi Fukang, as the new CEO, and then Jia Yueting filed for bankruptcy.Reorganization。
According to the latest news, Zhuhai State Assets, which originally hoped to invest in FF, has also been exposed to have terminated its shareholding. The current foreign exchange needs to be approved by the Chinese regulatory authorities and cannot complete the investment, and its investment quota has been transferred to relevant investment institutions.
So far, the management of the original FF company holds 31.1% of the shares; PSAC holds 21.1% of the company's shares; Evergrande holds 20.4% of the shares of FF through Season Smart Limited.
It can be seen that before going public, FF has experienced a series of operations that are not conducive to FF, such as capital breakage, inability to mass produce, company layoffs, investor abandonment, etc., but ultimately managed to survive.
This matter is also easy to understand from the industry: new energy vehicles have always been an area that investors are keen on, and there are not many companies that can invest.
After experiencing the "closure tide", the new car-building forces that can survive have become "sweet rice cakes."
In the roadshow PPT, FF said that FF 91 has completed most of the vehicle development. Investing in such a company with a complete layout is far less risky than a company that chooses "PPT to make cars".
Therefore, even though the vast majority of investors and users will still have a great prejudice against FF because of Jia Yueting's dark history, its title of "new energy vehicles" is already attractive enough.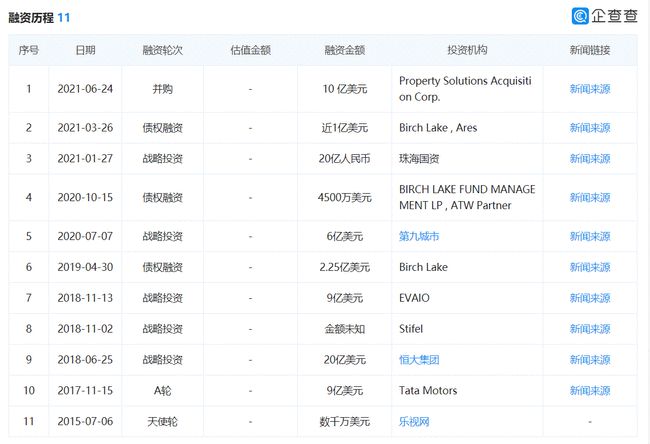 Can FF play?
On April 13, the China Securities Regulatory Commission issued a notice stating that due to LeTV's financial fraud, the China Securities Regulatory Commission decided to impose lifelong securities market bans on Jia Yueting and others.
And just two months later, on Father's Day, Jia Yueting sent aWeibo——FF is like my child, I will always be proud of it!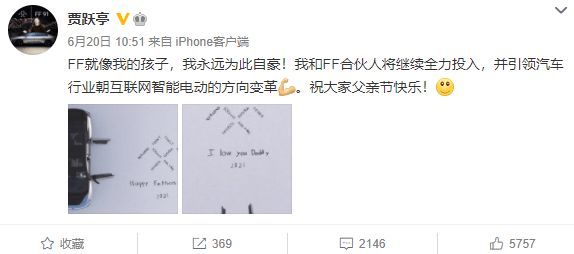 Now, Jia Yueting has completely forgotten the old LeTV in his heart. After all, although FF cars have not yet achieved mass production, this does not hinder its "big money prospects."
Although it has been more than 4 years since its exposure in March 2017, FF 91 has not seen any cars on the road so far, and mass production has always remained verbal. But as FF goes on the market, the mass production of FF should no longer be a problem.
According to previous news, the FF flagship model will be put into production in the middle of next year (2022), with an initial production capacity of approximately 10,000 vehicles per year. In addition to the annual production capacity of 10,000 vehicles in California, FF also plans to establish manufacturing bases in China and South Korea to increase production capacity.
In June of this year, Sean, founder of Purist Group LeeVisited the FF global headquarters and experienced FF 91 in person.
According to the introduction of FF official micro, the rear row of FF 91 is a zero-gravity seat, and users can lie down at 120 degrees. At the same time, the rear passengers of the FF 91 only need to use simple voice commands to control the unique 27-inch rear passenger display (RSD) of the FF 91, including the lifting of the screen, and realize the in-car video conference during driving.
In terms of power, the FF 91 is equipped with a drive motor with up to 1,050 horsepower, which can accelerate from 100 kilometers in 2.39 seconds. At the same time, it is equipped with a battery pack with a capacity of 130kWh and has a battery life of more than 700km.
If these parameters are true, then FF 91 is still better thanTesla。
In addition to whether it can be mass-produced, the biggest problem currently facing FF91 is price.
FF oneExecutivesIt was revealed in a conversation that the price of FF 91 is expected to be around US$250,000 (approximately RMB 1.58 million). If factors such as tariffs are taken into account, the price of this car in China will exceed 2 million yuan.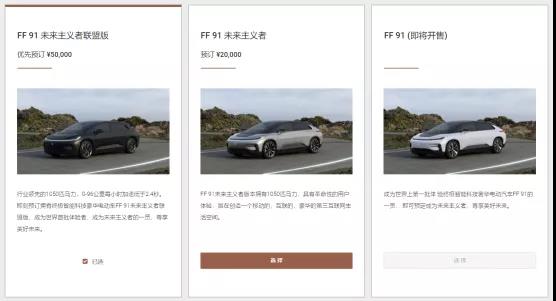 Compared to the domestic version of "True Fragrance"Tesla, FF 91 of 2 million yuan can be said to be no price-performance ratio at all.
But in terms of official website orders, there are currently more than 14,000 orders for the FF 91 series, which is a pretty good result.
According to FF's plan, three models will be launched after FF 91, namely FF 81, FF 71 and the last-mile delivery vehicle (SMART LAST MILE DELIVERY, SLMD).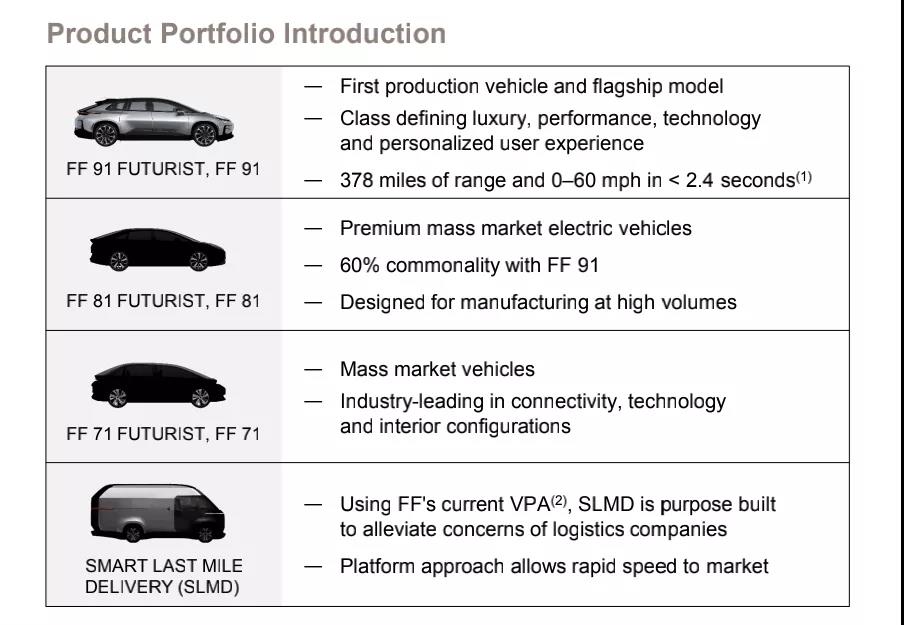 With this layout, we even saw the shadow of Tesla: start with the high-end first, and then gradually expand the user base with more affordable models.
After all, in front of many competitors, cheap models are FF's products to really open up the market.
  Concluding remarks
Compared to other new car-making forces, FF is lucky.
Relying on Jia Yueting's own charm, FF has won the favor of capital again and again.
In addition, being in the United States allowed FF to successfully avoid the edge of new Chinese car-making forces until it waited for new energy.Automobile industryThe true golden age.
Although there are many bumps on the road to build a car, FF is now successfully listed, and Jia Yueting's dream of building a car is getting closer.
In short, the new car is getting closer and closer to us, and everything is ready. Whether Jia Yueting's last battle will succeed, we can wait patiently.
(Article source: OFweek)
.