On the morning of June 24th, Beijing time, Kuaigou Taxi was officially listed in Hong Kong today, becoming the "first stock in the same city".The company's closing price on the first day of listing was HK$16.7 per share, down 22.2% from the issue price of HK$21.5 per share. Based on this calculation, the current market value of Kuaigou Taxi is HK$10.292 billion.
access:
Alibaba Cloud exclusive benefits for resumption of work start from 1 yuan for the first purchase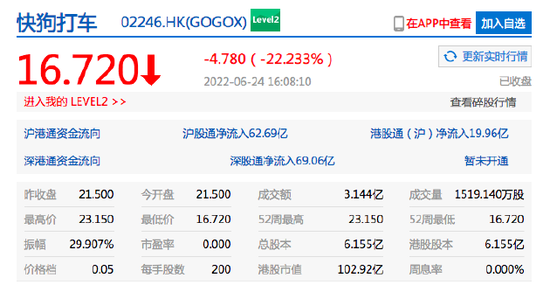 This morning, Kuaigou Taxi opened flat on the first day of its listing. Since then, it has risen by more than 6%, and the stock price has plunged and broke in the afternoon.
On April 24, Kuaigou Taxi submitted a listing application to the Hong Kong Stock Exchange, with CICC, UBS, BOCOM International and ABC International as joint sponsors.
According to the prospectus, the revenue of Kuaigou Taxi from 2018 to 2021 was 453 million yuan, 548 million yuan, 530 million yuan, and 660 million yuan respectively, and the losses during the period were 1.071 billion yuan, 184 million yuan, 658 million yuan, and 8.73 billion yuan respectively. billion.
In terms of shareholding, as of before the IPO, Kuaigou Taxi's largest shareholder was 58 Daojia, with a shareholding ratio of 50.51%. GoGoVan Cayman (held by shareholders such as Lin Kaiyuan) holds 17.58%, Taobao China holds 12.92%, and Cainiao holds 2.84%.