On October 25, New Oriental announced that it would stop operating out-of-school training services for subjects at the compulsory education stage in Mainland China. It is provided to students from kindergarten to grade 9 (K-9 or compulsory education) in Mainland China. The termination is expected to take effect before the end of November 2021. Nearly a hundred days after the double reduction policy was promulgated, the education and training industry has undergone earth-shaking changes. Where are the millions of practitioners going?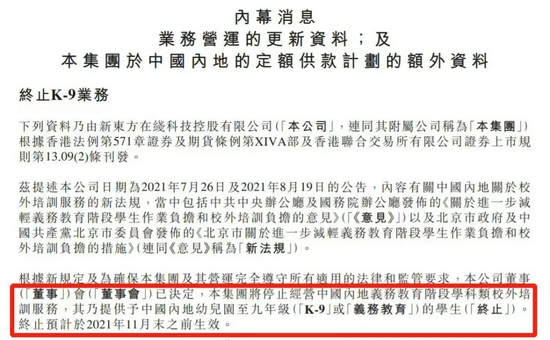 Reporters from Beijing Business Daily went deep into the front line and had in-depth dialogues with teachers, functional personnel and related investors in the education and training industry. Among them, some succeeded in changing careers, some re-entered the postgraduate entrance examination, and some were still wandering on the way to find the future.
An objective fact is that many investors have withdrawn from the education track this year and turned to consumption and other fields. Industry insiders said, "Education is not an industry that makes quick money."
Identity change
The second turn from teacher to candidate
Liu Xiaoling told reporters from Beijing Business Daily that with her good English performance, she became a children's English teacher in education and training institutions in the first half of 2020. "Most of the children taught are preschool or lower grades of elementary school, and the organization is also positioned for children's English training."
"In the past two years, I have jumped once, and the two institutions I stayed with are considered relatively well-known in the industry." Liu Xiaoling said that despite the change of institutions, she has always taught offline. "Beijing has been strict in resuming classes in institutions this year. Sometimes it is only possible to teach online. Parents are not satisfied. Coupled with the release of the'double reduction' policy, institutions have begun to vacate teaching sites and many teachers have left. I now They are all online teaching, and the time requirements are relatively tight."
According to a typical case of the "double reduction" pilot area published on the website of the Ministry of Education on October 25, as one of the pilot cities, Beijing's offline discipline-related unlicensed institutions have a reduction rate of 98%. The reduction ratio is also up to 60%.
"Institutions are very fluid now. Teachers are leaving their jobs to find a home. If the situation does not improve in January and February next year, it is estimated that they will disappear." Liu Xiaoling admitted that she hasn't left her job because she doesn't want to cut off the payment. Social security. And her salary is almost 3/4 less than before.
"Maybe I need to switch to another industry and start again." Liu Xiaoling just signed up for the management graduate exam in October. Liu Xiaoling said, "Fortunately, I have prepaid the rent for the rented house, and now I am waiting for the results of the graduate exam at the end of the year. "
From the perspective of Liu Xiaoling's current life, it is her normal state to teach children online while preparing for exams. "It's also very busy. After all, there are fewer students teaching now, and parents are queuing to refund fees."
Change career
To completely jump out and give yourself a chance
Recently, a group called the "Education and Training Mutual Aid Alliance" appeared on the Douban platform. The introduction of the group wrote: "I hope to give the confused and helpless teachers and trainers a little warmth and strength." At present, there are close to 2,000 members of the group, and many teachers and training practitioners share their career transition stories.

Image source: Douban "Teaching and Training Mutual Aid Alliance" team screenshot
Ah Qin currently works in an online education institution. According to her, her company is considered to be the leader in the industry. Her position is the front-end transformation of the grassroots management, which is biased towards sales. "For me, the current change is that the paid salary has become 1/4 of the original." Ah Qin said that he can't make money in his current position, but there is no new place to go.
"The company had layoffs before, so I also want to wait for an'N+1′." According to Ah Qin, after the "double reduction" policy was released, the company adjusted its business and there were some differences in the work content. adapt. When it comes to job-hopping, Ah Qin said that his work experience is in the education industry, and it is not easy to switch to other industries. "The only change that can be said to be a little better is that there is no need to work overtime on a large scale. This year, it is rare to have a normal Mid-Autumn Festival and November."
Unlike Ah Qin, Li Ming left his former Internet education company in June this year and received "N+1" compensation. After two months of job hunting, she entered the real estate field and set off again.
"I think the impact on functional posts is relatively small." According to Li Ming, she worked in human resources before and after her job change.
"The current company may be a little worse in terms of benefits, and job-hopping and salary increases have not been fully realized, but fortunately, I found a job before most of the teachers and trainees applied for a job." Although Li Ming has resigned now, she still occasionally still Will follow the news of the former company. "The industry does have unhealthy development. Apart from anything else, the zero-experience lecturer who just graduated is worth so much money, and the salary is too high."
Don't make quick money
Investor's departure and retention
The cold and warm of the industry, investors are the prophet. Beginning in the first half of this year, major capitals began to flee the education sector, and investors have gradually withdrawn from the market. According to industry insiders, many of the investors who evacuated have turned their attention to the consumer industry.
"Almost since 2001, I entered the distance education industry." Yu Meng established a consulting company in the education industry this year. "I have been in the industry for a long time, and my long-term focus is on'Internet + pan-education'. Field," Yu Meng said, the K12 field has developed extremely rapidly in the past few years, and in this fiery wave, he is inevitably coerced. "This industry is developing too fast. I don't think this is a normal phenomenon, but because of the existence of customer needs and market trends, it is difficult to avoid it."
Yu Meng revealed that although the company has just been established this year, the current daily business and work have not changed much. "The change may be that when I was looking for projects for funds, I used to look for some K12-related, but now it has been changed to vocational education-related, but also to expand new business in new fields."
According to the requirements of the "double reduction" policy, at present, new subject-based off-campus training institutions for students in compulsory education are no longer approved throughout the country, and existing subject-based training institutions are uniformly registered as non-profit institutions. The online discipline training institutions that were originally filed are changed to an examination and approval system.
"From the perspective of the country's long-term development, I think the education industry has much to do." Yu Meng said with a smile. "For many investors, from a purely commercial point of view, the education industry is no longer a particularly worthwhile track for rapid wealth growth."
A reporter from Beijing Business Daily also observed that since this year, the share prices of listed companies in the education sector have plunged, and the market value of the industry has also shrunk significantly. Financing incidents in the education and training industry have also plummeted. There are very few K12 areas, and the areas where financing is louder are concentrated in subdivisions such as corporate services and vocational education. Take the financing situation in September as an example. According to the Blackboard Insight data, in September 2021, 14 companies in the education and training industry raised a total of 546 million yuan. The data for the same period last year was that 22 companies raised 4.273 billion yuan. In comparison, The financing amount has shrunk by more than 80%.
"In the industry, in addition to those with educational feelings, there are also people who have been in this industry for many years and have no time to change careers." Yu Meng said frankly, "As long as there is water in the river, she will continue to stay. If the river dries up completely, she will also have to leave."
Reporter丨Cheng Mingjie Zhao Boyu
Editor丨Zhang Lan
.