SpaceX is undoubtedly the hottest aerospace technology company at the moment, and it is also hot in the investment market, but recently, a Chinese company's investment in SpaceX has been directly returned.
On November 17, Leo Group Co., Ltd. announced that through its wholly-owned subsidiary Leo Investments Hong Kong Limited (hereinafter referred to as Leo Investments) and Tomales Bay Capital Anduril III, LP (hereinafter referred to as TBCA) signed an investment agreement to contribute capital 50 million US dollars (about 320 million yuan).
TBCA's investment target this time is SpaceX.
TBCA is a global venture capital and private equity company. It has invested in 12 projects including Uber. In February 2015, it participated in SpaceX's G round of investment with Google and others, with a total scale of US$1 billion.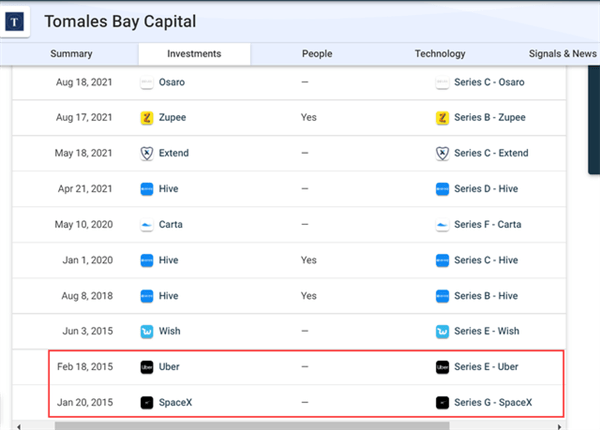 Leo's main business includes traditional machinery manufacturing (mainly civil water pumps), transformation of digital marketing, and aerospace science and technology.
In addition, Leo shares have invested heavily in different projects such as WeChat public account operations, masks, new energy vehicles, and Metaverse. Now they are investing in SpaceX, which has been questioned by many investors for lack of business and hot hype.
Especially after the announcement of the investment in SpaceX, Leo's shares had a continuous daily limit and received a letter of concern from the Shenzhen Stock Exchange, asking them to explain the specific arrangements and progress of the investment in SpaceX.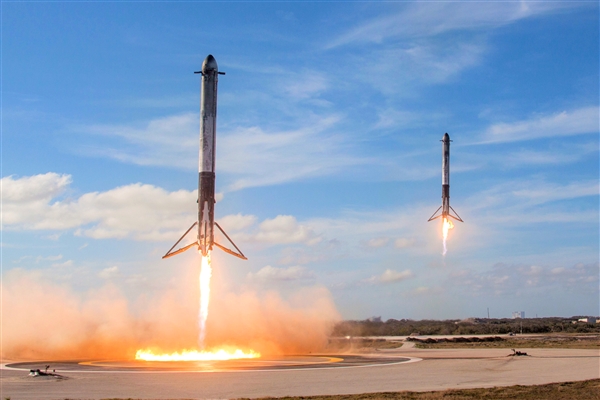 On November 25, Leo Shares issued another announcement stating that Leo Investment signed an investment agreement on November 15 and completed its capital contribution to TBCA on November 16, butTBCA sent an email saying that it could not accept Leo Investment to continue to hold its share, and planned to refund Leo Investment's capital contribution.
Leo shares immediately replied to express its opposition, but on November 24, TBCA refunded Leo Investment's capital contribution of 50 million US dollars.
Leo shares stated that the TBCA termination agreement has no legal basis, and it will not accept its return of investment funds and the recovery of Leo's investment shares, and reserves all rights to safeguard the company's interests, including but not limited to the initiation of judicial proceedings.
Leo also emphasized that this matter will not adversely affect the company's production, operation and business development.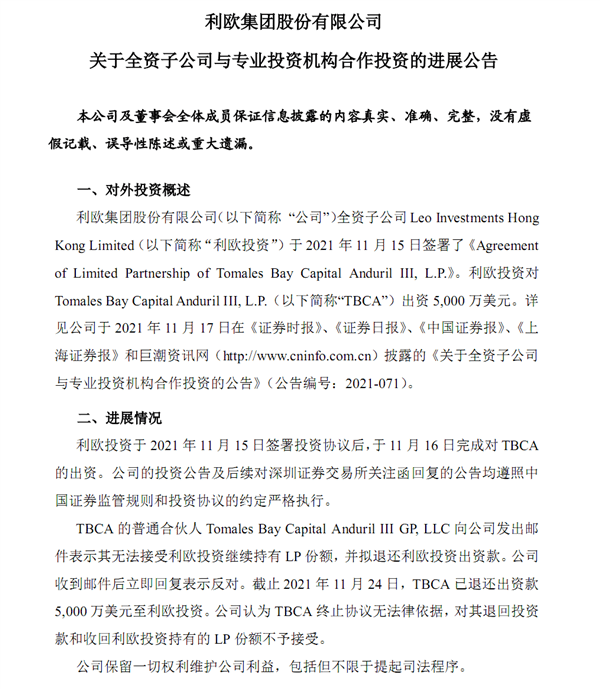 – THE END –
Please indicate the source for reprinting: Fast TechnologyReturn to Sohu to see more
Editor:
Disclaimer: The opinions of this article only represent the author himself. Sohu is an information publishing platform. Sohu only provides information storage space services.
.