Download the Sina Finance APP to learn about the latest futures news
Original title:[Jiaolian Information]On July 30, the price of coke increased by 120 yuan/ton and the scope has been gradually expanded Coking coalStrong upward trend remains unchanged
Source: Jiao Lian Information
  1
  CokeFocus
  Coke market
  In terms of coke, the domestic coke market is operating steadily and strongly today, and the price of coke in mainstream areas has risen by RMB 120 per ton. In terms of supply, with the exception of coke companies in some regions that still have limited production arrangements, coke companies in other regions have maintained a relatively high operating rate, with acceptable shipments, and less pressure on inventory in the factory. Due to environmental factors, the supply of coke in some regions fluctuates slightly. , Some coke companies are reluctant to sell their goods. The current mainstream quasi-level wet quenching price in Shanxi is RMB 2450-2520/ton. In terms of demand, the overall start-up of steel plants is temporarily stable, and the inventory in the plant is declining. There is still a certain demand for coke, mostly on-demand procurement. Some steel mills have recently become more active in replenishing warehouses and are actively preparing for warehouses. In terms of ports, the port's spot market has been operating steadily and on the strong side. The inventory levels of the two ports have increased. The market mentality has improved slightly. Some traders have increased their purchasing enthusiasm. However, due to the extreme weather, the situation of some ports is not good. The mainstream current remittance price of metallurgical coke is 2770-2800 yuan/ton. On the whole, the recent excessively high prices of raw coal have led to an increase in the production costs of coking companies, and the shortage of some coal types has affected the production of coking companies to varying degrees. The supply of coke has tightened, and some downstream steel mills and traders have begun to actively purchase coke. , The mentality of coke enterprises has changed, and they are optimistic about the market outlook. It is expected that the coke market may be stable and strong in the short term. In the later stage, we need to continue to pay attention to the impact of environmental protection policies, raw coal price trends, coking steel companies' production restrictions, and the implementation of policies to reduce crude steel production.
Port coke price

  2
  Focus on coking coal
  Coking Coal Market
  In terms of coking coal, the domestic coking coal market is operating steadily and on the strong side today. Safety and environmental protection are strictly enforced in various places. The output of coal mines has not yet recovered to the previous high. The output of coking coal continues to tighten, and the supply of some high-quality resources is even more tight. Prices are strongly supported, and some coal types are still expected to rise. Now the fat coal (A10, S1.3, G90) in Linfen area of ​​Shanxi is reduced by 80 yuan to the ex-factory price of 1905 yuan/ton; the lean raw coal (S1.2, G70) in the Luliang area is raised by 135 yuan to the ex-factory price of 1,250 yuan/ton, lean coal (A8.5, S2.8, G60) Increased 130 yuan to the ex-factory price of 1,330 yuan/ton; individual coal mines in Qipanjing area of ​​Inner Mongolia (A12, S0.8) increased 50 yuan to the ex-factory price of 1,820 yuan/ton , High ash and mid-sulfur coal (A12, S1.8) will be increased by RMB 50 to ex-factory price of 1,600 yuan/ton, and fat coal (A12, S2.4) will be increased by RMB 50 to ex-factory price of 1,460 yuan/ton.On the downstream side, with the gradual recovery of road and railway transportation, the coking coal arrival situation of coking steel enterprises is better than that of the previous period.Turn, But the overall inventory in the plant is at a low-to-mid level, and there is still a demand for replenishment of raw coal. However, the price of some coal types has risen to a high level. Reduced. On the whole, the mainstream of the domestic coking coal market is expected to operate steadily and well in the short term. In terms of imported coking coal, Australian coal imports are still under control, and other countries import less coal, and the market supply and demand are still sufficient, which will support the price of imported coal. As for Mongolian coal, with the gradual restoration of customs clearance at ports, the inventory in the supervision area has increased, but the saleable resources are still limited. The quotations of individual ports have been raised. Among them, the price of some Mongolian 5 clean coal in Tangshan area has been raised to 2,400 yuan/ton. 5 The mainstream price of raw coal is 1650-1680 yuan/ton, and the mainstream price of Mongolia 5 clean coal is 2100 yuan/ton.
  Qinhuangdao Port Railway transfers in 50.710,000 tons, 407,000 tons of ships, 3.89 million tons of on-site storage, 40 anchorage coal ships, 27 are scheduled; SDIC Caofeidian Port Railway transferred 244,000 tons, loaded 164,000 tons, and yard storage of 3.220 million tons. There are 7 coal ships, and 7 ships are scheduled; SDIC Jingtang Port Railway transferred 159,000 tons, loaded 159,000 tons, yard storage 1.190 million tons, and 5 anchorage coal ships, 1 ship is scheduled。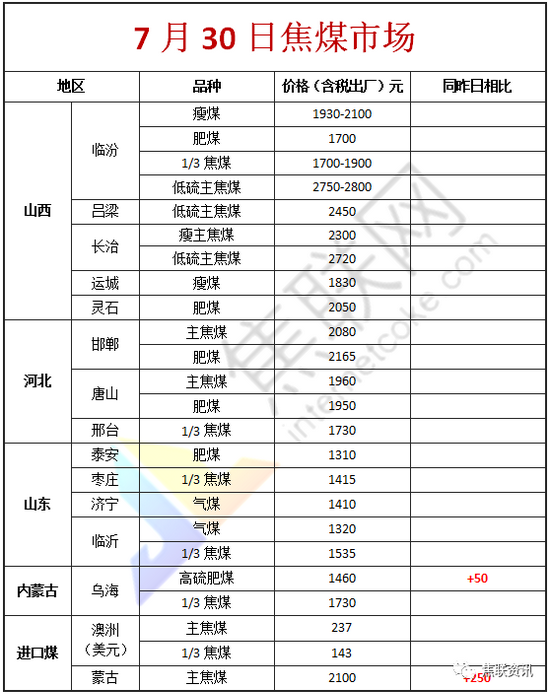 Port inventory

Road freight rate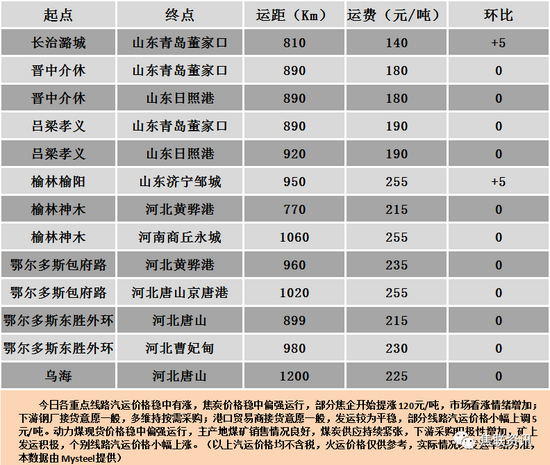 3 Building materials focus on the building materials market
  Summary of Building Materials Market
  Yesterday, the price of domestic building materials was steadily adjusted, and the adjustment range was 10-50 yuan. Among the 28 major cities, 21 cities were flat, accounting for 75%, 5 cities fell, and 2 cities rose. In terms of futures: thread 2110 opened at 5660, the highest was 5770, the lowest was 5628, and closed at 5753, up 110 or 1.95%;iron ore2109 fell 18 or 1.59%. Steel mills' price adjustments: Shandong Shiheng Special Steel and Laiwu Steel's Yongfeng Thread and Panluo will be reduced by 30; Inner Mongolia Yaxin High-Speed ​​Wire, Thread, and Panluo will be reduced by 50; Baotou Da'an High-Speed ​​Wire, Thread, and Panluo will be reduced by 50. Upstream: The General Administration of Customs: my country has imported 5.749 million tons of steel billets in the first half of 2021, a year-on-year increase of 3.8%. Downstream: In June 2021, 153 new orders were signed globally, totaling 4624384CGT. Compared with May 2021, the number increased by 42 month-on-month, and the revised gross tonnage increased by 56.77% month-on-month. In terms of inventory: this Friday, the total inventory of major steel products was 21.370,100 tons, down 41,900 tons from the same period last week, of which social inventory increased by 18,700 tons to 15.260,900 tons, and steel mill inventories fell by 60,600 tons to 6,109,200 tons. Industry: The General Administration of Customs: China exported 37.382 million tons of steel in the first half of 2021, a year-on-year increase of 30.2%, and imported 7.349 million tons of steel, a year-on-year increase of 0.1%; in June 2021, the average unit price of steel imports in China was US$1286.58/ton, month-on-month An increase of 1.74%, an increase of 69.69% year-on-year, and an average export unit price of US$1283.35/ton, an increase of 12.42% month-on-month and an increase of 40.74% year-on-year; Affects about 6% of the pig iron output of the company's Liuzhou production base; Yonggang's 2021 8-1 period discount, 4.5% off thread (60% off in the previous period), 15% off coil (30% off in the previous period); Yancheng Lianxin Steel Plant decided to start from August Cancel the production of "Yellow Sea" HRB400 (general) from the 1stRebar. In terms of transactions: Affected by the macro policy, the black futures rose sharply, the spot market mentality has recovered, and merchants are more cautious in their operations. In the afternoon, individual merchants have seen a slight increase. However, under the influence of the low season of the steel market, the overall transaction still falls short of expectations Considering that the macro policy is still positively driven, and the phenomenon of steel plant maintenance and production restrictions has increased significantly, steel prices are likely to rise but hardly fall. It is expected that domestic building materials prices may rise steadily today.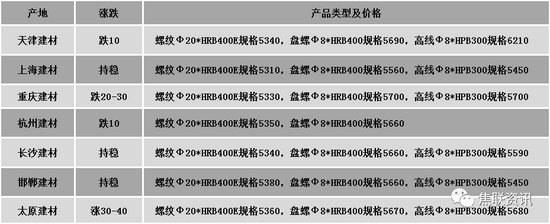 Download the Sina Finance APP to learn about the latest futures news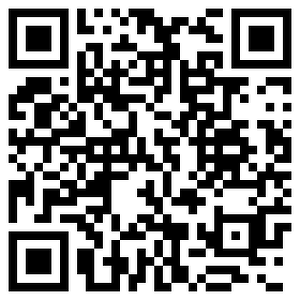 Massive information, accurate interpretation, all in Sina Finance APP
Editor in charge: Zhao Siyuan
.