The S&P 500 has just entered the bear market and is down 21.33% from the highs (data as of the close of 13/06/2022), while the Nasdaq composite had already been in the bear market for some time and marks -31% YTD . If we add to these already alarming data an American inflation of 8.6%, a war that continues to create social and geopolitical problems and increasingly restrictive monetary policies by central banks, here are all the items to be concerned about potential recession. But if it really goes in that direction why does the price of oil continue to rise instead of falling?
Resistors: $ 123, $ 130, $ 139
Media: $ 120, $ 115, $ 100
As we can see from the daily Brent chart, the price of oil, after the collapse of 2020 (due to the lockdowns which strongly reduced the demand for crude oil), increased substantially both in 2021 and even more in 2022. In January 2021 Brent was quoted at $ 51 a barrel while at the moment it is at $ 123 / b with a rise of 140% and an average of $ 81 / barrel in the period considered; And according to more and more analysts the oil shock will not end in 2022, but will continue into next year as well.
Demand is growing, but supply is struggling
Despite the ongoing slowdown in economic growth, oil demand is expected to rise until 2023, with an offer increasingly struggling to keep up. For these reasons, several analysts estimate that Brent crude oil could soon reach $ 150 a barrel, while some fear that it could even reach $ 170 – $ 180 by the end of 2022, driven by the pent-up post-Covid demand, as well as by the European sanctions against. the Russia.
Since the outbreak of the war it has been realized that as the escalation increased, at the same time the price of oil increased; but in addition to the geopolitical crisis, they are the dynamics of supply and demand which explain what is happening on the oil market, allowing us to correctly analyze the price of oil.
The pandemic froze consumption for nearly 18 months, with the price hitting negative levels ($ -37 per barrel) at that time, meaning that theoretically producers had to pay buyers to trade oil. Indeed, for various technical reasons it is difficult to stop oil production and since February 2020 oil has been stored in all possible places as there were no buyers. So the collapse of oil in that period is due to a real situation of excess supply on demand.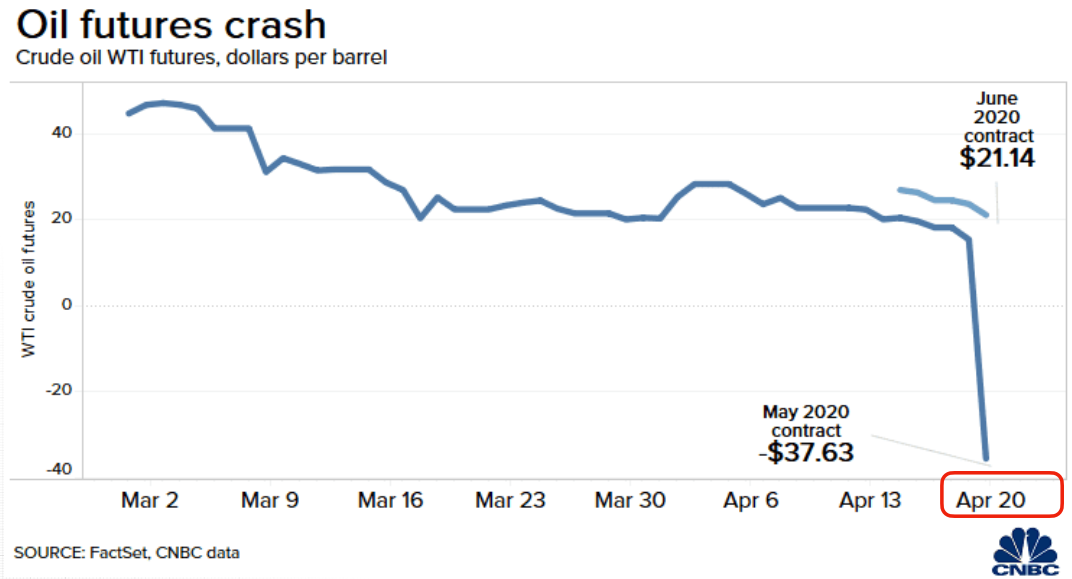 As we know theoversupply of oil causes an increase in stocks in warehouses and this leads to a decline in the price of black gold.
But from that shock of April 2020, we have moved on to another and from a situation of oversupply we have passed to a phase in which we have an excess of demand. In fact, with the global economic recovery, the demand for oil has increased more and more so that supply cannot keep up with it, and once again we have a misalignment between supply and demand.
In a situation of excess demand, the quantity of a good demanded by consumers is higher than the quantity offered by the producers and this inevitably leads to an increase in prices (as in the present case).
The offer is not enough
At the moment the members of theOpec (Organization of Petroleum Exporting Countries) are having difficulty in reaching their production quota and they are not the only ones: even the Russia (one of the top three crude oil exporters) is struggling to keep supply and demand in line. The current supply crisis is fundamentally due to a lack of investment in the sector by many countries and the increase in post-covid demand only makes this deficit even more evident.
If the production and therefore the supply of oil does not increase, the prices of black gold could then rise further.
L'EIA (Energy Information Administration) predicts that non-OPEC countries other than the United States and Russia will add 0.9 million barrels per day of liquid fuel supply in 2022 and 0.8 million barrels per day in 2023. The institute also expects that total non-OPEC oil production will increase by 1.9 million barrels per day (b / d) in 2022 and by 1.4 million b / d in 2023, compared to an increase of 0.8 million b / d g in 2021.
According to the EIA, there will be several producers who will have to increase production, such as Canada, Brazil, Norway and China and these increases will try to compensate for the expected drops in Russian production of 0.4 million barrels per day in 2022 and 0.9. million barrels per day in 2023.
While everyone is waiting for the EIA's forecasts, which will come out tomorrow, the consensus estimates that 2023 oil demand varies between 1 million more barrels per day and 2.5 million barrels per day; while it is probable that in 2022 the growth in oil demand will be 1.8 million barrels per day.
There are signs of uncertainty, in fact, the OPEC + cartel, after starting 2022 with a large unused production capacity, is reaching its production limits. As OPEC Secretary General Mohammad Barkindo stated,"With the exception of two or three members, all are at full capacity."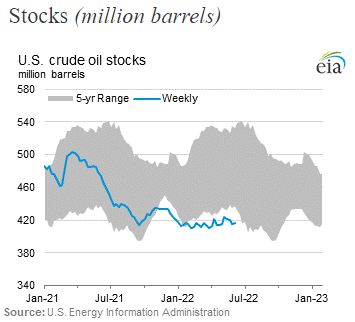 The result is that probably stocks will be reduced for the third consecutive year existing oil stocks, this after a precipitous decline in global crude oil and refined product inventories over the past 18 months (as we see from the graph above). For the time being, Western governments have mitigated the impact of dwindling supplies by releasing the largest number of barrels ever from their strategic oil reserves; but without further actions capable of supporting the market, the situation could worsen.
Crack spread 3-2-1
Another problem is the sector of refining. The world has effectively run out of spare capacity to turn crude oil into fuels like gasoline and diesel, and as a result, refinery profit margins exploded. This means that consumers pay far more to fill their tanks than oil prices suggest.
The oil industry measures refining margins using a rough calculation called "crack spread 3-2-1": Three barrels of West Texas Intermediate crude are refined into two barrels of gasoline and one of distillate, such as diesel. From 1985 to 2021, the crack spread and thus the gap between the price of crude oil and refined products averaged around $ 10.50 per barrel. Last week, it rose to an all-time high of nearly $ 61. This means that very few new refineries will go into operation in the next 18 months, suggesting that cracking (extraction method) margins could remain sky-high for the rest of the year and in the new one.