Cover reporter Liu Xuqiang
On January 14, the three major A-share indexes diverged. The Shanghai Composite Index fell 0.96% to close at 3521.26 points; the Shenzhen Component Index rose 0.09% to close at 14150.57 points; the ChiNext Index rose 1.18% to close at 3119.41 points. The market turnover was 1.1 trillion yuan, and individual stocks fell more and rose less, and more than 3,000 individual stocks fell.
From the perspective of the disk, the industry sector rose less and fell more, and the pharmaceutical sector led by new crown testing and traditional Chinese medicine performed strongly overall. The new crown detection concept stocks set off a daily limit, and the leading Jiu'an Medical has once again reached the daily limit. Recently, it has increased the daily limit four times in a row, and in the past two months, it has gained a total of 27 daily limit sectors, which has surged nearly 12 times in a short period of time.
On the news side, recently, the repeated outbreak of the epidemic has caused the demand for new crown tests in the United States to soar. Jiu'an Medical announced this morning that its American subsidiary and American ACC signed a "Purchase Contract" on January 13, 2022, local time, to sell iHealth kit products to it. The total contract price and tax amounted to $1.275 billion (including shipping costs) , about RMB 8.1 billion.
In addition, the State Food and Drug Administration held a symposium on the 13th to implement the "14th Five-Year Plan for the Comprehensive Revitalization of Northeast China" and "Several Measures of the State Food and Drug Administration to Support the Comprehensive Revitalization of Northeast China" and other documents, proposing to support the inheritance, innovation and development of traditional Chinese medicine. , build a brand of authentic medicinal materials in Northeast China, and strengthen the quality and safety supervision of traditional Chinese medicine.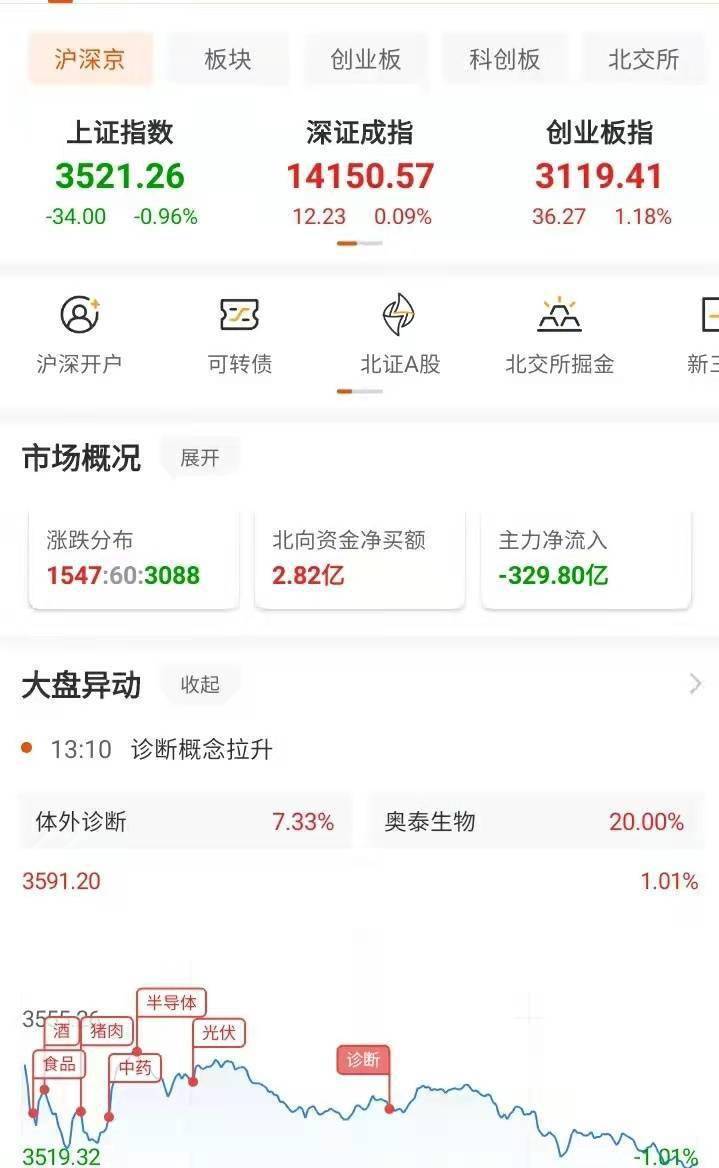 Northbound funds:
The net inflow of northbound funds was 282 million yuan throughout the day today, of which the net outflow of Shanghai Stock Connect was 753 million, and the net inflow of Shenzhen Stock Connect was 1.035 billion.
Institutional recommended stocks:
China Merchants Securities: Gujia Home Furnishing, Ping An Bank, Binglun Environment, Milkway, Han's Laser;
Huachuang Securities: Rongsheng Petrochemical, Sichuan Luqiao, Tsingtao Brewery, Baofeng Energy.
(The above contents are all from daily brokerage reviews, and do not constitute any buying and selling advice. Entering the market based on this is at your own risk.)Return to Sohu, see more
Editor:
Disclaimer: The opinions of this article only represent the author himself, Sohu is an information publishing platform, and Sohu only provides information storage space services.
.