On August 1, Beijing time, the U.S. Securities and Exchange Commission (SEC) issued a statement that increased the information disclosure requirements for Chinese companies listing in the United States.
In response, the China Securities Regulatory Commission stated that the regulatory authorities of the two countries should continue to uphold the spirit of mutual respect and win-win cooperation, strengthen communication on the supervision of China's concept stocks, find proper solutions, and create a good policy expectation and institutional environment for the market.
The China Securities Regulatory Commission stated, "We have always been open to companies choosing the place of listing, and support companies to choose international and domestic markets in accordance with the law. No matter where they are listed, they should comply with the relevant laws, regulations and regulatory requirements of the place of listing and operation. At present, the Chinese competent authorities are conducting standardized management of relevant industries, with the purpose of coordinating development and safety, and promoting the sustainable and healthy development of market entities. During the formulation and implementation of the system, the China Securities Regulatory Commission will communicate closely with relevant departments to further coordinate and deal with it. The relationship between investors, companies, regulators and other parties will further enhance the transparency and predictability of policy measures." (Source: 36Kr)
On August 1, the official website of the Hong Kong Stock Exchange showed that NetEase Cloud Music had passed the listing hearing and uploaded the post-hearing data set. The listing co-sponsors were Merrill Lynch, CICC and Credit Suisse.
The data shows that NetEase Cloud Music's Q1 total revenue was 1.5 billion yuan, a year-on-year increase of 74.6%; the gross loss rate was significantly narrowed from 26.8% in Q1 in 2020 to 3.6%; Q1 monthly active users reached 183 million; the number of online music paid users 24.29 million, a year-on-year increase of 91.5%; online music payment rate was 13.3%. From 2018 to 2020, NetEase Cloud Music's annual revenue will be 1.1 billion yuan, 2.3 billion yuan, and 4.9 billion yuan, respectively.
The data set shows that the company has conducted four rounds of financing, with financing amounts of US$132 million, US$150 million, US$476 million, and US$702 million. This is consistent with the information previously officially promoted. Earlier, NetEase Cloud Music officially announced a round A round of 750 million yuan in financing, a B round of over 600 million US dollars in financing, and a B2 round of 700 million US dollars in financing. (Source: Pingwest)
Tencent cracks down on Wu Yifan's cyber navy: rumors attack, induce fund-raising
On the evening of August 1, Tencent issued a special announcement on the implementation of the "Clearness · "Rice Circle" Chaos Remediation Project.
Earlier, Beijing's Chaoyang District Public Security Bureau officially announced that: in response to the Internet report "Wu Moufan has repeatedly tricked young women into having sex" and other related situations, after police investigation, Wu Moufan (male, 30 years old, Canadian) He has been criminally detained by Chaoyang Public Security Bureau in accordance with the law for being suspected of rape, and the investigation and handling of the case is being further carried out. After the news was released, a large number of irrational "fans" posted various radical remarks on the Internet, and even made radical behaviors, which attracted many media criticisms.
Tencent stated in the announcement that recently, through user reports and security inspections, it was discovered that in the case of Wu Yifan being detained in accordance with law for suspected rape, there were some harmful behaviors such as rumors and attacks on the platform, induced fundraising, and topic creation by some cyber navy forces. In this regard, Tencent has severely dealt with accounts that post and disseminate related unhealthy information.
Tencent stated that it has been committed to creating a safe, healthy, and green network ecological environment, and will continue to strengthen its efforts to deal with "rural chaos", focusing on handling chaotic behaviors such as inducing fund-raising, beating lists and verbal abuse, and standardizing platform management. Strengthen the protection of minors, and strictly prevent network naval forces from interfering with search results. (Source: Fast Technology)
Beijing Metro supports digital renminbi ticket recharge
On August 1, Beijing Rail Transit announced that it will support digital RMB offline ticket purchase/card, ticket replacement and recharge from August 1. Passengers can also purchase tickets online through the Yitongxing APP.
Last month, Beijing Metro launched a test of the digital renminbi payment channel on the entire road network. Passengers can participate in digital renminbi payment and ride within the scope of Beijing Rail Transit's 24 operating lines and 4 suburban railways. Experience the test.
After supporting digital renminbi recharge, passengers who have downloaded the "digital renminbi APP" can use digital renminbi to purchase tickets/cards, recharge and recharge, etc. The business process is similar to that of WeChat and Alipay, and payment can be made in two ways: scan code or bright code. (Source: Fast Technology)
Ideal Auto delivered 8,589 vehicles in July, and has delivered more than 38,000 vehicles this year
On August 1, Ideal Auto announced the delivery data for July 2021. Ideal Auto delivered 8,589 Ideal ONEs in July, and the monthly delivery volume exceeded 8,000 for the first time, an increase of 251.3% from July 2020 and an increase of 11.4% from June 2021. In the first seven months of 2021, the total delivery volume of ideal cars will reach 38,743. The current cumulative delivery volume of Ideal ONE has reached 72,340 vehicles.
Ideal Motors stated that by the end of 2021, it plans to build 200 directly-operated retail centers, covering more than 100 cities across the country. As of July 31, Ideal Auto had 109 retail centers nationwide, covering 67 cities; 176 after-sales maintenance centers and authorized sheet metal spraying centers, covering 134 cities. (Source: Sina Technology)
AI unicorn fourth paradigm plans to go public in Hong Kong
On August 1, Yiou learned that the International Department of the China Securities Regulatory Commission had disclosed the "Approval of Overseas Initial Public Offerings" submitted by Beijing Fourth Paradigm Intelligent Technology Co., Ltd. on July 29. If the material is approved, the fourth paradigm may soon submit a prospectus to the Hong Kong Stock Exchange.
In August 2020, Dai Wenyuan, the founder and CEO of Fourth Paradigm, once stated that Fourth Paradigm is actively exploring the opportunity to go public on the Science and Technology Innovation Board. There is no specific timetable, but it has been put on the agenda. In October 2020, Fourth Paradigm conducted a Pre-IPO round of financing. At that time, some media reported that according to the current plan, the company will submit a listing application by the end of 2020 or the first quarter of 2021, but its listing location has not yet been finalized, and the US and Hong Kong markets will be considered.
Tianyan Check shows that up to now, the fourth paradigm has completed 11 rounds of financing. Among them, Sequoia China, Innovation Works, Yuexiu Industrial Fund, Lenovo Ventures, Chunhua Capital, Poly Capital, Tencent Investment, and National Manufacturing Transformation and Upgrade Fund are all participating. In addition, the fourth paradigm is also the first startup invested by five state-owned banks including Industrial and Commercial Bank of China, Agricultural Bank of China, Bank of China, China Construction Bank, and Bank of Communications. (Source: Yiou)
Hyundai LG Co-invests 1.1 billion U.S. dollars to build a factory in Indonesia to produce batteries
Beijing time on August 1, news, according to Electrek reports, Hyundai Motor Group and LG Energy Solutions signed a memorandum with the Indonesian government company to produce electric vehicle batteries in Indonesia through a new joint venture. It is reported that Hyundai Motor and LG Electronics will invest a total of US$1.1 billion in the construction of a battery factory in Karawang, near Jakarta, the capital of Indonesia.
In May of this year, Hyundai Motor Group announced that it plans to invest US$7.4 billion in the development and production of electric vehicles in the United States by 2025. In the context of the gradual popularity of electric vehicles, Hyundai Motor hopes to ensure a stable supply of lithium-ion batteries.
LG Energy Solutions is a new battery production division of the LG Group separated from LG Chem at the end of 2020. In December last year, Electrek reported that LG Energy Solutions signed a memorandum with the Indonesian government to produce batteries in the country for US$9.8 billion. It now appears that LG will jointly build this project with Hyundai Motor. (Source: cnBeta)
Intel 12th generation Core 16 core 24 thread sample exposure: 3GHz frequency close to i9-11900K
On August 1, Beijing time, a 12-generation Core ES engineering sample appeared in the UserBenchmark database. There is no model, but it seems to be an early version of i9-12900K or i9-12900.
It has a total of 16 cores with 8 large and 8 small cores, of which the large core supports hyper-threading and the small core does not, so there are a total of 24 threads. In terms of frequency, the benchmark is only 1.8GHz, and the highest is only 3.05GHz. This is the characteristic of ES engineering samples, and the frequencies are very conservative.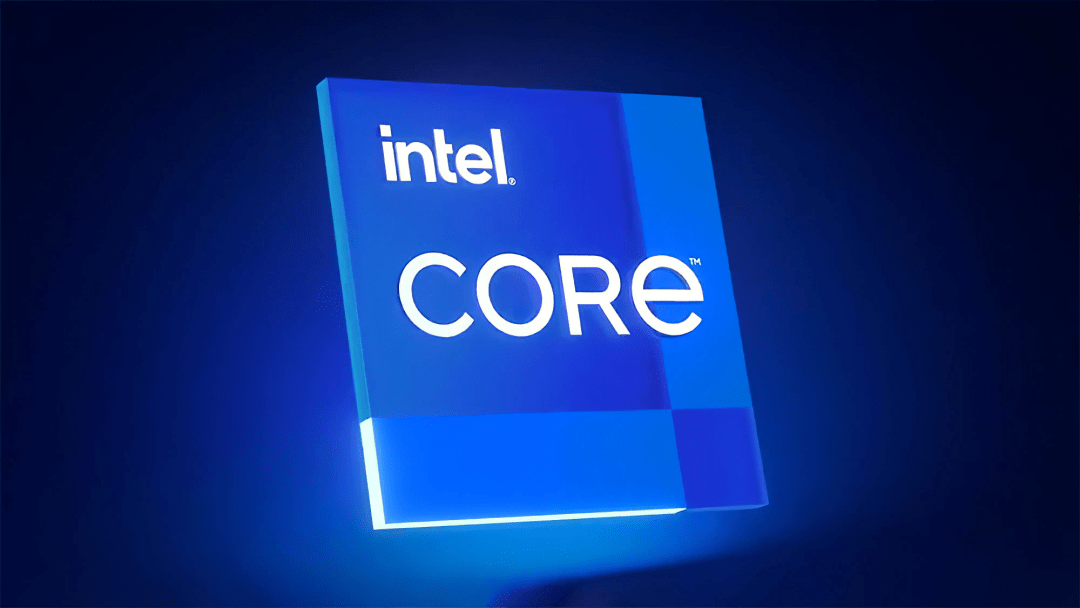 According to previous news, the i9-12900K's large core full/single core acceleration is 5.0/5.3GHz, and the small core single/multi-core acceleration is 3.7/3.9GHz, thermal design power consumption 125W, and PL2 short-term power consumption maximum 228W. (Source: Fast Technology)
Musk supports Epic: Apple's App Store commission is the global Internet tax
On July 31, Beijing time, Tesla CEO Elon Musk posted a comment on Epic's antitrust lawsuit with Apple on social platforms. He said: "Epic is right, and Apple's App Store commission is the global Internet tax." So Publicly supporting Epic shows Musk's dissatisfaction with Apple.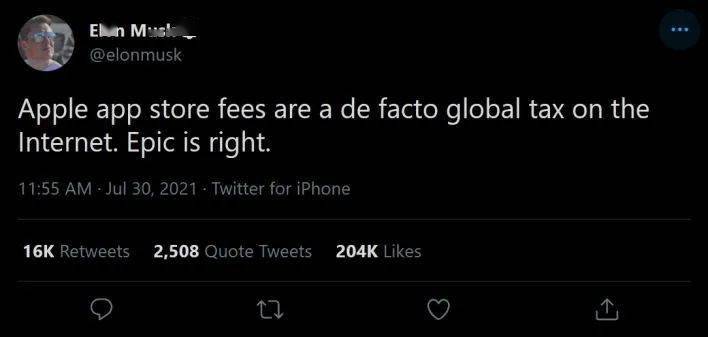 The lawsuit battle between Apple and Epic Games began in August 2020, when Epic Games tried to bypass the Apple App Store's payment system to avoid Apple's 30% revenue share. After the incident, Apple immediately removed the "Fortress Night" game, and once closed the developer account of Epic Games. After that, Epic filed an antitrust lawsuit against Apple, and the case has not yet been decided. (Source: Fast Technology)
Image source: Visual China
For reprinting, please contact geekparker on WeChatReturn to Sohu to see more
.