Summary
[Tesla'sQ2deliverydatafell17.9%month-on-monthemphasizingthehighestproductioncapacityinJune]Early Sunday morning, Beijing time, the global electric vehicle leader Tesla disclosed the second-quarter delivery data. According to the company's disclosure, in the second quarter of this year, a total of 258,580 vehicles were produced and 254,695 vehicles were delivered; among which, the delivery data increased by 26.5% year-on-year, but compared with the first quarter of this year, there was a month-on-month decline of 17.9%. Looking back at historical data, this is also the first time since 2020 that Tesla has experienced a month-on-month drop in quarterly delivery data. (Financial Association)
In the early morning of Sunday, Beijing time, the global leader in electric vehiclesTeslaDisclosed delivery data for the second quarter. Affected by the epidemic, the company's two consecutive years of delivery data growth came to an abrupt end in Q2 this year.
(source:Teslaofficial website)
According to the company's disclosure, in the second quarter of this year, a total of 258,580 vehicles were produced and 254,695 vehicles were delivered; among which, the delivery data increased by 26.5% year-on-year, but compared with the first quarter of this year, there was a month-on-month decline of 17.9%.Looking back at historical data, this is alsoTeslaFor the first time since 2020, quarterly delivery figures have fallen month-on-month.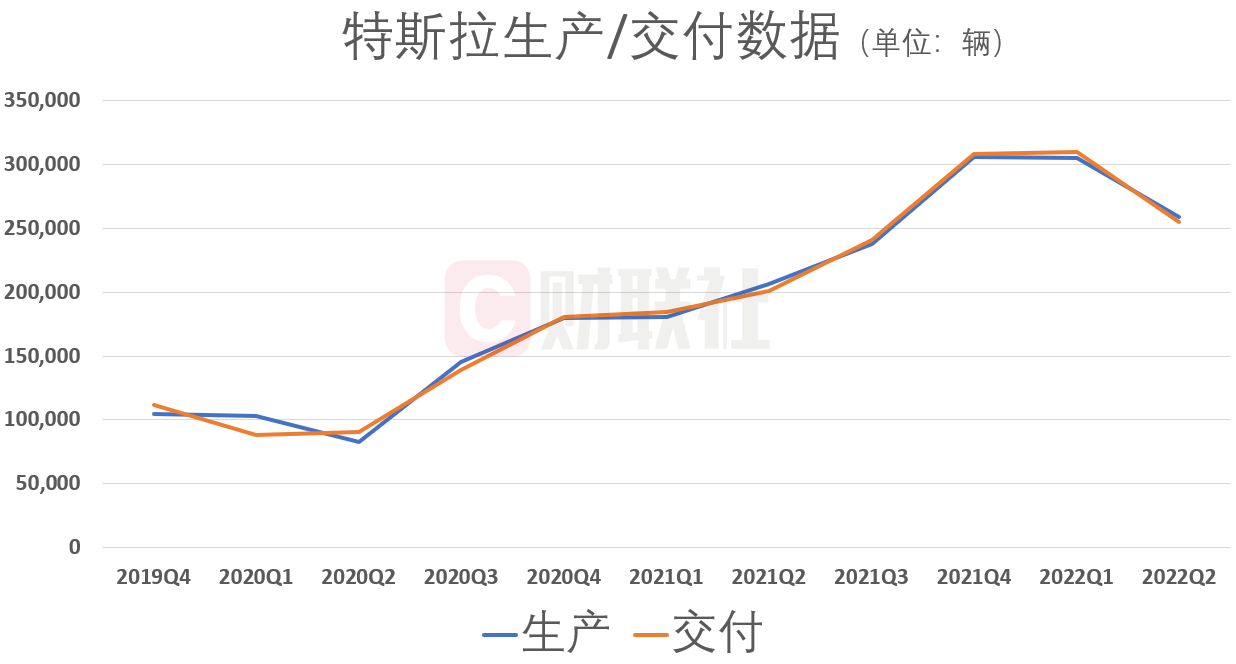 (TeslaQuarterly production and delivery data, source:TeslaOfficial website and financial association)
fromanalystAs expected, the actual delivery data for Q2 is also slightly worse.Analysts, on average, expected, according to FactSetTesla256,520 new cars were delivered in the second quarter. It should be emphasized that FactSet specifically excluded some analysts who did not consider the epidemic factor this time.
What gives investors hope, though, is that Tesla is alsoannouncementemphasized,June 2022 is Tesla's highest production month ever. Taking into account the "in short supply" of the company's products, it means that the data in the subsequent quarters is expected to continue to record highs.
Factory shutdowns caused by the epidemic, supply chain blockages,semiconductorchip andcar partsThe shortages all contributed to Tesla's weaker numbers this quarter. It also makes the "closer to 50% annual growth rate" the company has set for delivery data extra challenging. Based on the total delivery of 936,000 vehicles last year, if the target is to be achieved this year, the delivery data of 839,000 vehicles will be achieved in the second half of the year.
What makes Musk "scratching his head" even more is that the high expectations of the Austin factories in the United States and Berlin in Germany are still "huge money-burning stoves", which means that the construction and opening of these two factories have burned "billions of dollars". But "basically no production capacity."
(Article source: Financial Associated Press)