Original title: Thanks to employees and customers for "sponsoring" himself in space, Bezos was approved
(Observer Network News) On July 20, local time, Amazon founder Jeff Bezos returned to Earth from his first space trip and expressed his testimony. I would like to thank every Amazon employee and every Amazon customer, because "It's you who paid for it." Money sponsored this journey".
However, Bezos has been accused of never paying taxes and exploiting employees and obstructing the establishment of labor unions for many years. However, he has spent huge sums of money and emitted a large amount of carbon dioxide (about 200-300 tons per person) on space tourism. Therefore, when Bezos's thankful speech was reported, it aroused condemnation and criticism from all walks of life.
More than ten minutes of space travel by Bezos
According to the Associated Press and other news, Bezos took the "New Shepard" spacecraft of his own space business company "Blue Origin" for more than ten minutes on the same day, and then landed in the desert of western Texas. . As soon as Bezos landed, he accepted an interview with Microsoft National Cable Broadcasting Corporation (MSNBC). He first told about his strange feelings in space with his brother, and called it "the best day." Immediately afterwards, he thanked him as soon as he changed the conversation.
Bezos said,heTo thank every Amazon employee and every Amazon customerBecause "you paid for this journey", So "Seriously, to every Amazon customer and every Amazon employee, I thank you from the bottom of my heart."However, because Amazon has long arranged high-paying quotas and deprived employees of rest time is a well-known thing. When Bezos's thankful speech was reported, it directly caused condemnation and criticism from all walks of life.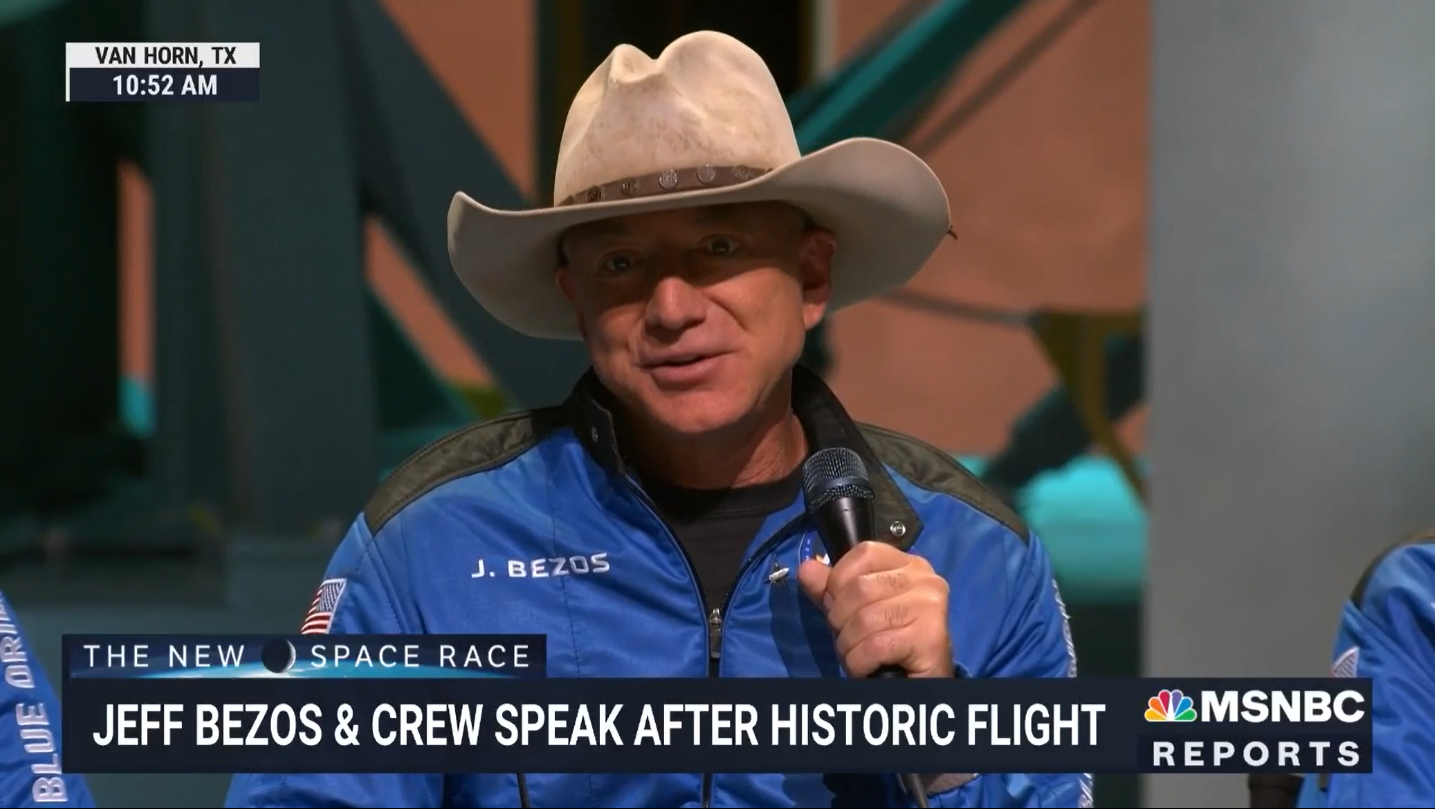 Bezos accepts MSNBC interview
Robert Reich, the secretary of labor during the Clinton administration and a professor of public policy at the University of California, Berkeley, pointed out on Twitter that for decades, Bezos has been smashing Amazon employees' efforts to establish unions. The most recent case of failure to organize Amazon employees occurred 3 months ago. The retail, wholesale, and department store unions that organized the voting also mentioned the reason for the failure. Amazon threatened workers "if they organize a union, they will lay off employees or even close the warehouse." .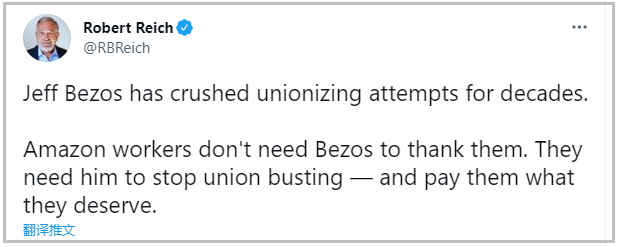 In this regard, Lake emphasized that Amazon employees do not need Bezos' thanks. "They just need Bezos to stop obstructing the union formation and get them paid in full."
And Twitter user @MajorPhilebrity also posted a satirical comment that "Bezos spent more time in space than Amazon allowed employees to go to the toilet last year", in order to criticize Amazon's exposure in March this year to employees due to high amounts. Work indicators are so busy that the "urine bottle scandal" caused by the inability to go to the toilet. According to reports at the time, Amazon also tried to deny and attacked the Democratic congressman who broke the news of the "scandal". However, when several Amazon employees released photos of the "urine bottle" and "slapped their faces", they were able to bow their heads and apologize to the congressman, only explaining that the public toilet was insufficient.

In addition, some people have linked Bezos' space trip to reports that Bezos did not pay taxes. According to data from the non-profit investigative news organization ProPublica, Bezos did not pay income tax in 2007 and 2011.
In this regard, Democratic Senator Elizabeth Warren from Massachusetts "reminded" Bezos on Twitter that he had forgotten to thank all the hard-working Americans because these people are working to maintain the United States. Operates and pays taxes, "but Bezos and Amazon have not paid anything."

It is understood that the "New Shepard" is named after Alan Shepard, the first American astronaut to enter space, and consists of two parts: a rocket and a crew cabin. The crew cabin has 6 seats. In the first manned test flight of the "New Shepard" on July 20, nearly 7,600 people from 159 countries registered to participate in the bidding for the seats of the "New Shepard" suborbital vehicle. The first seat was finally 2800. The price of ten thousand dollars was auctioned.
.