Sohu.com Hunan NewsOn December 20, China Securities Journal officially announced the list of the 23rd (2020) Golden Bull Award for listed companies. Zoomlion, a leading equipment manufacturing company, has been on the list for its leading profitability and growth, and won the "2020 Golden Bull Most Valuable Investment Award", demonstrating the company's excellent return on investment capabilities.
Zoomlion won the "2020 Golden Bull Most Investment Value Award"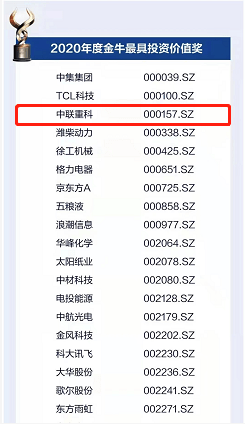 List of "2020 Golden Bull Most Investment Value Award"
The "Golden Bull Award" is a financial brand created by China Securities Journal and the most influential award in China's capital market. Since the China Securities Journal launched the first selection of "China's Top 50 Listed Companies with the Most Development Potential" in July 1999, the selection of the Golden Bull Award for listed companies has reached the 23rd. The Golden Bull Award has witnessed the development of the capital market, recorded the extraordinary performance of listed companies in the securities market, and selected a group of outstanding listed companies that have standardized governance, performance growth, and actively repay shareholders and the society. A total of 350 companies and executives have won seven awards in the 23rd Golden Bull Awards for Listed Companies.
In terms of the 2020 Golden Bull Most Investment Value Award, the organizer extracted 17 key indicators in six aspects: corporate size, profitability, solvency, asset management ability, growth ability, and innovation ability. Companies are eliminated, and the top 100 companies are finally selected based on their comprehensive scores. In the end, 100 listed companies including Zoomlion, Sinopec, Kweichow Moutai, BYD and Gree Electric won the 2020 Golden Bull Most Investment Value Award. These award-winning listed companies not only lead in various financial indicators, but also have stable investment returns.
As an A+H listed company, Zoomlion has become a global leader in high-end equipment manufacturing after 29 years of development. At present, while strengthening the advantageous sectors of construction machinery, Zoomlion is vigorously developing related diversified layouts, forming three major sectors: construction machinery, agricultural machinery + smart agriculture, and new building materials.
Zoomlion adheres to the new development concept, adheres to high-quality development and stable operation, continues to strengthen intelligent manufacturing, deepens digital transformation, and has achieved impressive development results. Zoomlion's 2020 annual report shows that during the reporting period, the company achieved operating income of 65.109 billion yuan, a year-on-year increase of 50.34%; net profit attributable to shareholders of listed companies was 7.281 billion yuan, a year-on-year increase of 66.55%. The company's strong growth in revenue and net profit set a new record and hit the best level in history.
As a leading model of China's equipment manufacturing, Zoomlion has outstanding growth. Today, the market share and growth rate of Zoomlion's leading products crane and concrete machinery business are leading the industry. At the same time, Zoomlion made new breakthroughs in its potential market businesses such as earthmoving machinery and aerial work platforms. In 2020, Zoomlion will make a new layout in the field of dry-mix mortar materials, create a new segment of Zoomlion New Materials, and enter the blue ocean market. In 2021, Zoomlion's A+H shares will increase the number of smart manufacturing to create a new growth pole, and the competitiveness of the company's industry is expected to continue to improve.
Zoomlion is transformed from a scientific research institute, has a strong innovative gene, and has always focused on technological innovation to drive corporate development. In 2020, ZOOMLION's R&D expenses will increase by 120.67% year-on-year. In recent years, Zoomlion has marched towards the unmanned land of technological innovation, and has continued to promote the expansion of enterprises to deep intelligence, digitization, unmannedness, and new energy, and seize the commanding heights of the global construction machinery development. At the same time, the number of patent applications and authorizations of Zoomlion ranks first in the domestic industry. As of June 30, 2021, Zoomlion has applied for a total of 11,437 patents, including 4,409 invention patents.
Zoomlion will continue to follow the trend of industry transformation and upgrading, accelerate the development of enterprise intelligence, digitization, and green development, and strive to build an innovative and intelligent future enterprise, enhance value creation capabilities, and promote high-quality and sustainable development of the enterprise and the industry At the same time, create greater value for shareholders and society.
Editor: Huang PingReturn to Sohu to see more
Editor:
Disclaimer: The opinions of this article only represent the author himself. Sohu is an information publishing platform. Sohu only provides information storage space services.
.