Stocks are based on the research report of Golden Unicorn analysts, authoritative, professional, timely and comprehensive, to help you tap potential thematic opportunities!
Original title: Suddenly suspected insider trading doubling, bull stocks fell to the limit! Alibaba's performance declines, stock price plummets!The list of self-driving concept stocks released
Recently, autonomous driving technology has appeared in people's field of vision many times, and the list of concept stocks has come.
This morning,Qi Xiang Tengda(Rights Protection) According to the announcement, the company's largest shareholder, Qixiang Group, received a notice from the China Securities Regulatory Commission on November 17, 2021. Due to Qixiang Group's suspected insider trading and other violations of laws and regulations, the Securities Regulatory Commission decided to proceed with Qixiang Group. File an investigation.
In early trading, Qixiang Tengda fell to the limit, the total market value evaporated 2.729 billion yuan, the company's convertible bondsQi Xiang Zhuan 2After the market opened, it fell by 20%. The lowest price of Qixiang Tengda's stock price on February 9 was 5.09 yuan compared with the highest price of the year, an increase of 188.58%. The company's latest disclosure shows that as of November 10, the company had 79,000 shareholders.
The controlling shareholder Qi Xiang Group under investigation has reduced its shareholding several times this year. In January and February this year, it reduced its holdings of 4.96% of the total shares of the listed company, and disclosed the reduction again on October 8. According to the plan, it is estimated that the shareholding will not exceed 2% of the company's total share capital. The company stated that it will continue to pay attention to the follow-up implementation of the Qixiang Group and its concerted parties' shareholding reduction plan.
According to data, Qixiang Tengda is mainly engaged in petroleum processing business and is a global leader in methyl ethyl ketone and maleic anhydride.Affected by the price increase of chemical products this year, the company's profit has increased sharply. In the first three quarters, the company achieved a net profit of 2.163 billion yuan, an increase of 174.84% year-on-year. The profitability is second only to the polyurethane segment.Wanhua Chemical。
Alibaba Hong Kong stocks plummeted
In today's morning, Alibaba Hong Kong stocks opened lower and fell more than 10%. Other stocks in the Alibaba department also performed poorly. Alibaba Health fell by about 7%, and Sun Art Retail fell by 6%. Alibaba's US stocks opened sharply lower last night, closing down 11.13%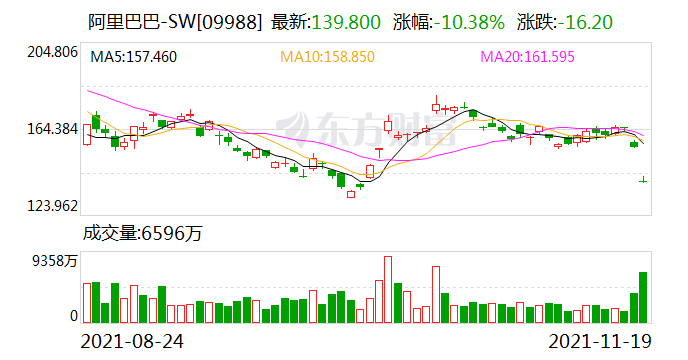 The main reason for the sharp drop was that Alibaba's latest performance fell short of expectations. On November 18, Alibaba Group released its financial report for the second quarter of fiscal year 2022. Revenue for the quarter was RMB 20.69 billion (all RMB), a year-on-year increase of 29%; operating profit was RMB 15.006 billion, a year-on-year increase of 10%; adjusted Net profit was 28.52 billion yuan, a year-on-year decrease of 39%. According to previous announcements, Alibaba's year-on-year growth in net profit has been negative for three consecutive quarters.
Before the release of the financial report, some institutions believed that weaker consumer demand would affect performance.Huatai SecuritiesPrevious research reports believe that Alibaba's GMV (total turnover) growth in the Chinese retail market may face short-term resistance brought about by the slowdown in consumption growth. The main reason is that Alibaba's GMV accounts for more than 50% of the total online retail GMV in China. The growth of total online retail sales was weak in August.
Accelerate the promotion of autonomous driving technology
On November 18, the official website of the Ministry of Transport issued a notice on the issuance of the "Fourteenth Five-Year Development Plan for Comprehensive Transportation Services."
The "Planning" mentioned that the study and construction of a vehicle-road collaborative safety system will strengthen the road network and vehicle operation safety monitoring and early warning and travel guidance. Accelerate the promotion and use of advanced assisted driving technology and autonomous driving technology on operating vehicles to improve the active safety performance of vehicles. Encourage waterway passenger transportation and dangerous goods transportation companies to establish complete digital and intelligent monitoring methods, and strengthen shore-based support for ships in operation.
Recently, autonomous driving technology has appeared in people's field of vision many times. On November 10, the General Office of the Ministry of Transport issued a notice on organizing pilot applications for autonomous driving and intelligent shipping. The notice proposes to focus on the development and application of autonomous driving and intelligent shipping technologies, and through the implementation of a number of pilot projects that are highly integrated with the business and have demonstrative effects, create a collection of reproducible and extendable cases, and condensed the formation of technical guidelines, standards and specifications, etc. Promote the deep integration of a new generation of information technology and transportation.
On November 4 this year, the autonomous driving startup Momenta announced the completion of a C+ round of 500 million US dollars in financing, which exceeded 1 billion US dollars for the whole year, making it the largest financing in China's autonomous driving field this year. Guosheng Securities believes that capital institutions are no longer the protagonists of the autonomous driving industry in the near future, and a number of auto OEMs and Tier1 manufacturers are speeding up to the forefront. However, L4 is difficult to commercialize on a large scale in the short term, and the segmented scenes are implemented step by step to become the choice of start-up companies.
According to the statistics of Securities Times·Databao, there are 75 stocks in the A-share market that are deployed for autonomous driving. 54 stocks rose in early trading today.Desay SVSoared by 9.4%,Hongquan IOTUp 6.58%, there are othersGaohong shares、JAC、Shengji communication5 stocks rose more than 5%.
Some self-driving stocks performed well in the first three quarters of this year. Data treasure statistics show that the net profit of 10 autopilot concept stocks attributable to the parent company has more than doubled in the first three quarters.Yuebo Power, JAC,Hongli ZhihuiThe year-on-year growth rate was among the top, 481.03%, 359.98%, and 242.35% respectively.
Data treasure statistics,Zhongke Chuangda、Dahua shares、Crystal OptoelectronicsThe net inflow of major capital in early trading was the first, with net inflows of 218 million yuan, 202 million yuan, and 184 million yuan respectively. OthersLens Technology、Lianchuang ElectronicsThe net inflow exceeds 100 million yuan.
Zhongke Chuangda issued an announcement on November 3, announcing that the company intends to jointly fund the establishment of an intelligent driving platform company with a company controlled by the actual controller. The business area of ​​the joint venture company is focused on advanced assisted driving and autonomous driving.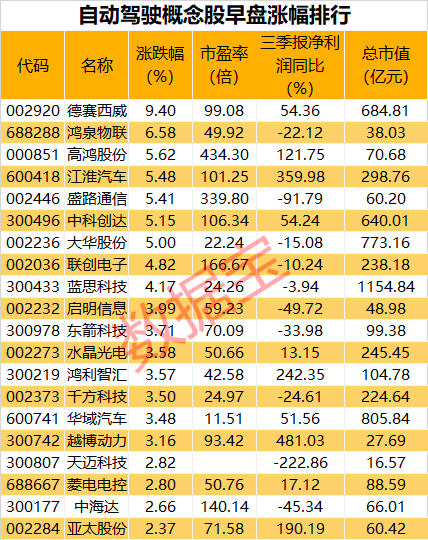 Disclaimer: All information content of Databank does not constitute investment advice. The stock market is risky and investment needs to be cautious.
8.××% wealth management vouchers, the quota is limited, first-order first-served, each user is limited to one purchase >>

Sina statement: This news is reprinted from Sina's cooperative media. Sina.com publishes this article for the purpose of conveying more information, and does not mean that it agrees with its views or confirms its description. Article content is for reference only and does not constitute investment advice. Investors operate accordingly at their own risk.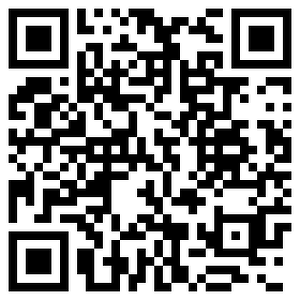 Massive information, accurate interpretation, all in Sina Finance APP
Editor in charge: Chen Youran
.