Kantar BrandZ yesterday released the top 100 most valuable global brands in 2021.The top three areAmazon、appleAnd Google, there are 18 Chinese brands on the list, and the fastest growing brand value isTesla, The growth rate of American brands in 2021 is the fastest.
In addition, Kantar BrandZ also specifically pointed out that Chinese brands are on the rise and are more valuable than top European brands.
According to Kantar, it was founded by Jeff Bezos in 1994AmazonIt is still the most valuable brand in the world, now estimated at 684 billion US dollars; followed by the established in 1976apple, Valued at 612 billion US dollars; third place Google is 458 billion US dollars and there is a gap between the former.
It is reported that Tencent, China's largest social media and video game company, is my country's Top1 brand, ranking fifth in the world's top 100 list, andAlibabaRanked seventh, Huawei, which everyone pays more attention to, ranks 50 (unlisted).
Kantar BrandZ Global Strategy Director Graham Staplehurst said: "As more and more companies use their own technology to develop and demonstrate their ability to align with the main trends shaping China and the global market, Chinese brands are steadily advancing and have achieved Significant progress."
IT Home has learned that the value of five brands has more than doubled, including the Chinese e-commerce giantPinduoduo, Meituan, China's top liquor manufacturer Moutai, China's ByteDance TikTok, and U.S.Tesla。
Kantar stated that established in 2003TeslaIt is the fastest-growing brand and has become the most valuable car brand, with its value increasing by 275% year-on-year to US$42.6 billion.
Kantar also stated that top Chinese brands have maintained their leading edge over European brands: the proportion of Chinese brands in the top 100 brands has risen from 11% 10 years ago to 14%, while European brands accounted for 8%, which is lower than 20% ten years ago.
The top European brand is France's LV Louis Vuitton, which ranks 21st, followed by Germany's SAP Group, which ranks 26th. The only British brand on the list is Vodafone at number 60.
Of course, American brands still dominate and have grown the fastest in the past year. American brands now account for 74% of the top 100. In addition, Kantar also mentioned that the total value of this year's top 100 global brands is US$7.1 trillion.
In addition, 13 new recruits successfully squeezed into the 2021 list, includingNvidia(No. 12, 105 billion U.S. dollars),Zoom(No. 52, USD 37 billion), AMD (No. 57, USD 33 billion) and Spotify (No. 99, USD 19 billion).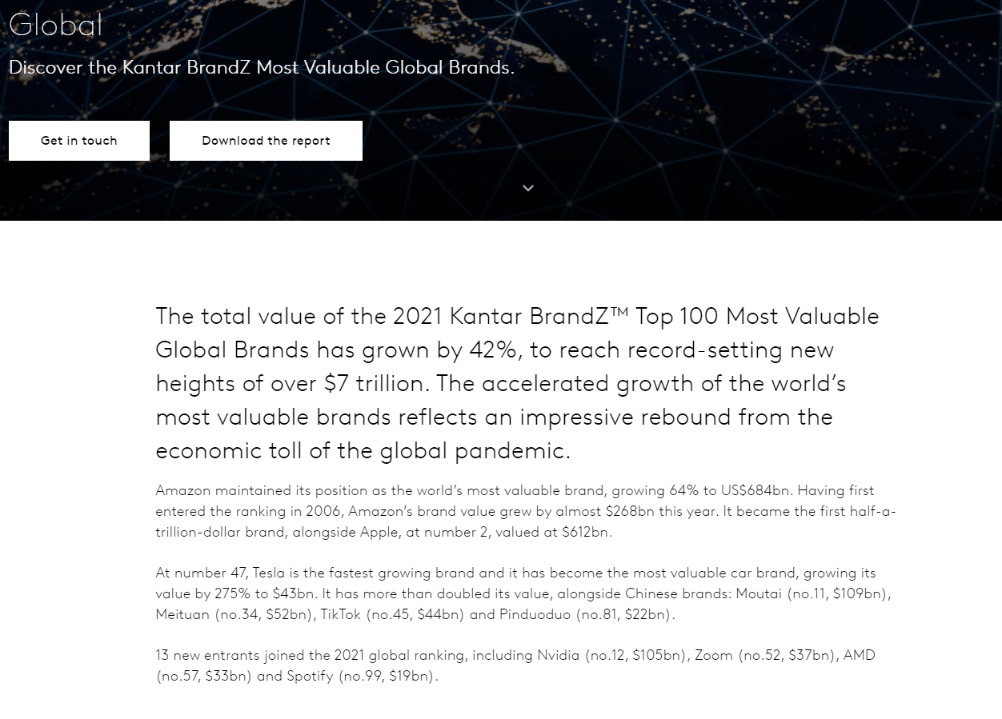 (Article Source: IT House)
.