The midsummer heat wave hits, and it's time to show off the outfits that grab the C position on the street. Recently, "Riding the Wind and Waves 3" became popular on the Internet. While the entire network collectively set off "Memories Killing", the audience was also impressed by the mature or cool charm and temperament of the sisters in the show.At the same time, the audience also planted their clothes, shoes, and accessories, setting off a wave of online searches for "sister's same style", hoping to get the latest in the summertrendy fashion itemswear a summer "fried street" feeling.
During the Douyin 618 Good Things Festival,Douyin E-commerce Apparel IndustryLaunched the "Clothing 618, Unbridled Summer" activity, which not only prepared a large number of trendy products for consumers, but also a series of rich and valuable shopping benefits such as red envelopes and shopping coupons, as well as summer clothing trends and outfits. The content of the skills will help you quickly find the new summer clothes that suit you, easily wear the summer street feeling, and let's "run the summer" together!
Part1: Trendy goods meet shopping expectations while watching and buying to create summer exclusive happiness
There are many styles and styles of clothing. For young girls who want to wear a fashion sense, it may be a good choice to learn from celebrities' outfits and start with a few of their same fashion items.in this time618 "A Summer of Unbridled Waves" ActivityAmong them, the Douyin e-commerce apparel industry has assembled a number of domestic top independent designer brands, bringing nearly 100 pioneer design items of the same style of stars, and the most popular among consumers is undoubtedly the "sister same style". During the event, consumers can easily buy Laurence & Chico dresses "picked" by sisters, Leewei blue denim suspenders, Bronze Lucia purple suits, national trendy brand SMFK checkerboard trousers and other fashionable items.

The trendy clothing of the cutting-edge national trendy brand MINEPAIR and Wushuang has been widely discussed because it has become the training clothing of the sisters in the show. During the event, consumers can purchase a full set of Wushuang's training clothing of the same style of Sister Lang at one time on Douyin e-commerce. "Fix" summer trends.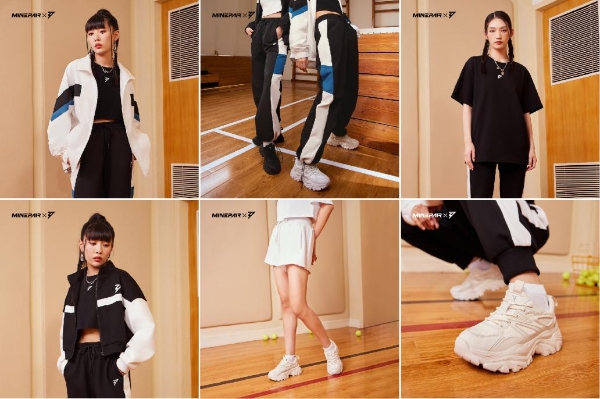 In addition to the good items of independent designer brands full of design sense and personality, there are more celebrities with the same style, trendy items of the current season, and trendy co-listed items appearing in the "Clothing 618, Unbridled Summer" event. No matter what style consumers like, they can buy their favorite summer items on the Douyin 618 Good Things Festival and wear their own summer style.


In addition to gathering many top-notch items in summer fashion trends, the topic of #how to wear a summer street feeling has also attracted widespread attention. The topic attracted many celebrities and celebrities such as Zheng Xiyi, Shu Chang, Zhang Yuxi, Lou Yixiao, Lu Xianren, Yili Xiaoshazi, etc., and they posted their summer fashion attitudes and suggestions on dressing styles, leading fans to unlock the limitless clothing items. With inspiration.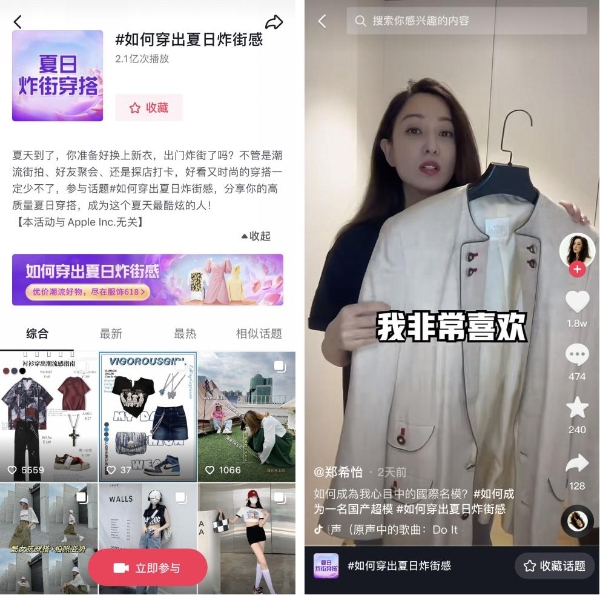 Part2: Multiple benefits, full of shopping spree atmosphere, real discounts and great value for money
During the event, the Douyin e-commerce apparel industry will also distribute platform red envelopes, shopping coupons and other valuable benefits to consumers at multiple entrances such as the brand live broadcast room, the talent live broadcast room, and the Douyin mall. According to reports, the platform red envelopes are divided into hourly red envelopes, talent red envelopes, platform inflatable red envelopes, Douyin mall red envelope rain, continuous sign-in to receive red envelopes, etc. For example, the red envelopes on the hour, that is, from 8:00 to 11:00 every night, consumers have the opportunity to grab red envelopes in the live broadcast rooms of many Douyin e-commerce clothing brands; in addition, consumers grab red envelopes in the live broadcast room of Daren The platform red envelopes that arrive can also be converted into red envelopes available for targeted talents; in Douyin Mall, consumers can also participate in the red envelope rain mini-game to receive red envelopes and Douyin Mall coupons.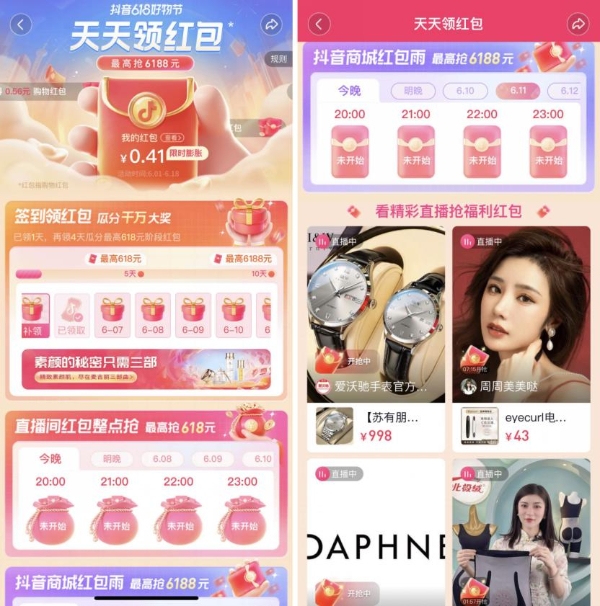 In addition, if you are a new user of the Douyin e-commerce apparel industry, you will enjoy many exclusive benefits such as newcomer coupons, gift coupons, platform exclusive coupons, etc.; old users who have already purchased apparel products on Douyin e-commerce will also have the opportunity Get coupons when watching brands or celebrities live.
It is worth mentioning that during this "Clothing 618, Unbridled Summer" event, the Douyin e-commerce apparel industry also includes underwear, pajamas, dresses, shoes and bags, off-season down jackets, ingenuity, and pioneering designers. On the category day, consumers will also enjoy exclusive benefits when purchasing products of this category on the category day. At the same time, in the trendy clothing channel of Douyin Mall, there are also super-value benefits such as big-name low-cost 9.9 yuan for a limited time, so that consumers' 618 promotion consumption experience is full of surprises.

In order to ensure consumers' consumption experience during the 618 promotion period, Douyin e-commerce has launched multiple services such as "safe purchase", "price guarantee", and "express guarantee", so that consumers can buy comfortably and at ease.
Summer is a limited beauty. Dressing up in summer should not only be comfortable and stylish, but also show your personality. Go to Douyin e-commerce to buy the most popular fashion clothes for yourself, and enjoy the enthusiasm of midsummer beautifully!

252