On January 13, 2022, TSMC held its first online corporate presentation in the new year, which is the official interpretation meeting after the financial report. Today, the chip industry has become the focus of global attention, and TSMC is the focus company in this focus. Entering 2022, everyone wants to see the trend of the shortage of cores, the progress of the most advanced manufacturing process, and the changes that may be brought about by the new competitive landscape of the industry, and TSMC's latest financial report and interpretation are naturally regarded as it answers all confusions. a briefing session.
access:
6.3% off selected Microsoft Surface models, 100 off refurbished machines over 100
Another rich year
First of all, the figures in black and white in the financial report answer the first question that people are concerned about: how much money does TSMC make under the lack of cores?
A simple conclusion is that 2021 is definitely a year of prosperity for TSMC.
According to the financial report, TSMC's revenue in the fourth quarter of 2021 was as high as US$15.74 billion, a year-on-year increase of 21.2%. This is the sixth consecutive quarter of TSMC's revenue growth that has continued to hit a new high. Comprehensively looking at the full year of 2021, TSMC's revenue Compared with 2020, TSMC's revenue increased by as much as 24.9%.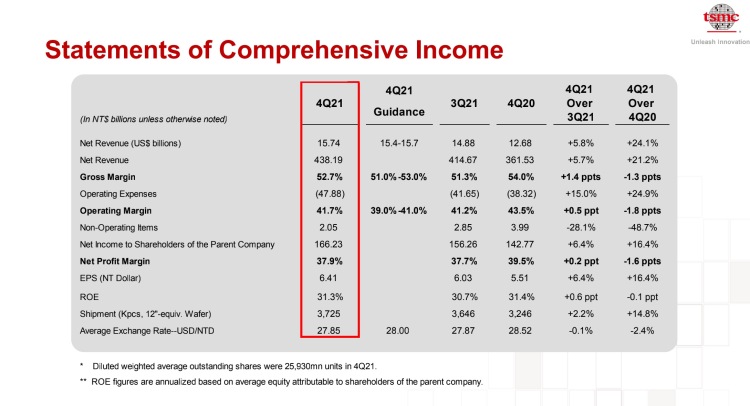 Source: TSMC financial report
While revenue has steadily increased and capital expenditure has also increased significantly, TSMC's gross profit margin has remained stable. According to the financial report, TSMC's gross profit margin in the fourth quarter of this year was 52.7%, 1.4 percentage points higher than the third quarter, exceeding the consensus forecast of the Bloomberg market, even though it was 1.3 percentage points lower than the gross profit margin in the fourth quarter of 2020. , the operating profit margin in the fourth quarter of this year was 41.7%, an increase of 0.5 percentage points from the third quarter and a decrease of 1.8 percentage points from the fourth quarter of 2020.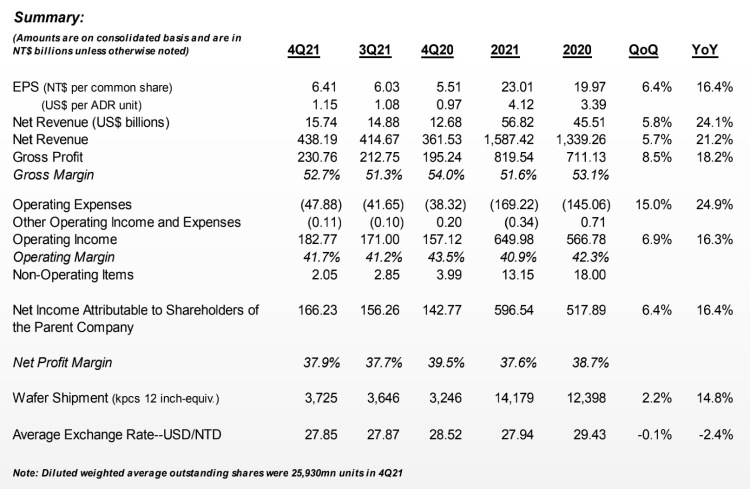 Source: TSMC financial report
How can TSMC continue to maintain high growth on the basis of its already behemoth? The answer is not only the current core shortage environment, the market demand for chips continues to soar, but more importantly, its leading edge in advanced manufacturing processes is playing a role, and its customers are paying for TSMC's high-quality products.
With the maturity and upgrade of TSMC's 5nm technology, market customers' acceptance of 5nm process products has increased. The contribution of 5nm in 2021 will account for 19% of the total wafer revenue, more than doubled compared to 2020, becoming TSMC's first The two major revenue sources are gradually approaching the 31% revenue contributed by the 7nm process technology. Overall, TSMC advanced technologies (7nm and below) have accounted for half (50%) of total wafer revenue, up from 41% in 2020. , this trend is likely to continue to expand in the future.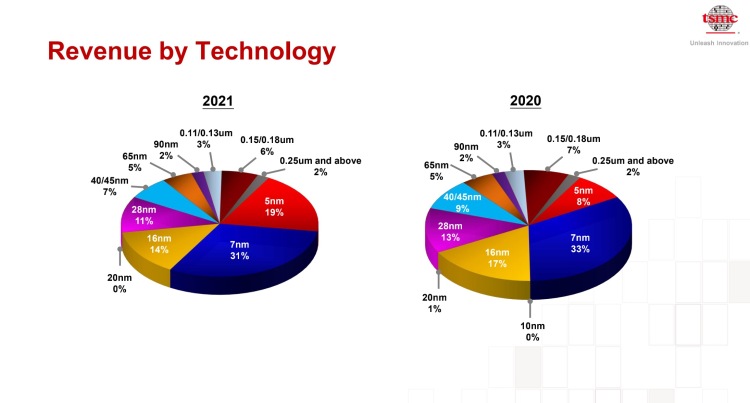 Source: TSMC financial report
Calculated by platform, TSMC's main source of revenue in 2021 will still come from smartphones, accounting for 44% of its revenue, followed by HPC (High Performance Computing, high-performance computer), accounting for 37% of revenue, IoT, automotive and DCE ( Data Communication Equipment) accounted for 8%, 4% and 4% respectively. TSMC's revenue from smartphones, HPC, IoT, automotive, DCE and others increased 8%, 34%, 21%, 51%, 2% and 9% from 2020, respectively.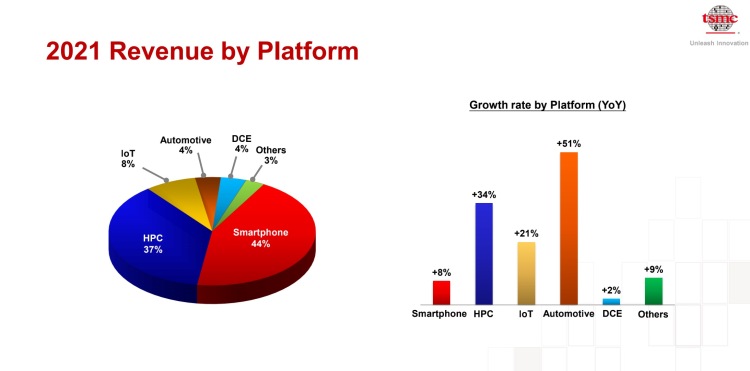 Source: TSMC financial report
In 2021, North America will still be TSMC's largest revenue source. Revenue from North American customers will account for 65% of total net revenue, an increase of 3% over 2020. It can be seen that Apple's new mobile phone iPhone 13, a major customer, is a huge source of revenue for TSMC. received pull.
Revenues from Asia Pacific, Mainland China, EMEA (Europe, Middle East and Africa) and Japan accounted for 14%, 10%, 6% and 5% of total net revenue, respectively. It is worth noting that the proportion of revenue from Mainland China continued to be The decline, from 17% in 2020 to 10% in 2021, can also be seen from the side that Apple and North American companies have eaten up part of Huawei's order demand in the past.


Source: TSMC financial report
Continue to burn money to build factories
People also hope to find clues to predict the trend of the shortage of cores from TSMC's every move. The most significant indicators are naturally TSMC's plant construction plans and capital expenditures.
At this legal meeting, some investors asked whether TSMC's capital expenditure will peak in 2022? What about the next few years? TSMC CEO Wei Zhejia said: "In 2022, our capital budget is expected to be between $40 billion and $44 billion. 70% to 80% of capital expenditure in 2022 will be used for advanced process technologies, including 2nm, 3nm, 5nm and 7nm; 10 % will be used in advanced packaging, and 10%-20% will be used in professional technology."
As early as last year's third-quarter earnings conference call, TSMC said that capital expenditures would increase from the previous $25 billion to $28 billion to $30 billion, and that it would invest $100 billion in manufacturing over the next three years. Judging from the news reported by Taiwanese media, TSMC's series of factory building plans are gradually becoming clear.
First of all, TSMC is preparing to build 2nm and 1nm advanced process factories in Taiwan, China. On December 28 last year, TSMC decided to build its advanced process (mainly 2nm) factory in Taichung's Zhongke Park. It plans to start construction in 2023 and start production in 2025, with a total investment of NT$8,000-1 trillion.
In terms of mature processes, TSMC is also stepping up. The latest news is that in November last year, TSMC planned to cooperate with a Sony subsidiary to build a foundry that mainly produces 22nm and 28nm process chips in Kumamoto, Japan. Its initial investment has reached 7 billion US dollars. The foundry is expected to be put into production in 2021.
In addition, TSMC's 5nm advanced process chip factory in Arizona, the United States, the 28nm process capacity expansion in Nanjing, and the relevant plant construction negotiations with the German government are still continuing. Overall, whether it is an advanced process or a mature process, TSMC's new factories are still blooming everywhere, and its demand for future chips is still optimistic.
In terms of advanced manufacturing process, Wei Zhejia emphasized: "We are ushering in the opportunity of structural growth of semiconductors, 5G brings huge opportunities, high-performance computing-related applications will promote the substantial growth of computing power and the huge demand for high-efficiency computing, all of which Advanced technology is required."
However, in terms of mature processes, there is no gap in the production technology of various chips, so how does TSMC cope with the competition from other mature process foundries such as SMIC, GlobalFoundries, and UMC? Will there be an oversupply of production capacity in the future?
In this regard, Wei Zhejia said: "TSMC's mature process has only 80% capacity utilization in the past, but now the demand including CMOS and PC terminals is very strong. Under the strong demand growth, we do not need to worry too much about the company's competition. In the long run, , industry trends and the company's technological leadership, we are very confident in future growth."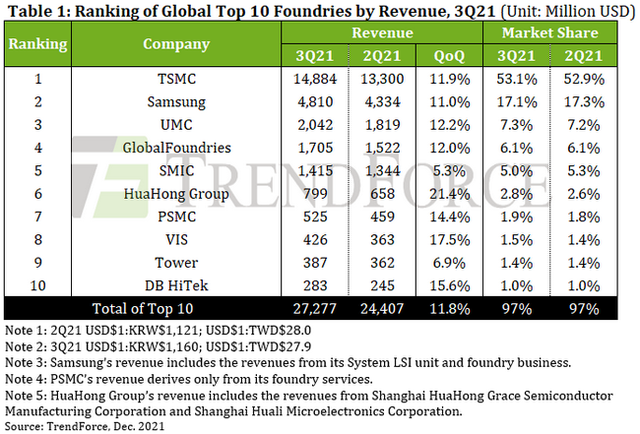 Source: TrendForce
Of course, in addition to TSMC, Samsung and Intel are also following in the crazy construction of factories to expand production capacity. What needs to be paid attention to is that after Intel's IDM2.0 model is proposed, it means that Intel will not only entrust TSMC in advanced manufacturing processes, but also in The historical relationship between TSMC and Intel is not easy to snatch TSMC's market on mature processes. Recently, former TSMC founder Zhang Zhongmou's "shelling" of Intel's new CEO Pat Kissinger and Intel's snatch against TSMC's 3nm process are even more cause for concern. There are speculations from the outside world.
On the same day, some investors directly asked how TSMC thought about Intel's entrusting TSMC as a foundry, and it was also planning to expand its production capacity. Wei Zhejia said, "The IDM factory is still a high-quality customer of TSMC, and we are ready to expand capital expenditures to meet the long-term needs of the IDM factory to expand outsourcing orders." He emphasized that TSMC's capacity expansion will expand the customer's (Intel) own production capacity. Taking this into account, at the same time, TSMC will treat every type of customer, including IDM manufacturers, fairly, and will not rely too much on a single customer and a single product.
To sum up briefly – Apple wants it, and I want Intel too. I don't put all my eggs in one basket. Since Pat Kissinger flew to TSMC for secret talks in December last year, there have been rumors that Intel will divide up Apple's 3nm production capacity in TSMC, and although both use TSMC's 3nm technology, the factories and production lines will be kept secret and isolated. Come on.
In the context of lack of cores, whether it is a computer chip manufacturer or a mobile phone manufacturer, it has become extremely important to seize the limited supply priority of Samsung and TSMC's limited advanced process.
Wei Zhejia also emphasized at the legal meeting that TSMC's 3nm process progress is in line with expectations, and it plans to start mass production in the second half of this year. Of course, this also means that the iPhone 14 chip in the second half of this year may not use TSMC's 3nm. Technology.
Finally, TSMC also made an outlook on its performance in 2022: TSMC expects the entire semiconductor market to grow by about 9%, the growth of the foundry industry is expected to be close to 20%, and TSMC itself will outperform the foundry industry in 2022, which has already A very high 20% growth.
.