U.S. stocks before the market: Alibaba soared about 10%, driving Chinese stocks to rise
Investing.com – Investing.com – A rise in U.S. bond yields put pressure on U.S. stock index futures before the market opened on Tuesday (28th), raising expectations that the Federal Reserve may continue to raise interest rates.
Shorter-term interest rate expectations, which are more sensitive to expectations, rose back above 4% after pricing in swap contracts tied to the Fed's meeting date suggested a 25 basis point rate hike at the Fed's May meeting was more likely than keeping rates unchanged.
The interest rate of the contract rose to about 4.96% on Monday (27th), about 13 basis points higher than the current federal funds rate, indicating that the possibility of raising interest rates is more than 50%.
The global asset management giant also pointed out that the Federal Reserve will not cut interest rates this year. "Only when a more serious credit crisis takes shape and leads to a more severe recession than we expected, the Fed may implement the interest rate cuts already priced in by the market."
In the previous trading day, , rose 0.6%, rose 0.16%, and fell 0.47%. %.
As of 20:48 Beijing time (08:48 a.m. Eastern Time), Investing.com's U.S. stock market data showed that the U.S. stock market fell 35.9 points or about 0.11% to 32,396.20 points; it fell 8.2 points or about 0.21% to 3,969.30 points ; fell 30.8 points, or about 0.24%, to 12,642.30 points.
Premarket stocks
Regional bank stocks were steady, with First Republic Bank (NYSE: ) up 0.06% on news that the U.S. is considering more support for First Republic Bank; First Citizens Bank ( First Citizens Bancshares ) (NASDAQ: ) down 0.63%; PacWest Bancorp (NASDAQ: ) fell 0.3 percent and Western Alliance (NYSE: ) rose 0.44.
Invesco Mortgage (NYSE: ), down 6.42%, cut its quarterly dividend to $0.4 from $0.65.
LG Display Co (NYSE: ) rose 7.48%, borrowing 1 trillion won from LG to ensure competitiveness in the OLED field.
Virgin Orbit (NASDAQ: ) fell 18.4% after reports that the company has again extended its suspension of operations and payrolls after talks on a rumored $200 million funding round collapsed.
LYFT Inc (NASDAQ: ) rose 5 percent after Lyft announced the appointment of former Amazon retail executive David Risher as its new CEO.
Occidental Petroleum Corporation (NYSE: ) rose 1.59%, Buffett's Berkshire Hathaway (NYSE: ) (NYSE: ) bought 3.7 million shares of Occidental Petroleum Corporation, spending $ 216 million, increasing its stake to 23.6%, this is the third time that the "Stock God" increased his position this month.
Facebook parent company Meta Platforms (NASDAQ: ) fell 0.91%. According to an internal memo, Meta Platforms plans to reduce the amount of bonuses paid to some employees and return the frequency of employee performance evaluations to twice a year. part.
Tesla (NASDAQ: ) rose 0.18%. The U.S. Transportation Safety Administration (NHTSA) announced an investigation into the Tesla Model X. There were two reports that the seat belt was faulty and could not be stably connected to the latch while driving.
Apple Inc (NASDAQ: ) fell 0.51%. Netflix (NASDAQ: ) fell 0.05%, Microsoft Corporation (NASDAQ: ) fell 0.25%, Amazon (NASDAQ: ) fell 0.02%, and Google parent Alphabet (NASDAQ: ) fell 0.66%.
Chinese stocks
China Internet ETF KraneShares CSI China Internet (NYSE: ) rose 2.9%.
alibabaAnnounced the split into six major business groups, which may be listed independently in the future
Zhang Yong, chairman and CEO of Alibaba, announced the most important organizational change in Alibaba in the past 24 years: the establishment of a "1+6+N" organizational structure, and the establishment of Alibaba Cloud Intelligence, Taobao Tmall Business, and Local Life , International Digital Commerce, Cainiao, Dawen Entertainment and other six major business groups and multiple business companies. Zhang Yong also said that qualified business groups and companies will have the possibility of independent financing and listing.
In premarket, Alibaba (NYSE: ) (HK: ) rose 9.54%. Meanwhile, JD.com (NASDAQ: ) (HK: ) rose 2.71%, and Pinduoduo (NASDAQ: ) rose 1.90%.
Futu Securities (NASDAQ: ) rose 4.93. Futu's revenue in the fourth quarter of last year increased by 42.56% year-on-year, and non-standard net profit increased by 91.5% year-on-year; revenue increased by 17.21% month-on-month, and non-standard net profit increased by 25.93% month-on-month. Meanwhile, rival Tiger Securities (NASDAQ: ) rose 2.58%.
Weilai Automobile (NYSE:) (HK:) rose 2.35%, Li Auto (NASDAQ:) (HK:) rose 3.45%, and Xiaopeng Motors (NYSE:) (HK:) rose 5.36%. Mavericks Electric (NASDAQ: ) rose 0.53%.
Bilibili (NASDAQ:) (HK:) rose 1.48%, iQiyi (NASDAQ:) rose 2.42%, and Huya (NYSE:) rose 4.13%.
Baidu (NASDAQ: ) (HK: ) rose 2.66%. NetEase (NASDAQ: ) (HK: ) rose 2.43%.
other markets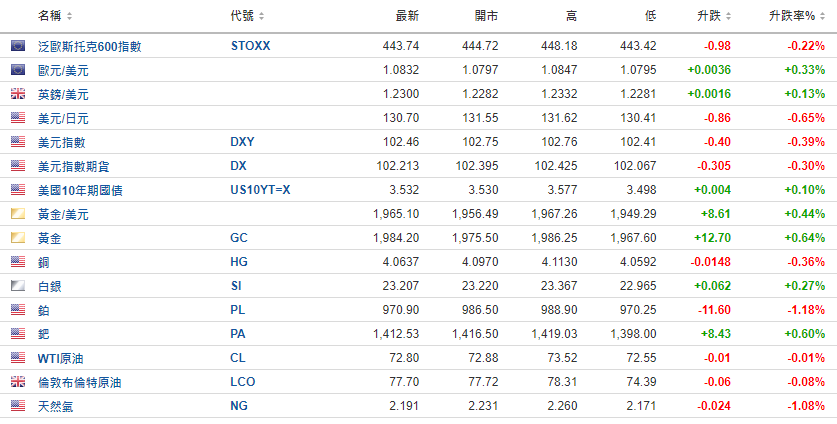 financial report
盘前:Walgreens Boots Alliance(NASDAQ:)。
After hours: Cal-Maine Foods (NASDAQ: ), Jefferies Financial Group Inc (NYSE: ), Lululemon Athletica Inc (NASDAQ: ), Micron Technology Inc (NASDAQ: ), Progress Software (NASDAQ: ).
For all today's financial reports, please visit Investing.comEarnings Calendar。
Economic Data and Events
20:30 Beijing time (08:30 am EST)
21:00 Beijing Time (09:00 AM EST)
,and
and
22:00 Beijing time (10:00 am EST)
For more economic information, please visit Investing.comeconomic calendar。
[This article is from Yingwei Caiqing Investing.com, to read more, please log in to cn.investing.com or download Yingwei Caiqing App]
recommended readingread
Editor: Liu Chuan