Home ››
News >>
trading ››
27/05/2022 18:15
from Finanzaonline editorial staff

FACEBOOK
TWITTER
LINKEDIN
A week in powerful recovery for the stock markets, especially Wall Street. To support the movement in the last few sessions were first the minute Fed and then the convincing quarterly reports of Alibaba and Baidu as well as those of some retailers (Macy's and Dollar Tree above all) which offset the poor results of Walmart and Target of the past weeks. . "In our opinion – explain the analysts of MPS Capital Services – the main driver, however, was represented by the light positioning (after the sales of the last few weeks) and the start of month-end rebalancing which, according to some estimates, should lead to strong purchases of US equities similar to what happened at the end of March 2020".
Past statistics offer interesting insights. The first months of 2022 were decidedly difficult for equities. In particular, the S&P 500 index, which last Friday made a short hike in bear market (over -20% from the highs of the period), it marked one of the 5 worst starts a year if we consider the first 100 days. What happened after the other four worst starts to the year (all very distant in time)? Well, in the remainder of those years that started with nightmarish performances the S&P 500 has consistently posted rallies, in some cases in double digits. In particular in 1932 the rest of the year marked + 37.6% and in 1970 + 31%.
Another chart highlights how the S&P 500 has rebounded around 6.5% from its recent lows (as of yesterday's close). We saw a rebound of around 9% in January / February and around 11.5% in March. Another 11.5% rebound from the lows would take us back to the 4250 level and just below the 4300 resistance in early May.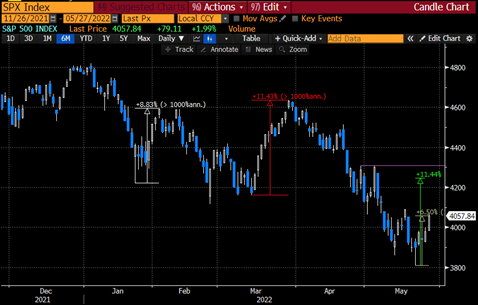 Are we therefore facing the beginning of a great 2020-style comeback or is it just a short-term rebound within a bear market?