According to recent news, #weilong spicy strips packaging was accused of playing vulgar edge ball# has been on the hot search on major platforms. According to the complaint netizens, the big gluten food packaging said "About", and the big spicy sticks said "thief big". The little spicy stick has words such as "tough" written on it. After the matter fermented, Weilong officially responded at 0:42 recently.
Weilong Delicious posted on his blog: "Recently, some netizens have put forward relevant opinions and suggestions on the packaging of the company's products. The content of the product packaging layout has caused controversy among some netizens. We hereby apologize. The company attaches great importance to the majority of netizens and consumers. Based on the opinions of the critics, it was decided to stop the production of the controversial copy and packaging, and to optimize the layout copy and design at the same time."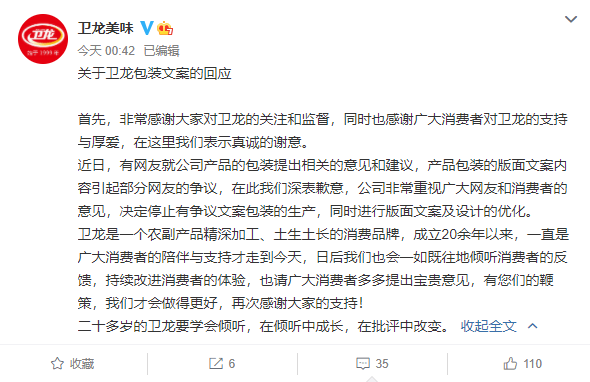 Not long after the incident was exposed, Weilong customer service responded that it was marked according to the characteristics of the product, and it may not have been thought so much when designing.
However, many netizens didn't buy it. "Such obvious and explicit words can be printed on the packaging bag openly. If it is not intentional, who would believe it?"
In response to Weilong's latest official response, some netizens also expressed insincere, "If you are a little sincere, you will not choose to make an announcement at midnight."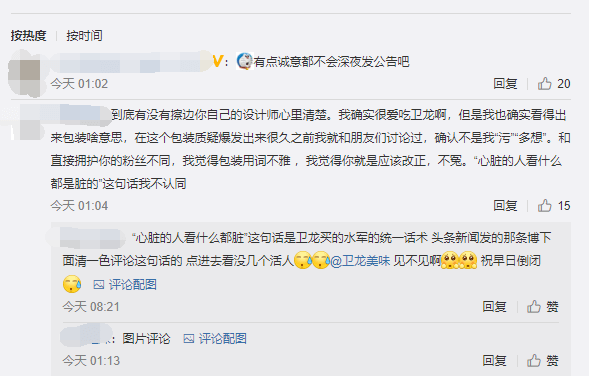 Some fans also said that the packaging does not need to be too fancy and decent, the atmosphere is fine, the main thing is the taste; I hope that Weilong can correct his mistakes and stop doing vulgar marketing.Return to Sohu, see more
Editor:
Disclaimer: The opinions of this article only represent the author himself, Sohu is an information publishing platform, and Sohu only provides information storage space services.