From the day Xiaomi announced its cooperation with Leica, Mr. Lei changed his body on Weibo and became a photographic equipment party who likes Leica. Today, he finally showed off his favorite camera: Xiaomi Mi 12S Ultra.
In addition to Xiaomi Mi 12S Ultra, in today's conference, the same series of Xiaomi Mi 12S, Mi 12S Pro, Mi Notebook Pro 2022, Mi Band 7 Pro, Mi HomeWiFi, and a surprise Mi 12 Pro Dimensity Edition also all appeared. A proper rice noodle mid-year carnival.
Xiaomi Mi 12S, Xiaomi Mi 12S Pro: Upgraded "Lei"
Before the official release of new products, Xiaomi first announced a new concept of Xiaomi's imaging strategy upgrade: "Beyond the human eye and perceive the heart". Not only has the composite sensor, lens, and optical motor system been fully upgraded, but also the image processing algorithm has been upgraded, and the Mi Image Brain, which was first released on the Mi 12 series, has been upgraded to 2.0. At the same time, Xiaomi also announced that it will share the progress of mobile imaging with the whole industry and open the ecosystem.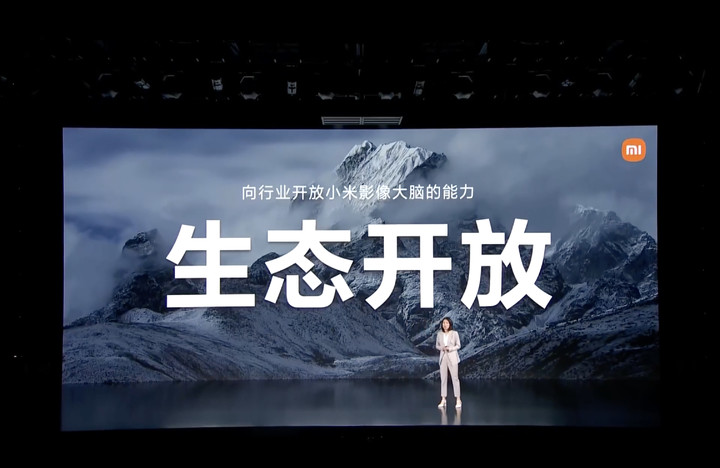 The protagonists of this conference, the three new models of the Xiaomi 12S series,It is the spearhead of the image strategy upgrade。
As an upgrade of the Mi 12 series, Mi 12S and Mi 12S Pro Basically, the Xiaomi Mi 12 series with the replacement of the Snapdragon 8+ chip and custom Leica images. The slight difference is that, due to module limitations, Xiaomi Mi 12S does not have a Leica customized lens package. If you want to experience the Leica 35mm classic black and white lens, 50mm classic rotary focus lens and 90mm classic soft focus lens, you have to start with the Xiaomi Mi 12S Pro.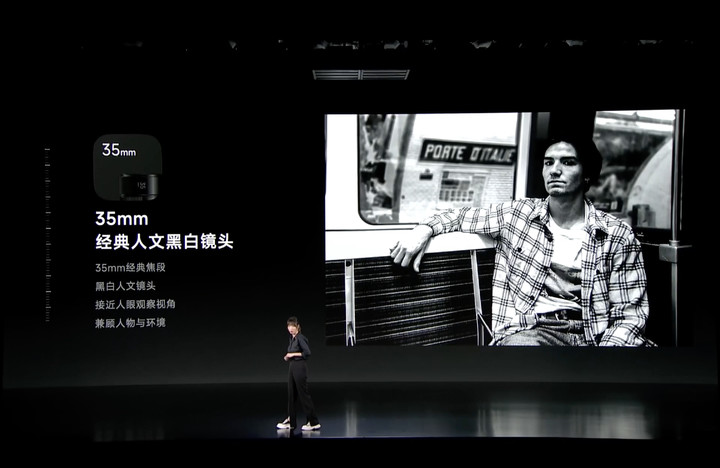 Briefly go through the parameters:
Mi 12S:
Equipped with the first-generation Snapdragon 8+ platform;
6.28-inch AMOLED, 120Hz screen, 1080P resolution;
50-megapixel IMX 707 main camera, supporting OIS optical image stabilization, equivalent to 24mm, with a 13-megapixel ultra-wide-angle lens and a 5-megapixel telephoto lens;
67W ultra-fast charging in seconds + 50W wireless charging in seconds, 4500mAh single-cell battery.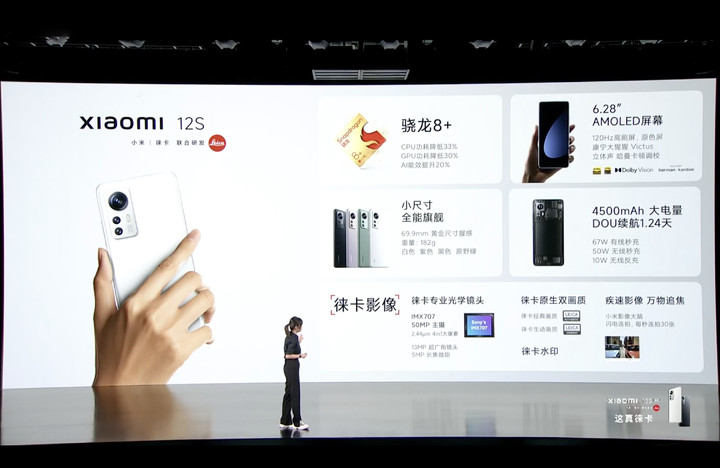 Mi 12S Pro:
Equipped with the first-generation Snapdragon 8+ platform;
6.73-inch AMOLED, 120Hz variable refresh rate screen, 2K resolution;
The main camera of the Mi 12S is the same, and both the wide-angle and telephoto have been upgraded to 50 million pixels;
120W surging second charge + 50W wireless second charge, 4600mAh single-cell battery.
In terms of color, in addition to the black, purple and wild green (plain leather) of the Xiaomi Mi 12 series, white is also added. Looking at my white keyboard, white computer, and white headphones, I suddenly felt that it was time to change to a new phone.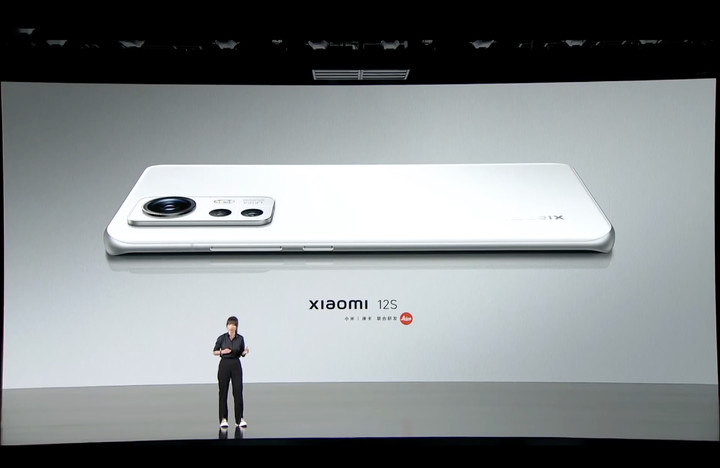 As the first mobile phone equipped with a new generation of Snapdragon 8+, Mr. Lei was also full of praise for this chip at the press conference. According to Xiaomi's test, the Snapdragon 8+ using TSMC's 4nm process has about 30% improvement in CPU and GPU, and the AnTuTu running score of Xiaomi 12S Pro exceeds 110W.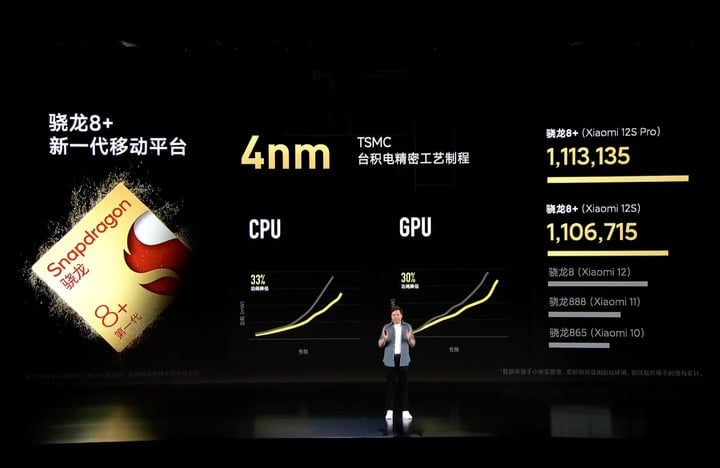 Of course, "the performance that the user can use is the real performance." Therefore, Xiaomi, which benchmarks the iPhone in an all-round way, uses the iPhone 13 Pro Max as the benchmark to adjust in daily areas such as Weibo, watching short videos, and chatting on WeChat. I thought that benchmarking the iPhone was a slogan, but I didn't expect it to be a real action. Mr. Lei said at the press conference:
With today's flagship phones, it's impossible not to get hot at all. However, we can do better than the iPhone.
Overall, Xiaomi's performance is not bad, basically better than the iPhone 13 Pro Max. Mr. Lei also implored major developers to optimize and work together.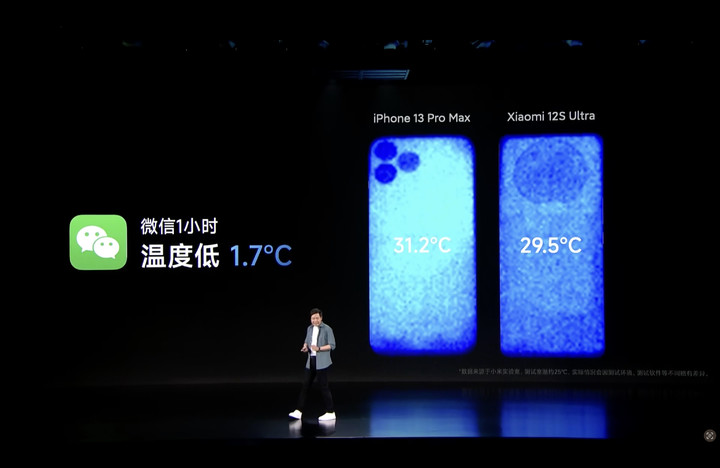 Going back to the Xiaomi Mi 12S series, in order to restore the original Leica style on the mobile phone, Xiaomi has made the following attempts.
first of allTwo native image quality, Leica's classic image quality, inherits Leica's century-old excellence in precise presentation, restores the three-dimensional tone, allowing you to return to the moment of shooting through photos; Leica's original image quality, with more saturated colors, leads the pioneering aesthetics of the mobile photography era .Followed byFour Leica filters: Leica Vivid, Leica Natural, Leica Monochrome, Leica Monochrome High Contrast, restore the Leica color with a mobile phone.and finallyLeica watermarkI have to say, adding the watermark really feels German "Lai".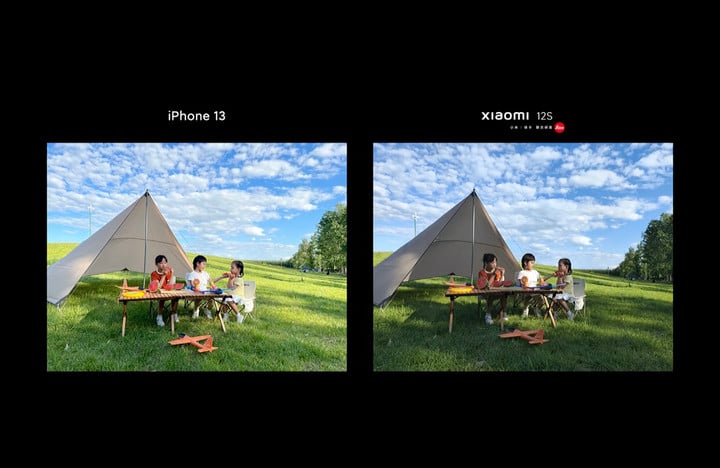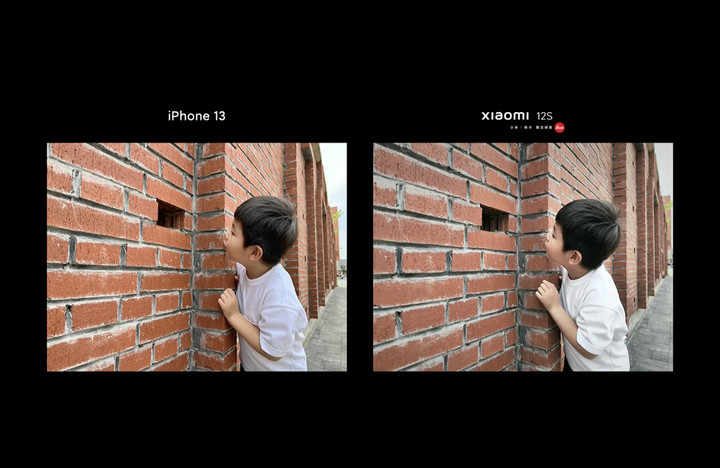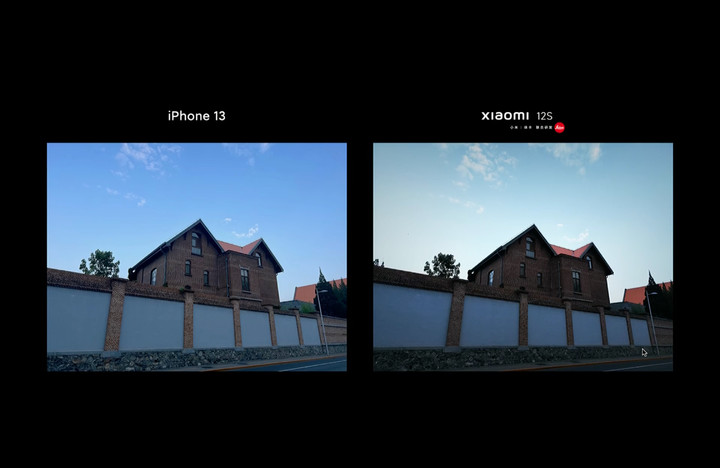 Compared with the 12S, the imaging system of the Xiaomi Mi 12S Pro has been upgraded, both of which are 50 million pixels:
Wide-angle main camera, with an equivalent focal length of 24mm, taking into account both the subject and the landscape;
The main portrait camera, with an equivalent focal length of 50mm, is suitable for street sweeping and has a very humanistic sense;
Ultra-wide-angle main camera: Equivalent focal length of 14mm, suitable for large and impactful scenes.
The rich focal lengths allow Xiaomi Mi 12S Pro to have three Leica lens packages: 35mm classic humanistic lens, 50mm classic portrait rotary focus lens, and 90mm classic portrait soft focus lens. In addition, Xiaomi's lightning continuous shooting function has also been upgraded, just slide the shutter button, you can quickly capture.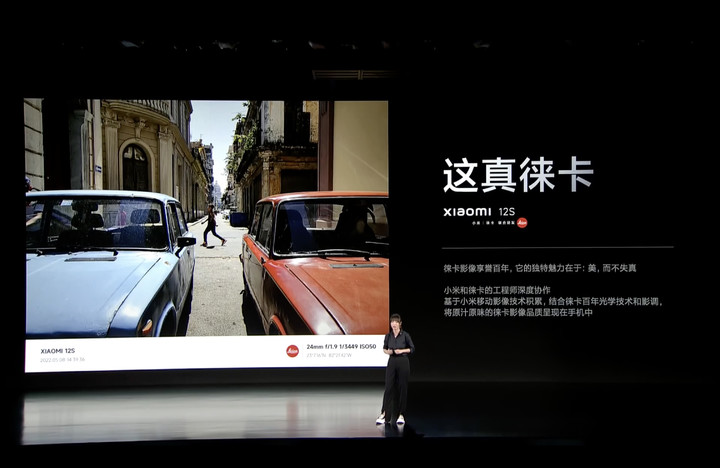 In terms of battery life, Xiaomi conducted a standardized battery life test on several new models. The Xiaomi Mi 12S scored 1.24 days (1.07 days for the Mi 12), and the Mi 12S Pro was 1.22 days (the Mi 12 Pro was 1.01 days). In Ray's words:enough anyway。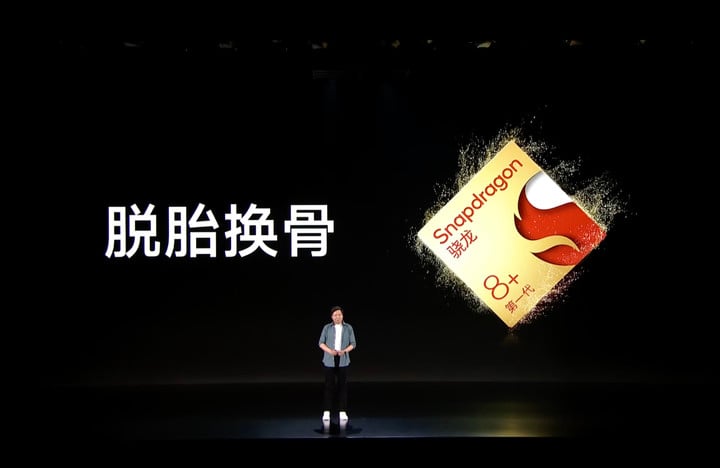 We also brought you a hands-on video of Xiaomi 12S Pro for the first time, let's take a look!
(video number)
Mi 12S Ultra: Designed for professional photography enthusiasts
After reading the introduction of Xiaomi Mi 12S Ultra, as a rice fan, I extended my hand to snap up the Xiaomi Mi 11 Ultra, and wanted to contribute to Mr. Lei's high-end dream once again.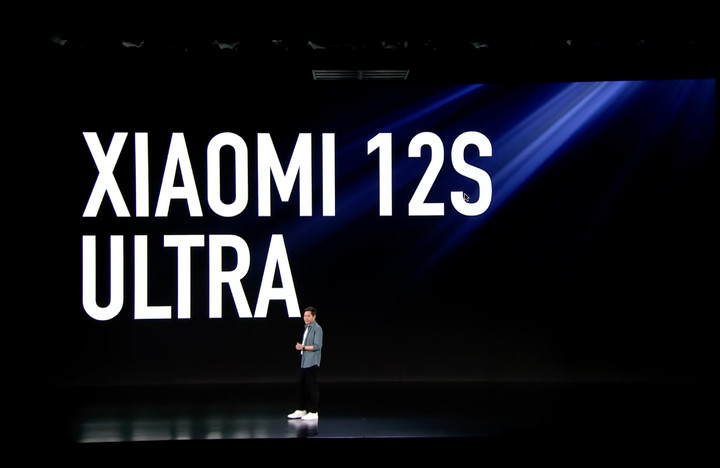 In fact, before the press conference, the Xiaomi Mi 12S Ultra has already been exposed from the configuration to the appearance, from the official to the "foreign media". Let's take a look at the key parameters first:
In terms of imaging: one-inch outsole professional main camera with 3.2μm fusion pixels; Leica professional optical lens; Master lens package; 8K recording at all focal lengths; the first Android phone to support Dolby Vision recording.
Screen: 6.78-inch, 2K resolution AMOLED primary color display, support Dolby Vision, 1-120Hz smart refresh rate.
In terms of performance: a new generation of Snapdragon 8+; Yemai cold pump cooling system; hardware-level defragmentation.
In terms of battery life: Surging G1 battery management chip + Surging P1 charging chip; 4860mAh second-generation silicon-oxygen anode battery.
System: MIUI 13 adds Xiaomi Mi Miaoxiang Center.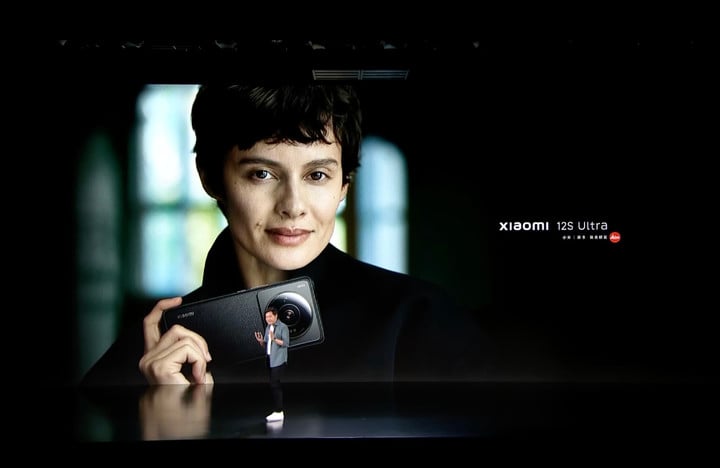 At the end of the image is the Leica.
Mr. Lei sighed so much at the press conference, and the biggest upgrade of Xiaomi Mi 12S Ultra is also the imaging system jointly developed with Leica.Don't judge it with an everyday phone because it's made for professional photography enthusiasts. Xiaomi Mi 12S Ultra has a new design "built for images":
In order to ensure the stable operation of the imaging system, a fully wrapped metal frame is used;
In order to improve the feel of shooting, we developed a silicone skin that "beyonds the touch of genuine leather";
In order to shoot more magnificent natural scenery, it supports IP68 dustproof and waterproof.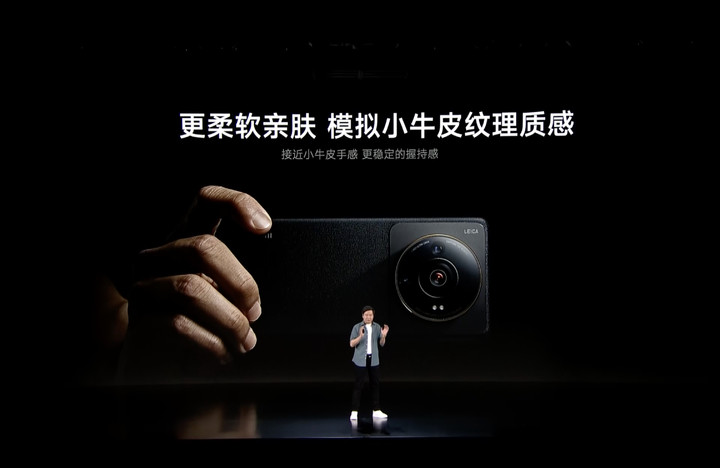 The Xiaomi Mi 12S Ultra is equipped with the 1-inch outsole IMX 989 jointly developed with Sony. Mr. Lei said that this is the "ceiling of mobile phone camera sensors"; the 8P aspherical high lens film comprehensively improves the shooting experience; in order to record more beautiful scenery, To reduce glare, all lenses are fully inked and anti-glare coated. Cycloolefin lenses and IR filters are also used.
Each parameter tells us that,It is the strongest video system of Android。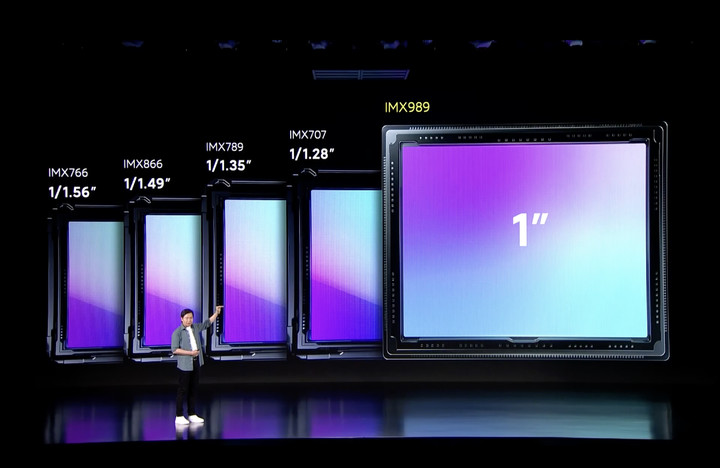 In terms of professional creation, Xiaomi Mi 12S Ultra supports 8K professional movie shooting, HyperOIS anti-shake, and 10bit RAW calibrated by Adobe Labs, which is convenient for professional photographers to operate in post-production.
At the press conference, Mr. Lei also showed a lot of proofs of Xiaomi Mi 12S Ultra, which shows that he is very confident. However, during the press conference, the bullet screen comment area does not seem to be friendly. We can look forward to our hands-on video about the actual performance of Xiaomi Mi 12S Ultra.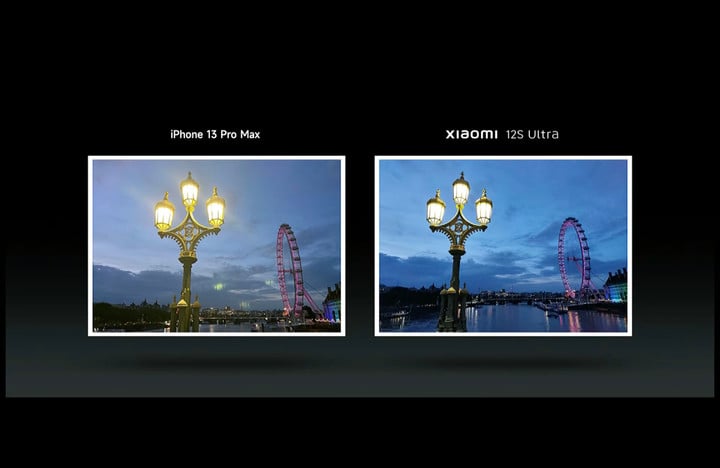 In addition to the "most sincere half-generation upgrade" Snapdragon 8+ performance blessing, Xiaomi has also made great efforts in heat dissipation. With reference to the way plant leaf veins absorb water, Xiaomi Mi 12S Ultra has newly designed the leaf vein cold pump cooling system. It is said that the thermal conductivity of a single unit has been increased by 100%.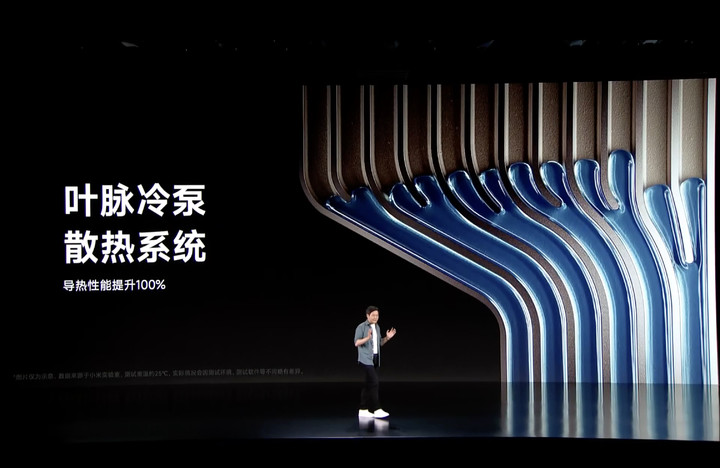 This time, Xiaomi Mi 12S Ultra also added a self-developed technology included in the UFS 4.0 specification: hardware-level defragmentation (File-based Optimization, FBO), which divides the fragmented files into whole ones at the bottom layer, and users do not need to perform operations. You can enjoy a smooth system.
The FBO function has been included in the official UFS 4.0 standard by the Solid State Technology Association (JEDEC). After mass production of UFS 4.0, it will be open to the entire industry. Before mass production, only Xiaomi Mi 12S Ultra can enjoy this function.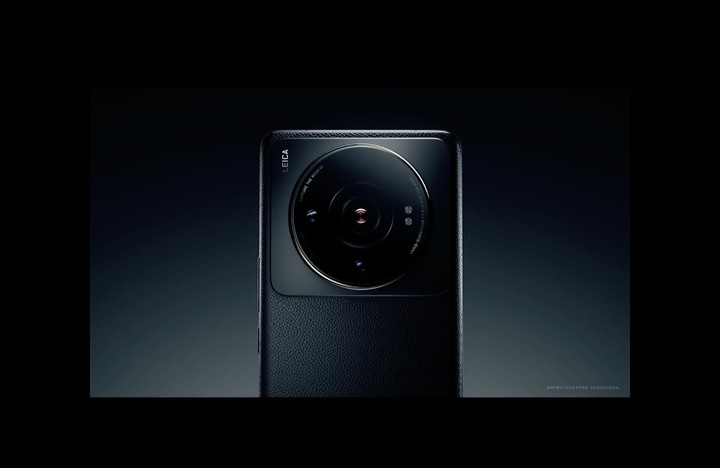 In terms of battery life, Xiaomi's battery management chip Surging G1 was officially released, which is used to monitor the health of mobile phone batteries throughout the cycle, intelligently adjust charge and discharge performance, and extend battery life and battery life. The fast charging chip Surging P1 is also not absent. The combination of the two chips allows Xiaomi The 12S Ultra has 67W wired, 50W wireless, and 10W reverse charging speeds.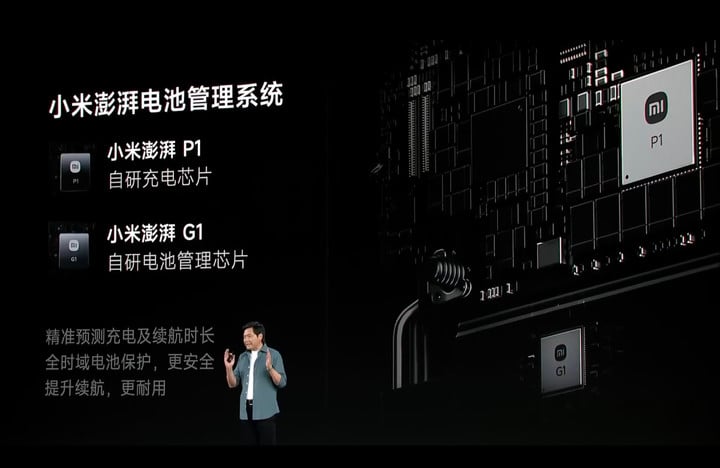 Mr. Lei announced at the press conference that the Xiaomi Mi 12S Ultra had a battery life of 1.24 days in internal tests (1.04 days for the Xiaomi Mi 11 Ultra), which not only satisfies daily use, but also reserves extra power for shooting. However, when the Xiaomi Mi 9 was released, Mr. Lei also said that "use it properly for a day", friends who are not in a hurry to change the phone, or wait for our follow-up long-term experience sharing.
After releasing the three new models of the Xiaomi Mi 12S series, Mr. Lei also brought One More Thing to Mi Fans: Mi 12 Pro Dimensity Edition.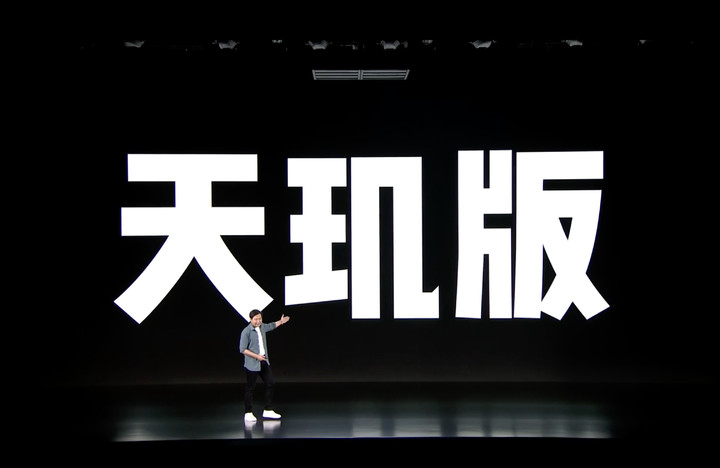 Compared with the Xiaomi Mi 12 Pro, the Xiaomi Mi 12 Pro Dimensity Edition has mainly upgraded the following points:
Performance explosion: equipped with Dimensity 9000+ chip;
Longer battery life: 5160mAh battery;
Cooling upgrade: Mi 12S Ultra with the same leaf pulse cooling pump cooling system
How should I put it, as a game party who does not have high requirements for taking pictures, I feel that this Mi 12 Pro Dimensity Edition is more suitable for me.
Mi Band 7 Pro: Experience upgrades, but…
There were some accidents, some doubts, and some grievances. I was holding the Xiaomi Mi Band 7 and saw the release of the Xiaomi Mi Band 7 Pro in just a few days. As an upgraded product of a digital series bracelet, the upgrade points of Xiaomi Mi Band 7 Pro are mainly in three parts: appearance and texture, screen size and sports health.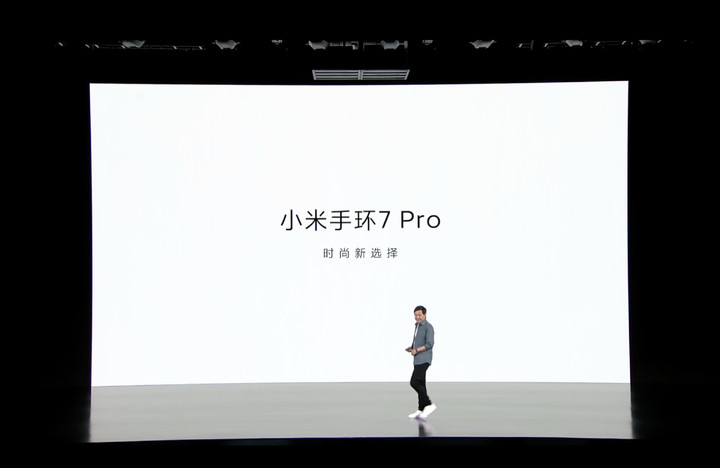 In terms of appearance, Xiaomi Mi Band 7 Pro has a 1.64-inch AMOLED full color screen, and the display area is 50% larger than that of Xiaomi Mi Band 7. Xiaomi leaves the choice of the screen to the user: more content or larger font, as you like.
Compared with the "rice grains" that were always black in the previous generation, this time the Xiaomi Mi Band 7 Pro also has black and white two-color, with a metal texture (texture) middle frame, the fashion has indeed improved a lot.
In terms of performance, relying on the improvement of Nor falsh storage space, Xiaomi Mi Band 7 Pro has lower latency, smoother operation, global dynamic effects, and high-frame full-color. With the 7Pro of the ambient light sensor, the viewing experience is guaranteed, and the daily battery life is also guaranteed.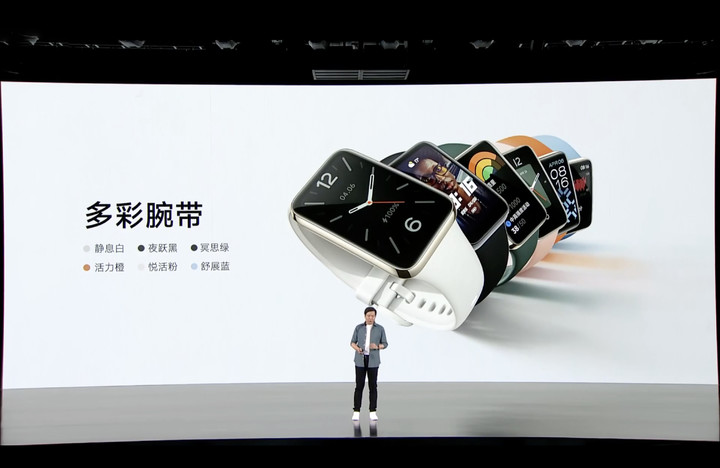 The most important health aspect, in addition to 117 sports modes, Xiaomi Mi Band 7 Pro can finally be positioned independently by satellite, no longer need to open the sports record and wait for the mobile phone to search for stars. The rest of the functions do not seem to be much different from the Mi Band 7, and we can look forward to our follow-up experience.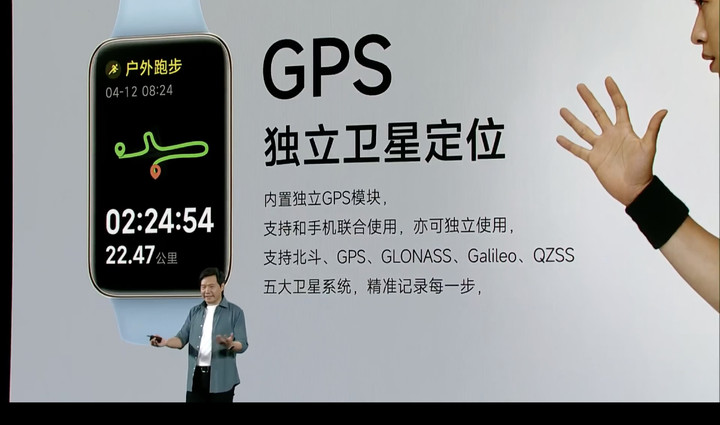 I have used every generation of Xiaomi bracelets, except for the affordable price,Small and inconspicuous wearing and long battery lifeis why I choose it. While this Xiaomi Mi Band 7 Pro has a larger screen and more functions, it will definitely compromise the battery life and wearing experience.
So, I also want to ask the old users of Xiaomi Mi Band: What is the reason for you to choose Mi Band?
Xiaomi Notebook is also here!And a flagship router
Mi Notebook also brought a new product at the conference: Mi Notebook Pro 2022. This notebook has Xiaomi's "best master screen so far", a 16-inch, 4K OLED that supports 10-point touch. And realize the color unity of Xiaomi mobile phones and notebooks. Equipped with the 12th generation Core™ P series processor, EVO certified, focusing on thin, light and efficient. Also, there is a 14-inch version.
And the point that caught my attention the most was the new pressure-sensitive touchpad developed by Xiaomi. Xiaomi said that this touchpad allows users to "lose the external mouse", but good hardware is just the beginning.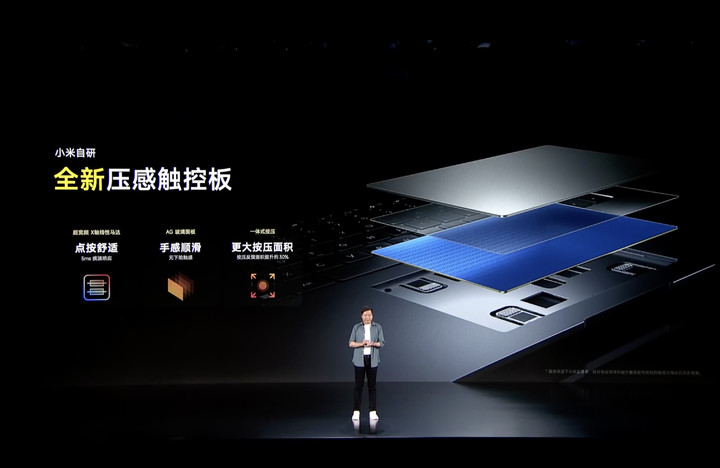 MacBook has been using Force Touch for almost 7 years, and many third-party apps have also been adapted. Although Windows provides Precision touch drivers, there are not many really adapted. Aifaner reader he11oboy shared his views on the Windows touchpad:
Windows system animation still needs to be improved;
There is a delay in the touch operation, and the response is often completed after the action is completed;
Lack of third-party custom software, such as the Better Touch Tool on the Mac side.
The hardware is only the foundation, whether it is good to use or not depends on the actual experience.
Xiaomi also launched a new flagship router at the conference: Xiaomi HomeWiFi. This is a professional tri-band mesh router for large apartments, supports automatic networking, and can cover a large apartment of 150 square meters. If you want to use it in the enterprise, you can buy 10 units for interconnection, covering an area of ​​1500 square meters directly.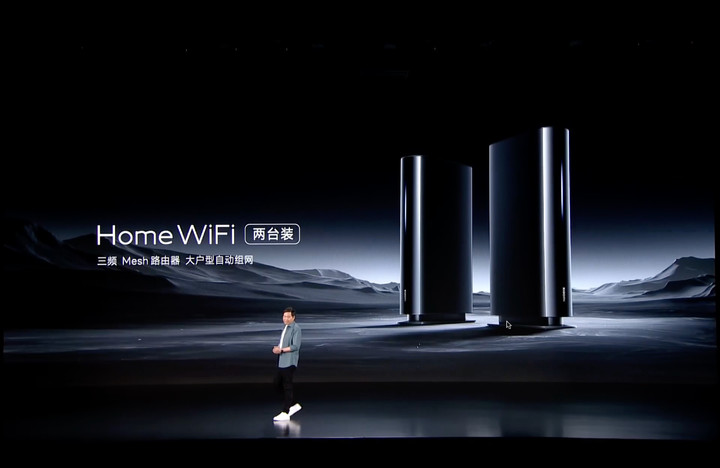 There are a lot of smart functions such as one-button smooth chain, NFC touch-to-connect, etc.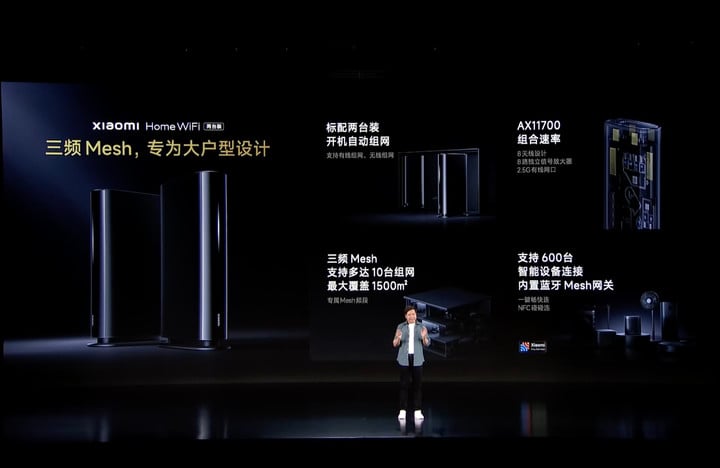 Summary: Is the high-end road stable this time?
Of all the products launched at this conference, which one is your favorite?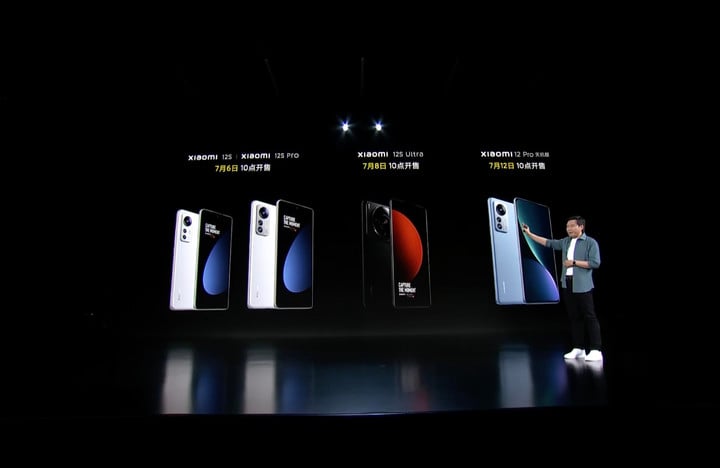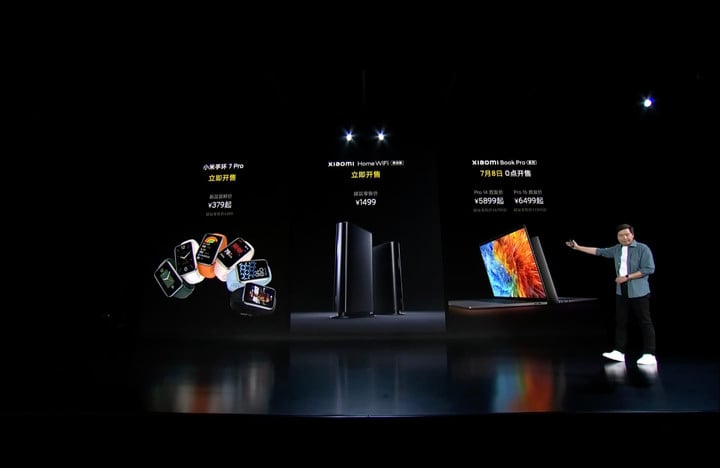 On March 29, 2021, Xiaomi released 3 mobile phones, 1 smart bracelet, 1 router, and some accessories in two hours. When Mr. Lei said that the Xiaomi Mi 12S Ultra was going to become the "Light of Android", I wonder if he would recall the year when the "Light of Android" Xiaomi 11 Ultra passed.
On the whole, the Xiaomi Mi 12S series is full of performance, and it is full of images together with Leica; Xiaomi Notebook Pro 2022, with the blessing of Intel's 12th generation chip and a new touch panel, will naturally improve the experience; Xiaomi Mi Band 7 Pro The screen area has been increased, leaving enough room for future upgrades; Xiaomi routers have also crossed the threshold of high-end routing. All look pretty good. So, can Xiaomi's high-end road succeed?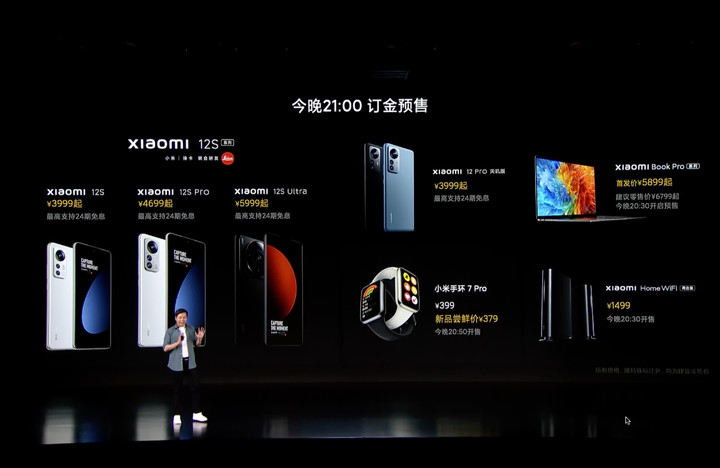 This question will make my mind drift to 2016, the night when Xiaomi MIX was released. The Xiaomi Mi 12S series shows us the stable performance of Xiaomi's high-end line step by step, but to achieve the high-end road, Xiaomi is still one time away from the general cheers of the first-generation MIX release.
Will this cheer come on August 16, the 11th anniversary of the release of Xiaomi's mobile phone?