Recently, the "BesTV Philharmonic" classical music new media product created by BesTV, a subsidiary of Oriental Pearl New Media, officially landed on the big TV screen. At the beginning of this year, BesTV officially launched the "Cloud Performing Arts" plan – relying on SMG's powerful performing arts resources to create new media products for large-screen culture and art, bringing novel, unique and rich high-quality cultural and entertainment content to the audience. As the first vertical product launched by the "Cloud Performing Arts" program, "BesTV Philharmonic" aims to bring users an immersive experience of high-quality private concert halls through technological innovation and refined operations, and can be on TV without leaving home Enjoy high-quality classical music and art content such as symphony, drama, and ballet. In addition, the "Time-honored" music brand "Weekly Radio Concert" under Shanghai People's Broadcasting Station Classic 947 is also presented simultaneously in the product, leading users to easily enter the door of classical music.
BesTVPhilharmonic TV App Home
40The "Time-honored Brand" concert of 2019 will create a new chapter on the home screen
In the eyes of many music fans, "Weekly Radio Concert" is "the highest consumption of 50 yuan in Shanghai's happiness index". As the "time-honored" music brand of Shanghai People's Broadcasting Station, Xingguang Club is the oldest and most widely spread series of popular concerts in China. Since its establishment in 1982, there has been a wonderful classical concert every week over the city. sounded, and started a "radio agreement" with the citizens of Shanghai. Regular frequency, public welfare fares, and the convenience of listening anywhere, let the high-pitched and low-key classical music gradually enter the life of citizens, witnessing the subtle changes in the city.
This year, "Xingguang Club" has successively launched master class series, approaching Philharmonic series and gifted youth series, all of which will be launched simultaneously on "BesTV Philharmonic". At that time, the 40-year-old "Xingguang Club" will continue to write a new chapter on the home screen. Music fans can not only enjoy high-quality repertoire, but also see the demeanor of conductors, soloists, and bands, experience video, Double enjoyment of listening.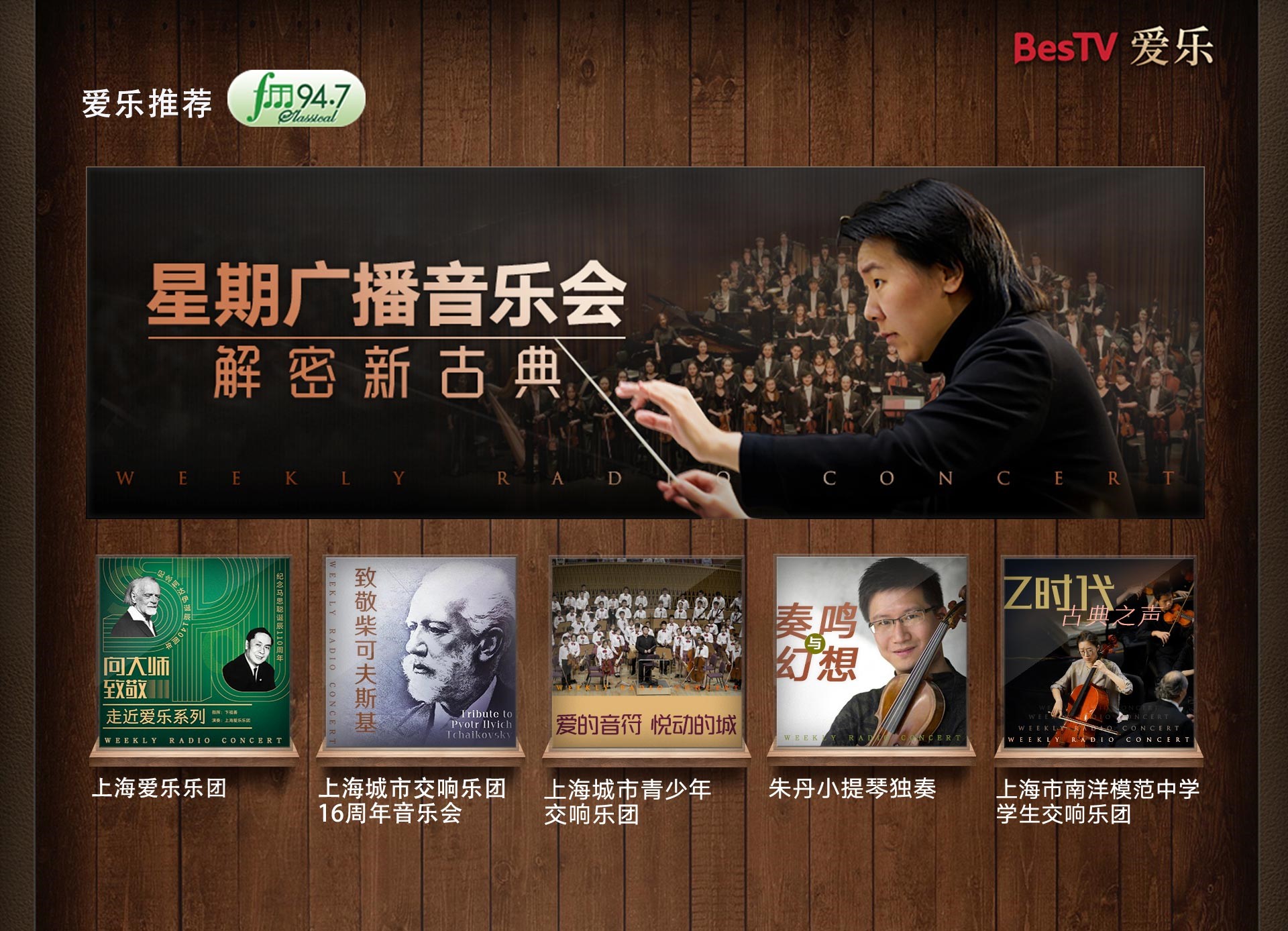 Shanghai Telecom IPTV "Weekly Broadcast Concert"
Massive high-quality audio-visual music library to create a "big screen classical music archive"
Classical music condenses the efforts of the masters of all dynasties, has a solid cultural core, and is a treasure that transcends time. BesTV Philharmonic, positioned as a "big-screen classical music archive", focuses on the strong spiritual resonance brought by classical art.
From the industry's top-level Verbier Music Festival series to the world's top orchestra Berlin Philharmonic with a 140-year history; from pianist solos to music master ensembles of hall-class performances; from the enduring ballet "The Nutcracker" " to overseas high-quality live art images such as Shakespeare's play "Twelfth Night", which is well-known for a century, BesTV Philharmonic brings users world-class performances that span time and space, and experience the charm of classical music in the boundless sea of ​​music.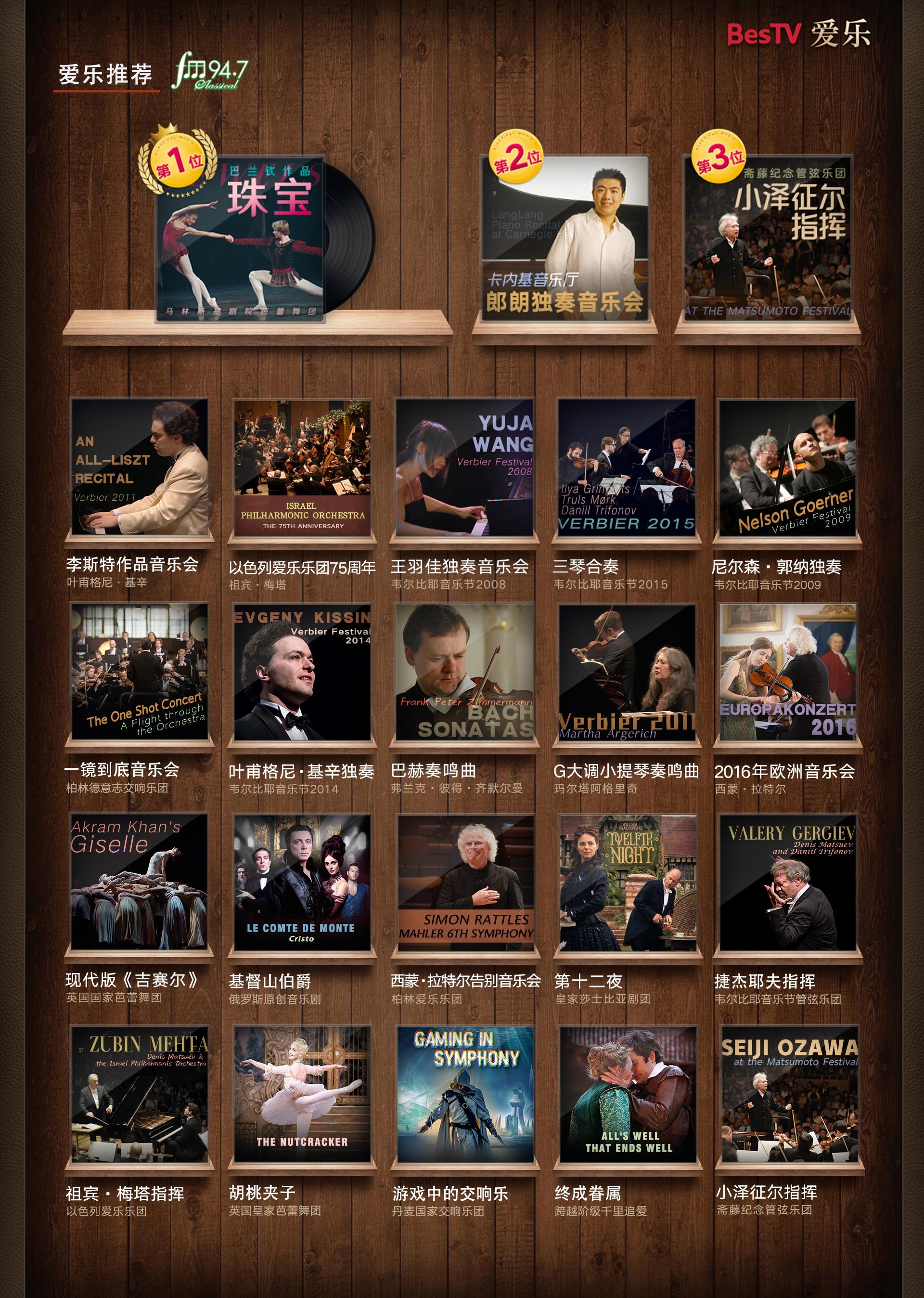 Shanghai Telecom IPTV "Aile Recommendation"
Cloud Performing Arts debuts large-screen products Yunshang Concert Hall opens its doors to welcome guests
In recent years, as a new media platform, BesTV has been advancing on the road of deep media integration. At the beginning of this year, the "Cloud Performing Arts" plan was proposed, in-depth cooperation with major art troupes, and at the beginning of the current round of Shanghai epidemic, it actively responded to the call of the Municipal Party Committee Propaganda Department's online supply of cultural and literary content for "Arts to move forward". The 7 academies under Guang Performing Arts Group, Shanghai Musical Theatre Art Center, Shanghai Kunqu Opera Troupe, Shanghai Ballet, Shanghai Yue Opera and other top art groups in Shanghai have cooperated to launch a large number of high-quality cultural contents, which are displayed on new media such as IPTV and Internet TV under BesTV. The channel uses high-quality literary and artistic works to meet the audience on the "cloud", soothing people's hearts at the most difficult time.
At present, smart TV users can search and download "BesTV Philharmonic" in major TV application markets; Shanghai Telecom IPTV users can enter the "Music tab-Aile" to watch; Hubei Mobile and TV users can enter the "Life Channel-Ile" In the future, the product will also be launched on IPTV and Internet TV screens across the country to meet more music fans.
With the launch of the "BesTV Philharmonic", a large-screen product, BesTV hopes to build a "Classical Music Hall on the Cloud" following the "Grand Theater on the Cloud" and "Anfu Road on the Cloud", so that friends who love classical music can enjoy it. A cloud habitat to enjoy the beauty of classical music.