After the waves are new
The rise of China's new youth power has brought unlimited possibilities for the future of the creative industry. As the official partner of London Fashion Week, FASHION ZOO, gathers young designers from all over the world to stage a cross-border show, and is determined to let Chinese new designers use FASHION ZOO, a platform with rich resources, to go to the world and increase their popularity. With the theme of "Last Waves Pursuing the New", at the opening ceremony of FASHION ZOO in 2021, it will show the creative power belonging to the new generation of China.
In the future, FASHION ZOO will continue to use practical actions to support the new forces of art design, encourage and support new Chinese designs, and inject a steady stream of strong vitality into the design industry. This is a dialogue between Chinese design power and the world. We hope to continue to explore and express various ideas about happiness, create fashionable, fresh and interesting new worlds and challenge the limits of imagination.
  Red Carpet Show
The red carpet before the big show is also full of liveliness. As the chief strategic cooperation media of FASHION ZOO 2021, "Xinyang SuperELLE" invited guests representing China's young new talents. They all echoed this time's " "No gender" theme, and shared his red carpet look. All black LOOK and boots are undoubtedly the most popular match and single product style tonight.
During the interview with the host, the guests shared what they want to say about the next ten years, and also expressed their different opinions on "future players". Li Ziting believes that future players must have their own attitude and be brave to innovate.

Red carpet order: Bai Lu, Ying Haoming, Zhu Jian, Wang Beiche, Sun Lulu, Cao Xiyue, Wang Yizhe, Li Ziting, Photosynthetic Juvenile (Zi Yu, Zheng Xingyuan, Wan Yuchen, Liming Xu, Han Ruize), Guo Xiaoting
Special thanks to the FASHION ZOO special partner for coming to Yifen, the chief strategic cooperation media "Sinyang SuperELLE" and the official travel partner Xiaopeng Motors
  Launching Ceremony
The opening of FASHION ZOO last year brought a big show of sustainable fashion brand Stella McCartney. This year's opening show is also the opening ceremony of FASHION ZOO STUDIO.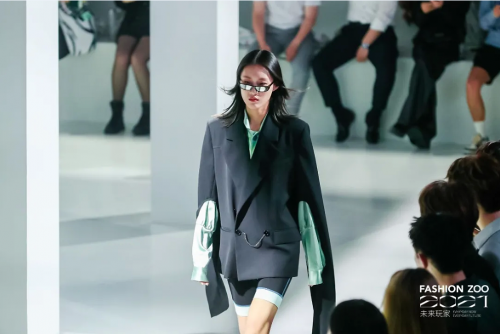 For the opening show, FASHION ZOO has invited many pioneer designers from all over the world, such as ZI II CI IEN, "BVM TEAMS", DAMOWANG, DENTAL PINS, DONSEE10, Dirty Pineapple, etc., to achieve bold crossover with FASHION ZOO STUDIO. Explore the new order of new youth fashion with flying imagination.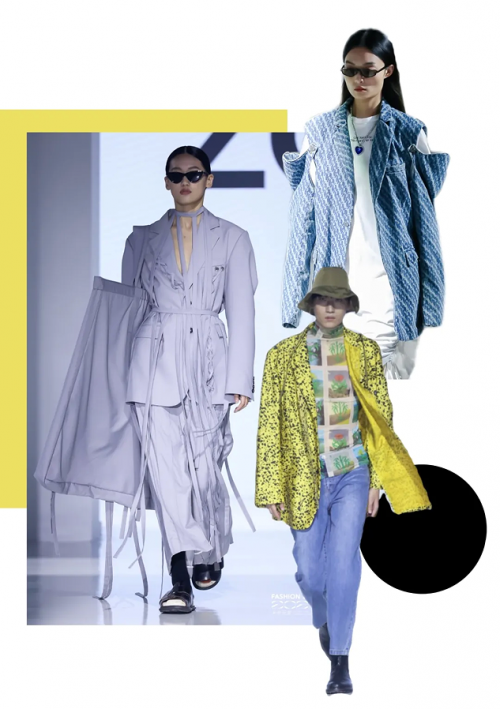 At the moment when the sex shackles have been broken, non-sexism has continuously set off a wave of trends in the fashion circle. Non-sexism is not the same as neutral, and of course it is not the same as reverse gender. And "genderless design" is more of an equal, open, and highly tolerant cultural phenomenon-this is what designers want to express most in their hearts.
They started the "experiment" from the suit, broke the frame at the opening ceremony of "Last Waves Chasing the New", and led the audience to initiate an aesthetic revolution that blurs the boundaries between genders. The whole show brings a colorful, humorous, and imaginative visual sensory experience to the audience. With rich color combinations and layers, as well as the core design concept of genderlessness, it fully demonstrates the dressing that the new designers desire. free.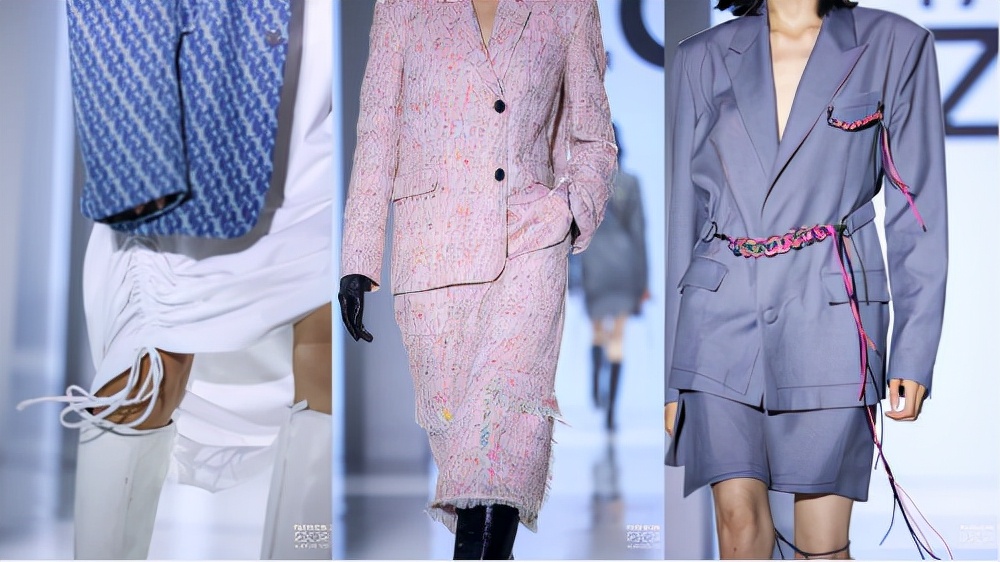 The mix and match of suits and scarves, crochet and lace design elements collide with loose and neat clothing silhouettes. It is not only the idea of ​​enhancing women's power in men's clothing, but also through changing the structure of the clothing. Male and female temperament balance.
From the fabric to the tailoring, to the small details of the decoration, all lead the audience to travel in the genderless universe of free dressing. When we really smooth the boundaries and realize the freedom of dressing, it is the meaning of "genderless dressing".
*FASHION ZOO STUDIO Tmall store has been opened, you can go to FASHION ZOO STUDIO Tmall store
  Buy designer collaboration suits
  Suit Museum
As the theme of the first season of FASHION ZOO STUDIO, the Suit Museum is obsessed with creating a whole new world, connecting new designers at home and abroad to start "breaking the wall" fashion experiment; exploring and expanding the boundaries between gender diversity and gender fluidity, and opening clothing The dialogue between tailoring and imagination brings the audience a visual feast of genderless universe and flying imagination.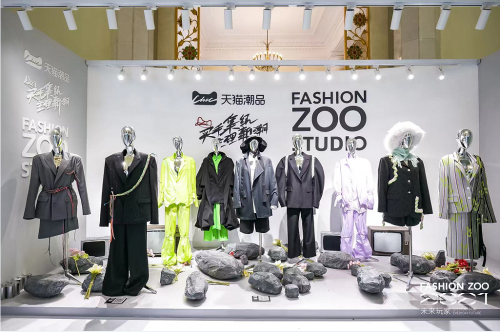 MUSIC NIGHT
People always say that the gun is shot.
It seems that being a low-key talent is the essence.
Whoever speaks out will be shot down,
You must have never seen those early birds who are not afraid of bullets
How high it flies.
Because of my ambition to achieve, I leave the doubts behind
Pursue love with one heart, but never act recklessly
They fly forward firmly and take the world to new heights
You can deny them, but don't ignore them
You can say they are special cases, but don't think they are alone
Because in each of us, there is actually an early bird
Have the potential to break the rules of the game
Martell celebrity, respect every bird who is not afraid of bullets
We brand the early bird on the bottle, and we hope this unyielding spirit
Can awaken the one in your heart
  ———This is Martell celebrity
  The definition of "dare to be the first bird"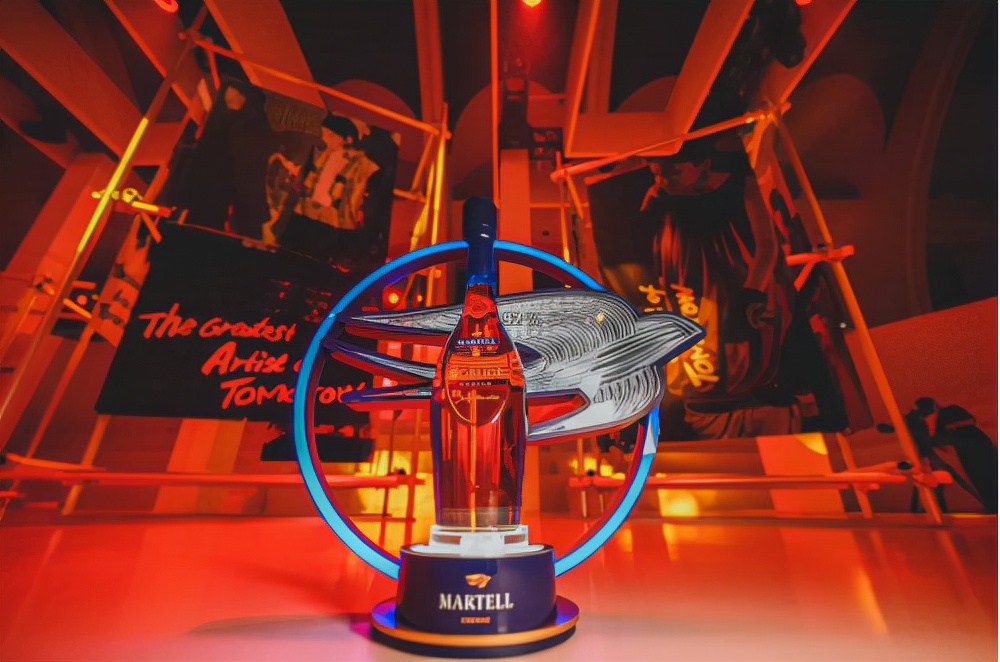 After the big show, MUSIC NIGHT was presented by the official wine partner Martell Mercier, who chased love together, flew forward firmly, set off a new wave in the music, and awakened the one in each of us.
"Dare to be the first bird" live music of MUSIC NIGHT is brought by the entertainment complex partner TAXX. TAXX is committed to creating and developing the most influential young music culture. This time it sent two representatives of its new music power, by TAXX's DJ Reck and DJ Alex work together to bring EDM and HIP-HOP an auditory feast.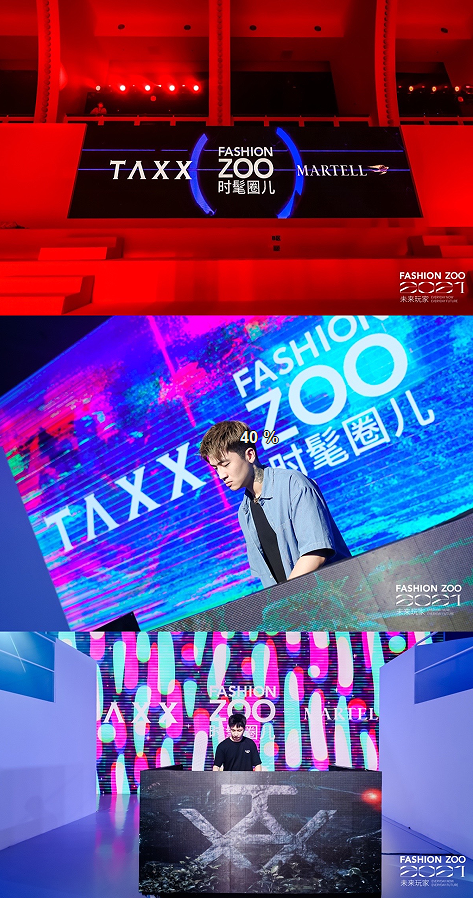 About Fashion Zoo
FASHION ZOO is an international cultural exchange platform focusing on global artists, designers and fashion creators; it initiated the 2C International Youth Fashion Culture and Art Festival in the true sense of China, and is also the official partner of London Fashion Week. To build a global platform for new product launches and build a world bridge for cultural exchanges.
The FASHION ZOO fashion circle continues to innovate, linking with the world stage, helping Chinese brands go global, and at the same time importing international fashion content into the country, giving a new meaning to international fashion cultural exchanges.
In 2021, the "FASHION ZOO Fashion Circle" fashionable reading material and CIC China's New Youth Creator Program (Creator in China) will be officially released, aiming to provide a more open and inclusive platform for the current young generation who love fashion and art, and bring together young leaders Inspiration and creativity, discover and incubate more unique young creators, and unlock the whimsical world of Chinese design power together.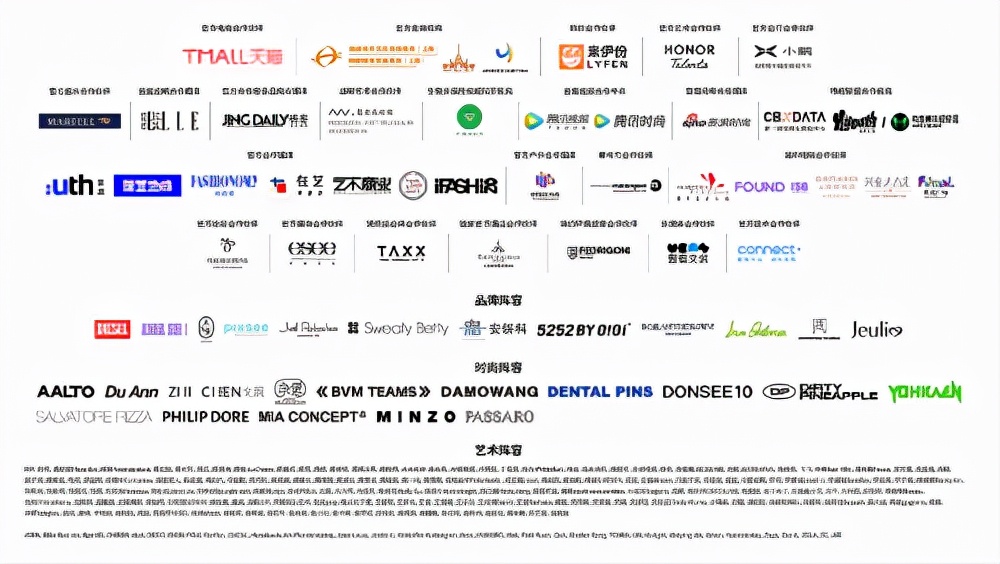 Official e-commerce partner: TMALL Tmall
Official support institutions: National Foreign Cultural Trade Base (Shanghai), National Copyright Trade Base (Shanghai), Shanghai Exhibition Center, Shanghai Jing'an District Cultural and Creative Industries Association
Special partner: LYFEN
Official travel partner: Xiaopeng Motors
Official Art Partner: HONOR Talents
Official wine partner: MARTELL
Chief Strategic Cooperation Media: SuperELLE
Official cooperation luxury business media: JING DAILY Luxury Business Observation
Strategic Art Partner: Yicang Art Museum
Authoritative scientific institution on biodiversity: China Green Development Council
Chief Video Cooperation Platform: Tencent Video, Tencent Fashion
Chief Network Cooperation Media: Sina Fashion
Specially invited data cooperation institutions: CBNData, Yiyouth·Youshu Youth Observation Bureau
Official cooperation media: uth, modern landmark, fashion industry, Zaiyi APP, art business, HardCandy youth, iFASHION
Official outdoor cooperative media: Binjiang Star Media "Window on the Bund"
Youth power partner: Marangoni College
City landmark partners: Florence Town, Found158, Shanghai Xintiandi, Industrial Taikoo Hui, Shanghai Shimao Plaza
Official makeup partner: Shanghai Mao Geping image design
Official model partner: esee hero model culture
Entertainment complex partner: TAXX
Exclusive official hotel partner: Sukhothai Hotel Shanghai
Special environmental protection paper partner: Fogegna
Multimedia partners: Depends on cultural and creative
Official technical partner: Suzhi Technology connect+
  FASHION ZOO brand lineup:
DIESEL, Anna Sui Active, ASH, pixsee, Joël Robuchon, Sweety Betty, EltaMD An Yanke, 5252 BYO! Oi, SAM EDELMAN, ROMANTIC CROWN, AMAZING PANDA, JEULIA
  FASHION ZOO fashion lineup:
  AALTO、ZI II CI IEN支晨、《BVM TEAMS》、MAKHZAN、DENTAL PINS、DAMOWANG、DONSEE10、Du Ann、DIRTY PINEAPPLE、YOHKAEN、SALVATORE RIZZA、MINZO、PHILIP DORE、MIA CONCEPT、PASSARO
  FASHION ZOO art lineup:
Ah P, Abu, Bai Ruojun, Flora Bai, Fakestardust, Cao Junru, Cao Keyi, Chen Hao, Chen Huihai, Chen Lu LuChene, Chen Meihuan, Chen Xue, Chen Ye, Chen Yanhua, Cheng Ming Zhengfu, Cheng Youwei, Da Mu Ranbu-Gao Dabai, Big Jelly Candy Bo, Deng Hanzu, Ding Jiahui, Du Wanzi NiniBall, Du Ying, Duanmu Qiongfang, Duan Yunzhu, Duo Duo Lv Hai, Duo Duo, Fan Jia Yan JOCELYNE, Fan Shuo JUSTIN FAN, Fan Yuxuan, Feifei, Feifei Sun Yifei, Focus, Gan Yizhen, Gao Jiapu, Gao Ming, Gong Zixiao, Gu Xinlei, Guimeng, Guo Pinyu, Currynew, Sea Monster Clay Figure, Han Ziyan, Drink Nine, He Jiacong, Wu Qiaoling, Hong Runlan, Hu Zhongwen, Huang Huili, Huang Shuyi, Huang Si Qi, Huang Xiaowen, Huang Yichun, Huang Yuhan, Polar Lamb Polarlamb, Ji Yixuan Load, Jiang Youyu, Soy Sauce Ji, Kesen S.KESEN, Keke, Kongzi ikkonz, Koubo Zihai, Le Cijun, Lei Lei, Cold Noodle Laoya, Li Ke , Li Yanjie Loxel Li, Li Ziyao Surefire, Li Zihe, Li Zimei, Lin Jingbin Rocky Lin, Liu Buju, Liu Jiakun, Liu Luyi, Liu Qi, Liu Ruobing Vanessa, Liu Zhijun Jane Liu, Liu Ziyan 6purple salt, Lu Yijiao Jojo, Luobei POLA, Lu Dian, Lu Naiwei, Ma Jiaxing, Molly Su, Cindergirl, Cindergirl, NekoJiang, Perak Fried Vegetables, Skimming oooh Seesawtime, Seven-Five-Three Nagomi, Qi Peng, Qian Yeling COCO LING, Qian Yiying, Rilaidai, Mishima From Xiaowen, Sanqian, Lv Linlin, Shao Huating, Magic Ga Mosqu, Shen Jie PrinceKerry, Shen Tingting, Sheng Xinyi, Slims, Song Yike, Sun Fanzhe SONNY, Body Hot, Tong Yao, Graffiti P, Talent Street Art, Camel pop, late raccoon, Wang Chunyang, Wang Mengjie, Wang Lei, Wang Xuetong, Wang Yutong, Wang Zhaobo David, Wang Zhe Barbara, Wei Qiang, Wu Yuqing, Wu Jiajun, Wu Zhen, Wu Zijue, Wu Xinzhi, Cindy Wume, Little Ear, Xiao Liang, Xie Wantong, Xu Minqi, Miki, Xu Jialing, Xu Suye, Suyeah, Xue Dawei, Gogomo, Yang Qin, Yangtzu, Yao Yao, Wild Kuai, Yu Peini, Yu Xinyi, Gao Yuan, Yuan Yining NYZO, Zhang Han Wood , Zhang Jiawei, Zhang Pingguo, Zhang Ruoqian, Zhang Sirui, Zhang Xiaoman, Zhang Yuting, Zhang Yuxin, Zhao Xiangzhi, Zheng Hezhen, Zheng Weimin, Zhong Wenke, Zhou Dandan, Zhou Maiyi, Zhu Linqian, Zhu Yiling, Zou Yanni
  ASEN, Billo Bozi-bo, Bpm88, CHIRØN deal, DEZIO, EXON-POLY, FanFan, GAS.W., Handowin, Iris Plantenkamp, Jean-Loup, Jessie Li, Kristoffer Kullengren, Kroc, MUKURO,
Nini, Patti Ruan, Qoli, Shelter Song, TONKA, UN, Viv1girl, Weiying Jin, Yahan, Yuansterday, Zaya, Zoe Li, ZOLA, ZZ_LEE
.