"Flowing Water Falling Flowers" actress Sammi Cheng is a mother without makeup, she took on the role with zero pay to support the new director, and showed her simple and restrained acting skills. She was nominated for the Academy Awards. (Photo source: Provided by Jiashang Entertainment)
The warm Hong Kong film "Flowing Water and Falling Flowers" is the film and television song "Queen of Change" Zheng Xiuwen, starring talented actors Lu Junguang and Tan Shanyan. It is the first feature film directed by Hong Kong new director Jia Shengfeng. It was the closing film of the Hong Kong Asian Film Festival last year. After being screened at the Hong Kong Film Festival, the warm plot was deeply rooted in the hearts of the people and it was well received. Because Sammi Cheng liked the script so much, she decided to take the role with zero pay and supported the new director. She also won the Best Actress award at the 29th "Hong Kong Film Critics Society Awards" for her moving performance of "Auntie Tianmei", the mother of the host family. Nominated for the 10th time for Best Actress in the Hong Kong Film Awards, even Andy Lau, who has collaborated with him many times, also publicly shouted that he is "partial" and is a good friend, hoping that Sammi Cheng will win the award, which makes her very happy, and director Jia Shengfeng also revealed When I was writing the script, I felt that the heroine had a strong appearance but a gentle heart, which was very suitable for Sammi Cheng to perform "It must be her!"
Sammi Cheng supports the new director's zero-pay role in "Flowing Water and Falling Flowers"
The story of the movie "Flowing Water and Falling Flowers" tells the story of a foster family service provider who acts as a substitute for the biological parents. Zheng Xiuwen, who is called "Auntie Tianmei" by the foster children, shows a layered and restrained performance in the film with a clean and beautiful style with no makeup and short hair. , she said: "What is more important to me is the hard work in these years. I hope I can improve my acting and play more different roles. It is very encouraging to me!"
Sammi Cheng revealed that when she received the script, she liked it very much. She felt the story was very moving. She said frankly that she wanted to help the new director, and because she didn't know the behind-the-scenes, she had no choice but to support him personally. The more the director wants to help, he doesn't need to pay too much attention to the salary, and he would rather put the money on the production, the whole thing will be more meaningful." He also said that he has always been grateful for leaving many works in the Hong Kong film industry, and he hopes to give back after getting a lot . Sammi Cheng added that the reason for choosing to take on the role is that the story is plain and there is no deliberately sensational part, but in some scenes it will touch people's hearts and make me very shocked: "This script is a great opportunity for me to try different role, and the director did not deliberately deify Aunt Tianmei. There is a big contrast between the outside and the inside of the role. At the beginning, she did not do it with an angelic heart, but when she looked back, she realized that what she did originally, or these children What was left to her was such a valuable and touching love."
Director Jia Shengfeng revealed that when writing the script, the male and female protagonists have been finalized. Although she has never met Zheng Xiuwen before, she feels that she is the most suitable candidate: "She looks so strong, but she has a gentle side inside. This contrast is Aunt Tianmei. I think only Zheng Xiuwen is the most suitable for the elements that my aunt needs!" He also revealed that as a new director's first feature film, the most important thing is the choice of subject matter, "Everyone has family and affection. I have the same identity as everyone else. , I am both a child and a parent, so I put the subject matter on the topic that I am also the most familiar to everyone." And I want to further explore the relationship between "family affection" and "blood relationship", so I have the movie "Flowing Water and Falling Flowers": "I want to tell the story of a family of three with a foster family. The focus is not on the concept of a foster family and the current social situation, but to express how the couple feels indifferent to their lost son through the children who keep coming and going around them. Missing, life continues in another way."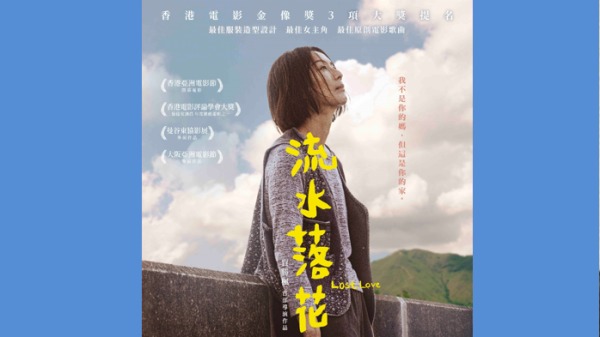 Sammi Cheng was nominated for the Hong Kong Film Awards for the 10th time with "Flowing Water and Falling Flowers". (Photo source: Provided by Jiashang Entertainment)
Sammi Cheng was nominated for the Hong Kong Film Awards for the 10th time with "Flowing Water and Falling Flowers". She was also shortlisted for the Best Original Film Song, the theme song "I Lived Like This" sung by her, and the best costume design.
Andy Lau shouted favorably to support his old partner
Andy Lau, who hadn't appeared in public for a long time, attended an event and talked about the announcement of the nominations for the Hong Kong Film Awards. He expressed that he was most partial to supporting his old partner Sammi Cheng who had worked with him for many years. After hearing this, she also said happily: "Thank you Andy for your support I am so confident, for me he is a good friend and even Bole, I feel a lot of love from him." But he still looks at the results of the awards in mid-April with a normal mind.
"Flowing Water and Falling Flowers" tells the story of the husband and wife Chen Tianmei and He Bin who have become foster parents for 13 years. Different children have been welcomed into the family. Entrusted, regaining the feeling of being a mother, how could she gradually go her own way, ignoring the feelings of her husband, and forgetting the real needs of the children. At different stages of life, these children gave the couple different reflections. , is also filled.
"Flowing Water and Falling Flowers" will be released on March 17.
Responsible editor: Li Ming–All rights reserved, any form of reprint needs to see the Chinese authorization. Mirror sites are strictly prohibited.
Short URL for this article:
---
[Honorary Member Wanted]Streams can merge into the sea, and small acts of kindness can lead to great love. We sincerely recruit 10,000 honorary members from Chinese around the world: each honorary member only needs to pay a subscription fee per year to become an honorary member of the "Looking China" website, which can help us break through censorship and blockade, and provide at least 10,000 compatriots in mainland China Provide independent and true key information, give them early warning in times of crisis, and save them from the great plague and other social crises.