Source: Caijing.com
2023-03-22 14:28
This World Sleep Day, singer Li Jian said that he listened to Guo Degang's cross talk to help him fall asleep. Some netizens previously said that listening to Guo Degang and Yu Qian for insomnia is more effective than ASMR. On the audio sharing platform Himalaya, millions of people listen to cross talk to help them sleep every day, and the albums of Deyun Society and Guo Degang's Sleeping Sleeping Edition have a total playback volume of more than one billion.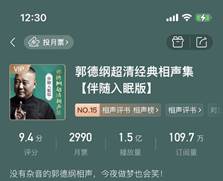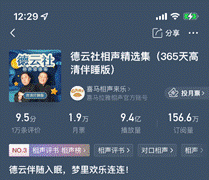 It is already an old topic that celebrities from all walks of life listen to Guo Degang's cross talk to help them sleep. Shen Mengchen, Wu Jing, Gao Yuanyuan and other stars all expressed in the show that they listened to Guo Degang and Deyun Society's cross talk to decompress and fall asleep. A Himalayan user left a message in the "Deyunshe Crosstalk Collection" (365 days high-definition sleep companion version): "Deyunshe has become a habit of falling asleep, and you can't quit. Once you enter the Deyun long road, you will never miss it for life." There are also friends who have slept together for more than 427.4 hours, and I don't know how many times I have cycled.
Cross talk to help sleep has won the sympathy of many netizens. The cross talk actors bring to the public through the amount of work, burdens, hang-ups, and ditties: top, laughter, relaxation, and companionship, making cross talk "hypnotic" and "sleep". special effects.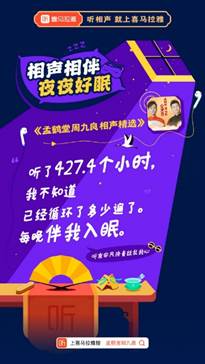 Himalaya big data shows that users listen to cross talk between 0-4 o'clock, and 22-2 o'clock is the peak listening time period. The keyword "sleep aid" was selected as the top five search words at night, among which "crosstalk" accounted for 70% of sleep aid searches, and "Guo Degang" accounted for 31%. Listening to cross talk at night, helping sleep and accompanying sleep through cross talk has become a way of life for young urban users, allowing people to relax and rest in their busy lives.
On March 21st, the Himalaya speed will be updated, and the classic cross talk and new products will be used to provide sleeping companion benefits. Famous crosstalk talker Guo Degang Yu Qian "flyed solo" to the Himalayas, and appeared on the new audio talk show "Guo Lun 4·Human Way" and "Modest Way 3·Human Relaxation"; Fang Qingping "upset" cross talk". Lasting until April 21st, Ma Lisan, Han Zhanjun, Miao Fu, Wang Sheng, Liu Ji and other cross talk stars will start broadcasting in turn in audio form in Himalayas.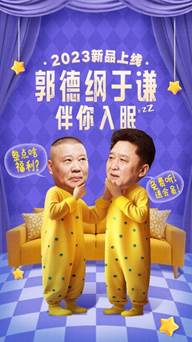 As the saying goes, "Listen to cross talk, go to the Himalayas". It is reported that Himalayan cross talk has accumulated more than 70,000 albums of cross talk content by famous artists and actors, and the total playback volume in 2022 will increase by nearly ten times compared to 2019.
In the next month, listening to cross talk, there are three major things to watch in the Himalayas:
Highlight 1, continue the story: Guo Degang's new "Guo Lun 4" continues the fun and humorous style of "Guo Lun", using gag Beijing-style humor to see the big from the small, telling anecdotes about unofficial history, strange stories, and strange careers. Teacher Guo uses voice sharing to let the audience have the opportunity to transform their mentality and gain happiness when facing the pressure of reality. Yu Qian talked about eating, drinking, and having fun in "Modest Way 3: Relaxation in the World", and shared his worldly knowledge and philosophy of life with urban users in a relaxed and relaxed tone. Eating, drinking and having fun with Uncle Qian'er will naturally gain confidence in life.
Aspect 2, exclusive sleeping companion:Himalaya Crosstalk has specially produced a batch of "Sleeping Edition" crosstalk albums for night listening users, such as "Deyun Society Crosstalk Collection | 365 Days HD Sleeping Edition", "Deyun Society Crosstalk | Sleeping without aria", " Guo Degang Super Clear Classic Crosstalk Collection|Accompanied by Sleeping Edition", this batch of albums removes the arias through technical means to avoid the sudden appearance of high-pitched tunes that wakes users up. Himalayan cross talk specially labels cross talk albums with "sleep" and "sleep aid" from 8:00 pm to early morning, so that Himalayan listeners can search for cross talk sleep aid albums and fall asleep listening to cross talk. Members of this batch of albums are free, even non-members, just as the album introduction: "Exclusive genuine, ultra-high-definition sound quality, you can enjoy a hearty auditory feast for the price of a cup of coffee."
Aspect 3, new speed:In order to meet the needs of cross talk lovers who want to go to the small offline theaters of various clubs to watch performances, Himalayan cross talk will be updated in real time within 24 hours, updating the offline performances of Deyun Club Xiaoyuanzi in the form of long audio, and bringing freshly released classics Baggage, on-the-spot hanging, and traditional ditties are gathered in "Deyun Society 2022 Xiaoyuanzi Crosstalk Collection". Audiences can hear the wonderful cross talk live at Deyun Club without catching a plane or taking a high-speed train. The album has been online for one year and has received more than 6.92 million listens. Users can experience the demeanor of cross talk actors from Deyun Society at home, on the commuting road, in the gym, and on the "Sound Pro" scene without leaving home.
Himalayan cross talk has insight into the voice of users, "I can't fall asleep with too many worries, listen to some cross talk and fall asleep with a smile." From March 23rd to 29th, listen to the Himalaya cross talk album for free.
The burden and laughter on the stage have accumulated ten years of hard work off the stage. The art of cross talk has lasted forever, bridged the obsessive-compulsive disorder of young people to sleep late, and healed the spiritual poverty of urban life, making sleepless nights and emo moments a place to rest in Himalayan cross talk.