After the inauguration of a section of the train that connects the towns of Mercedes and Tomás Jofré, the national deputy Ricardo Buryaile He described the act as a "tease" and "a joke." The head of Argentine Water and Sanitation (Aysa), Malena Galmarinidid not let the criticism pass and crossed it through social networks.
"All this paraphernalia and this "emotion" is for 15 kilometers of railway… yes, 15… It's a joke and a tease. The inauguration of the faucet is missing and we do Bingo.#PeorGobiernoDeLaHistoria", was the tweet published by the man from Formosa citing the video of the act where they participated Edward "Wado" of Peter y Sergio Massa.
Galmarini not only defended the two members of the Frente de Todos cabinet, but also the second questioning launched against the Chaco governor Jorge Capitanich for the inauguration of a drinking water tap in the city of Charata, in 2021. "It strikes me that an old political leader cannot see the humidity in the eyes of the neighbors of Mercedes and Tomás Jofré. The railway network grew, we rehabilitated cars, we recovered tourist and non-tourist destinations, incomparably more than in your soulless government", he lashed out.
"Oh! The same goes for "the faucet". 4,000 km of water and sewage networks in AMBA alone. It's not 15km of track, it's not a faucet… it's DIGNITY. AND JOY. But what are you going to know about that! They don't even care! If from so Together with the PRO they lost the national and popular values! ", raised the tone of the pre-candidate for mayor of Tigre.
Buryaile, former Minister of Agriculture of Cambiemos, picked up the gauntlet and responded with three more tweets. "Ma'am, Malena Galmarini, with all the respect you deserve: I'm sorry I don't agree with your epic vision of the 15 kilometers of railway with an old train. Interpret it as an opinion that, I see, you do not share. Understandable," she questioned.
Using the archive as a tool, the congressman continued: "Regarding the heartless, we disagree again. Heartless it seems to me to have parties in Olivos while relatives could not fire their dead during the Covid. Soulless seems to me to have played geopolitics in the purchase of vaccines because they came from a non-affiliated country ".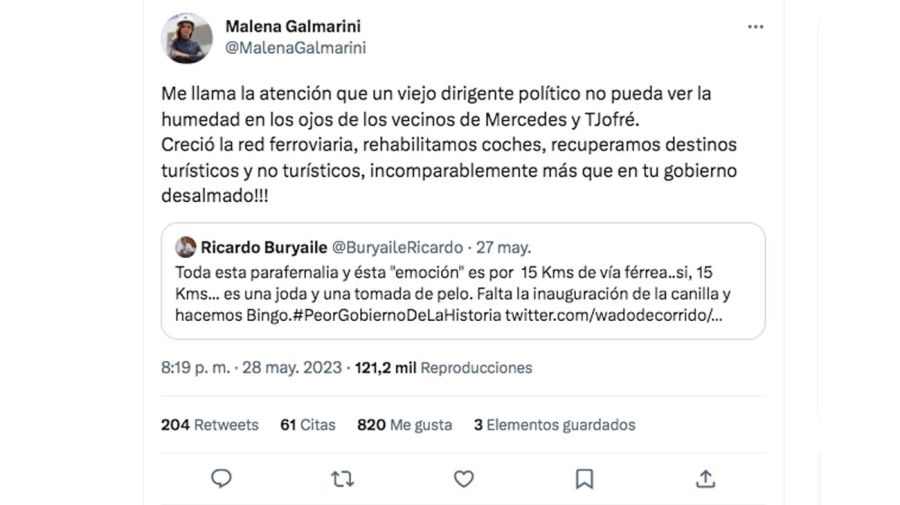 In addition to the criticism of Massa, Pedro and Capitanich, he targeted the governor of Formosa, Gildo Insfrán. "You may not know, but in Formosa we did not have planes, nor long-distance buses, for 17 months. 17, ma'am. The city of Clorinda was closed for more than 200 days without its inhabitants being able to leave it. As you will see, we handle different concepts about soulless ", finished her answer. At the closing of this note, Galmarini had not replied to these statements.
CP