The documentary "Life String 3" starts broadcasting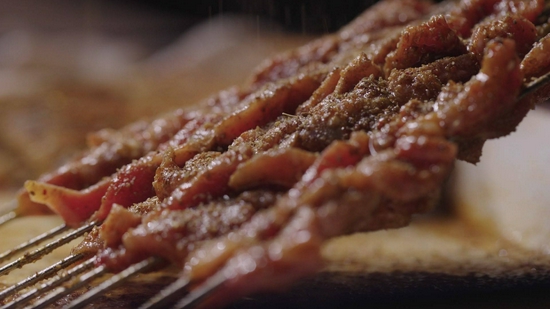 The documentary "Life String 3" starts broadcasting
Sina Entertainment News recently, the gourmet documentary "Life Series 3" was launched. As a return of the classic IP, "Life String 3" continues the positioning of the previous two seasons of "Market", the whole work is still full of "fireworks", and the content of the program is still focused on the barbecue treasures in the north and the south, and Behind the treasure barbecue, people are ordinary but touching stories.
The return of "Life Strand 3" after a lapse of two years is a big surprise. This season's show still continues the main creative team of the previous two seasons, including the story-telling narrator Chen Yingjie, and the legendary million-dollar copywriter Zhang Yueming The director and chief producer of the "Life Series" series, Wang Hailong, and the "Life Series" theme song creator Jiu Bei Band; even photography, post-production, etc. basically retain the core lineup of the first two seasons. The main creative team is all assembled, still focusing on the unique skewers and the life story behind the skewers.
The offline filming event of "Life Series 3" was recently held in Xuhui, Shanghai, and the main creative team came to the scene. At the movie watching scene, the audience felt the immersive experience of watching the first feature film first while eating skewers. Wang Hailong said frankly that the team has traveled across the country in two years, went to many new places, and met many new friends. These friends' masters of baked goods and their stories are the "new life" that will be presented this season.
After watching the feature film, the audience said frankly: The food maps of the previous two seasons were still divided into large areas such as Sichuan, Chongqing and Northeast. Now they have penetrated into counties like Menghai, and the food maps of the show are more accurate. Some viewers even said that when they were studying abroad, they could not eat Chinese food, so they used the series of "Life Series" to dine. Regarding the "Life Strand 3" project, the chief producer Wang Hailong said frankly that the third season of the program not only came to Zibo, Shandong, Yanji, Jilin, Xishuangbanna, Yunnan, etc., but also unlocked Zhejiang, Guizhou, and Guizhou that were not filmed in the first and second seasons. Hebei.
The first episode of "Life Strand 3" shows the different barbecue characteristics from the north and south of the motherland spanning more than 3,000 kilometers, and also shows the life story behind the barbecue. It is reported that "Life Series 3" will start on time at 8 o'clock every Wednesday night from November 17th.
Struggle for Utopia/Text
(Editor in charge: Mo Erfan)
.