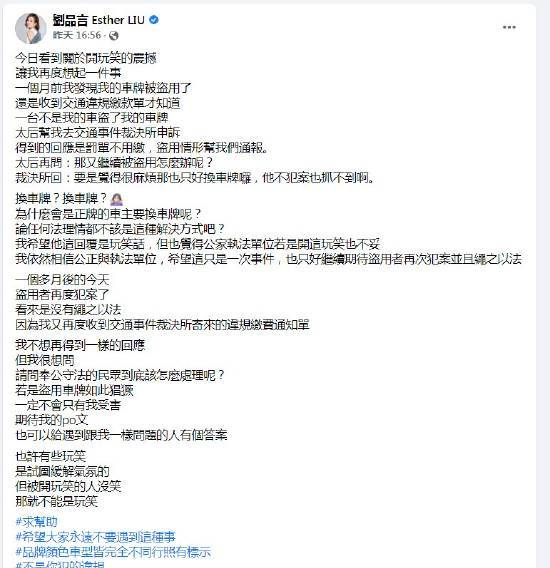 Liu Pinyan sent a message for help
Sohu Entertainment News According to Taiwan media reports on March 29, Liu Pinyan has recently attracted attention again for playing the role of "Hanako" in the drama "The Beginning of Hua Deng", and many people have praised her acting skills. Recently, she mentioned on social platforms that her license plate had been stolen by others, and that the person who stole the license plate has been breaking the rules, and the fine was sent to Liu Pinyan's house, leaving her not knowing what to do, and her words were helpless.
Yesterday, Liu Pinyan posted on a social platform, saying that his license plate had been stolen, "A month ago, I found out that my license plate had been stolen, and I didn't know until I received a traffic violation payment slip that a car that wasn't mine stole my license plate. ." The current handling is that Liu Pinyan's mother helped to run a complaint, and the response was "it's not necessary to pay the fine, and help us report the case of embezzlement." Although there is no need to pay the fine, Liu Pinyan's mother asked the other party what to do if it continues to be embezzled? The response said: "If you think it's very troublesome, you have to change the license plate. If he doesn't commit a crime, he can't be caught."
This way of handling shocked Liu Pinyan. She wrote incomprehensibly, "Change the license plate? Change the license plate? Why should the original car owner change the license plate? No legal reason should be this solution?" It seems incomprehensible Why is it that the victim should take the initiative to evade, rather than put an end to misappropriation. She said that she hoped that the law enforcement unit would respond that this was a joke, and she still believed in justice and law enforcement units, so she could only hope that the pirates would be brought to justice as soon as possible.Return to Sohu, see more
Editor:
Disclaimer: The opinions of this article only represent the author himself, Sohu is an information publishing platform, and Sohu only provides information storage space services.