[New Tang Dynasty News, Beijing time, May 01, 2023]On the evening of April 29, mainstream people in Milan, Italy, were delighted to see the reappearance of traditional Chinese culture. They praised Shen Yun New York Troupe's performance at the Teatro Arcimboldi in Milan. It is amazing, and I admire Shen Yun's efforts in reviving traditional Chinese culture and bringing precious cultural heritage to mankind.
Beniamino Galeazzi, manager of a world-renowned consulting company: "(Watching Shen Yun) is a wonderful experience, which deeply touched my artistic part, but it also reproduced the great and rich Chinese tradition, which is displayed with dance, style and culture. Refreshing."
Marco Salerno, manager of the telecommunications company: "The dancers are extraordinary and refined. They have undergone a lot of training. They can almost fly. It's incredible, just like the aerobatics used in Chinese movies, but Shen Yun actors are really flying."
Beniamino Galeazzi: "I think (Chinese traditional culture) is profound and must be rediscovered and shared with everyone."
Beniamino Galeazzi: "The tenor's singing is beautiful and exciting, because it is rare to hear a tenor singing in Chinese."
While admiring the beauty and magic of Shen Yun, the audience also admired the breadth and depth of traditional Chinese culture, which is a precious heritage of mankind and worthy of preservation and promotion.
Marco Salerno: "It was actually better than I expected, I like Asia, China, I think (in Shen Yun) I found the ancient China I wanted to see. In my opinion, what you see in Shen Yun is better than going to China many."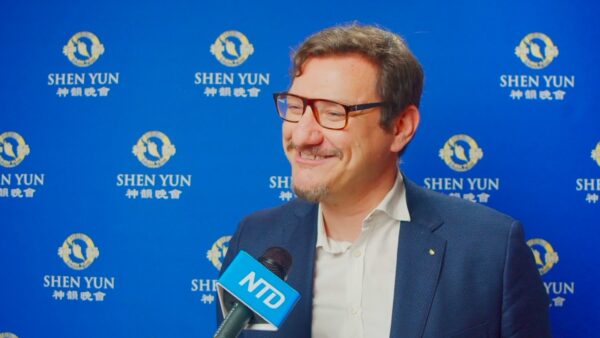 Beniamino Galeazzi: "I think it's too bad (Shen Yun can't return to China), and it's a pity, because Shen Yun is a wealth for everyone, and it's the same for the Chinese. If we can see such a high-level performance."
Marco Salerno: "I like Shen Yun's performance very much. The Shen Yun program brings the ancient Chinese culture, which is the heritage of the entire mankind and must be preserved. Unfortunately, it is opposed today, but it must be carried forward. It's also important to us in the West."
Marco Salerno: "Shen Yun does show divinity, I am not surprised, because in ancient Chinese culture, reality, spirit and gods are interlinked. This is part of traditional Chinese culture, absolutely, people switch from one state to another. To another state, very spiritual."
Beniamino Galeazzi: "I would like to thank Shen Yun artists for their outstanding performance."
(For more information, please click Shen Yun Official Website Booking Information)
New Tang Dynasty Television Italian reporter stationed in Milan to interview and report