Cover reporter Wang Hui Image courtesy of the publisher
"There are three paths in life: uphill, downhill, unexpected."
"The important things are always late. Love is, and so is life."
These words that speak to people's hearts are all from the classic plays "Quartet" and "The Most Perfect Divorce" by the Japanese gold medalist Yuji Sakamoto, who is known as the "Golden Sentence Maker" and has won the Best Screenplay Award for many times. This book has been published by Guangxi Normal University Press. The two TV dramas with the same name are both high-scoring works on Douban. Their plots are all about the city, reality and self-growth. The vivid characterization and precise lines directly touch the hearts of the people.
Once, the TV series "Tokyo Love Story" captivated a generation and even changed many people's views on marriage and love. Chinese audiences got to know Sakamoto Yuji through this drama. In recent years, film and television drama works created by Yuji Sakamoto, such as "Problem Restaurant", "The Most Perfect Divorce", "Quartet", "Yuko Soyada and Three Ex-Husbands", and "Love Like a Bouquet", have continued to arouse heated discussions and attention.
Yuji Sakamoto summed up the type of stories he likes to write: writing for the minority. Make them feel that I'm not the only one who thinks so. "In terms of vitality value, there are many works that turn people with only 10 into 100, but I want those with negative vitality to at least reach zero first, and let people with -5 become -3, this is my The goal."
But in fact, many viewers found resonance in his story: "Yuji Sakamoto, please remove the camera installed in my heart!" Yuji Sakamoto keenly captured a fleeting thought that is not easy for human beings to show. In the lines he writes, trivial everyday things and objects will give different meanings, from which we can learn that he repeatedly chews on the ordinary daily life, turns it into pearls, and then presents it to the audience.
He will process "real life", such as a big earthquake ("The Perfect Divorce"), a sudden kidnapping ("Quartet"), recurring objects as metaphors… In telling readers some cruel truths about society Yu, but with understanding and respect.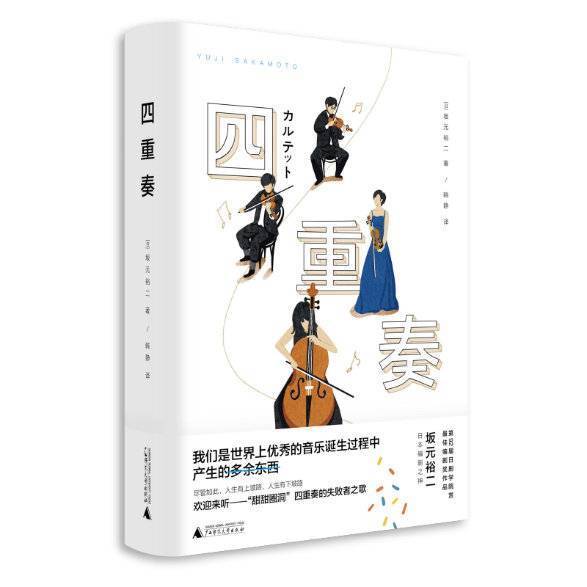 Why is there a large number of young people in China who have become fans of Yuji Ban Yuan when the "mourning culture" and "lying flat" are in power today? Because in his world there is no black or white, no fragrant clothes, no successful people, on the contrary, "it's all poor, lonely and painful people". But he always likes to open a window for the characters and keep a trace of warm hope for them. Those golden sentences written by him express some unknown thoughts, and with unique insights, guide the direction for people who are at a loss.
"Quartet" star Issey Takahashi said that those who are considered by the world to have the lowest ability, do not work well, and have eccentric personalities also have a place in Mr. Sakamoto's world.
Sakamoto Yuji also used "The Most Perfect Divorce" to exhort everyone: Don't deny life because of divorce.
Sakamoto Yuji's gentlest kindness is to set up a huge buffer zone in the characters' self and external world, which can also inspire readers to try to make today a little bit better than yesterday.Return to Sohu, see more
Editor:
Disclaimer: The opinions of this article only represent the author himself, Sohu is an information publishing platform, and Sohu only provides information storage space services.