On June 7, Tencent Music Entertainment Group and South Korea's SM Entertainment (SM Entertainment for short) announced the renewal of the copyright licensing strategic cooperation agreement. Kugou Music, QQ Music, Kuwo Music, and National K Song are the only music platforms in China that debuted for 30 days. In the coming year, users will not only be able to listen to all the music resources of SM Entertainment in Kugou Music, but also experience the popularity of SM Entertainment's An Qixuan, BoA, TVXQ, SUPER JUNIOR, Girls' Generation, SHINee, EXO, NCT, aespa, etc. The singer's latest musical work.
Join hands again to take you to explore the cultural universe of SM
At present, SM Entertainment regards the establishment of a cultural universe as the core of its content strategy, and has been preparing for the future content era since a few years ago, creating their own cultural universe – SM Culture Universe (SMCU). SMCU is a virtual world that transcends nationality and allows fans and artists to meet and travel in the universe. The original content and secondary creation content of SM Entertainment artists will be developed together here. PinkBlood can also re-create SM Entertainment's popular content in their own way. Now SM Entertainment and Kugou Music have reached a copyright cooperation again, which allows us to take you to explore SMCU together. For example, on Kugou Music, you can listen to "Black Mamba" brought by "metaverse girl group" aespa and the reinterpretation of the famous song "Dreams Come Ture" by the predecessor SES.
As one of the largest entertainment companies in Korea, SM Entertainment's music works have more than 50 billion searches on video platforms, the number of audiences for world tours has reached 20 million, and the number of SM Entertainment global interview applicants each year has reached 170,000. SM Entertainment and Kugou have established strategic cooperation since 2019, which is an integral part of Kugou music copyright.
TVXQ, SUPER JUNIOR, Girls' Generation and EXO under SM Entertainment also carry the youth of people of different ages, and their songs also have a large audience in Kugou Music. For example, EXO's "Been Through" has more than 49 million listeners and has been on the Kugou Music TOP500 list 438 times, once topping the list. In addition, songs such as Red Velvet's "Psycho", Girls' Generation's "Gee", and SUPER JUNIOR's "SORRY, SORRY" have also appeared on the Kugou Music TOP500 list many times. Behind these data are recorded the youth that everyone burned together in those years.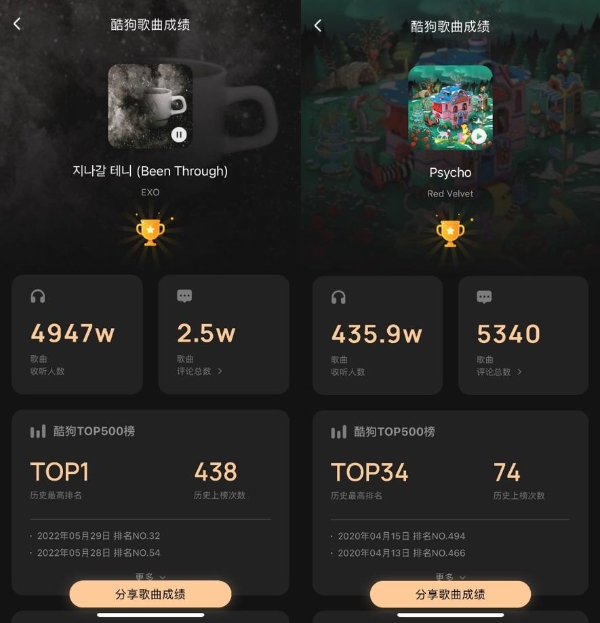 Under this opportunity, Kugou Music created the "Treasure Recommendations that PinkBlood understands in seconds" for PinkBlood. Special Playlist"]. From June 7th to June 17th, search for "SM" in Kugou Music, enter the special page of "Kugou Music invites you to explore the SM cultural universe" and post high-quality comments, you will have the opportunity to get NCT DREAM season peripheral products .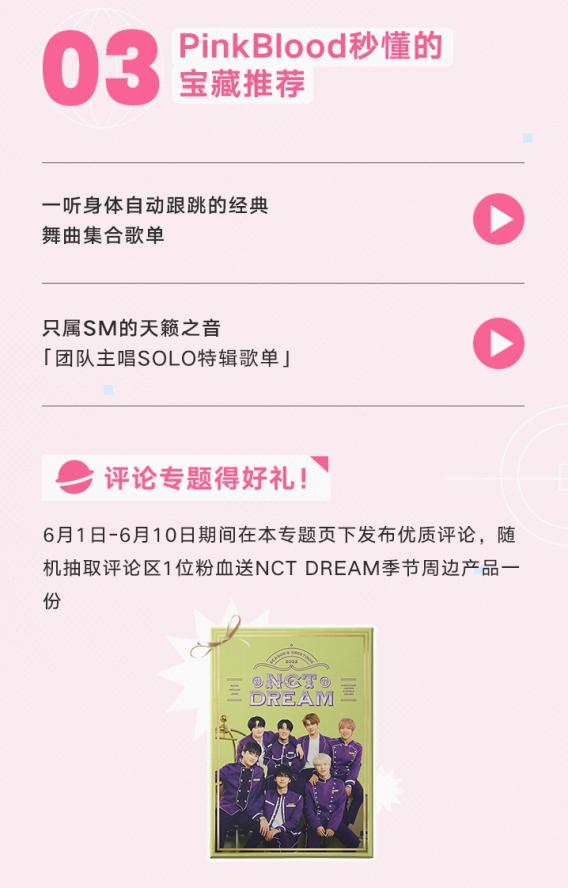 Massive genuine music library allows you to meet every sound in Kugou
Kugou Music is the earliest music platform in China, and it has gradually developed into a national-level music platform. Through the model of "external copyright introduction + internal copyright development", music copyright layout is carried out, and a massive genuine music library has been established.
In terms of copyright introduction, it has cooperated with top copyright companies including Universal Music, Warner Music, Sony and other top copyright companies. At the same time, it has cooperated with many classic record companies such as Rolling Stone Records, Emperor Entertainment, Fu Mao Records, as well as Japan's famous SPACE SHOWER, Being, U'S MUSIC, Music labels such as Pony Canyon have reached strategic cooperation to continuously expand the massive music library resources. The strength of Kugou Music, which solves the rigid needs of copyright, proves the true fragrance experience of "Just Geduo", covering various genres and multiple music versions, allowing music lovers to encounter every sound on the Kugou platform.
At the same time, self-produced copyrighted songs are another important way for Kugou to enrich the music content ecosystem on the platform. Previously, Kugou started from the upstream of the music industry chain, launched a series of support projects such as the "Kugou Musician Xingyao Program", and unearthed a group of outstanding music creators. With support, many "popular songs" including "Xiao Na", "Flowers All the Way" and "Youth" have been successfully created, promoting the prosperity of the content creation ecology of the industry.
This time, Kugou Music and SM Entertainment have joined hands again, which will definitely provide better digital music services for music fans. Not only will the songs of all SM Entertainment artists be under your control, but also more interesting music will be brought to you. Interactive gameplay brings you one step closer to idols.