Toneworks is a small music technology company based in Copenhagen, Denmark, that aims to provide music producers with classic tools and new interpretations of existing technologies. Catalyst, the first software the company has released, features a comprehensive step sequencer, harmonizer, arpeggiator, and more, allowing users to edit melodies, chord progressions, and arpeggios without using the piano roll .
Catalyst is a powerful sequencer plug-in designed for the era when you're creatively stuck and need a creative flow. It can create patterns of classic and modern synths that always fit the key of the song, with the ability to load synth plug-ins directly in Catalyst and automate parameters with a dedicated step sequencer. Allows you to explore a wealth of musical inspiration without being entangled in the DAW's piano roll.
sequencer
The Catalyst features a monophonic 32-step sequencer module with individual pitch, velocity and gate time controls for each step. Users can select a key and scale, and the steps of the pitch control will automatically snap to notes within that scale, ensuring that any pattern made with the sequencer will be in key perfectly. Its steps can also be chained together to create longer patterns, and portamentos can also be created if the chained synth plug-in has a legato mode. There are five pattern slots in the module that can be used to store different variations, and patterns can be converted or switched between them by sending MIDI messages from the DAW host.
Harmonizer
Catalyst can directly load VST/AU instrument plug-ins, as well as route MIDI output to other virtual instruments in the DAW. Notes generated by the sequencer can be routed to the plug-in's harmonizer to create complete chords. Only the seven basic chords of the selected key will be played, and users can add sixth, seventh and ninth notes to each individual chord, or change inversions to create chord progressions and transitions. A range of articulation settings controls the number of notes used in each chord, with choices ranging from power chords with only two notes, to underlay chords with multiple notes spanning multiple octaves.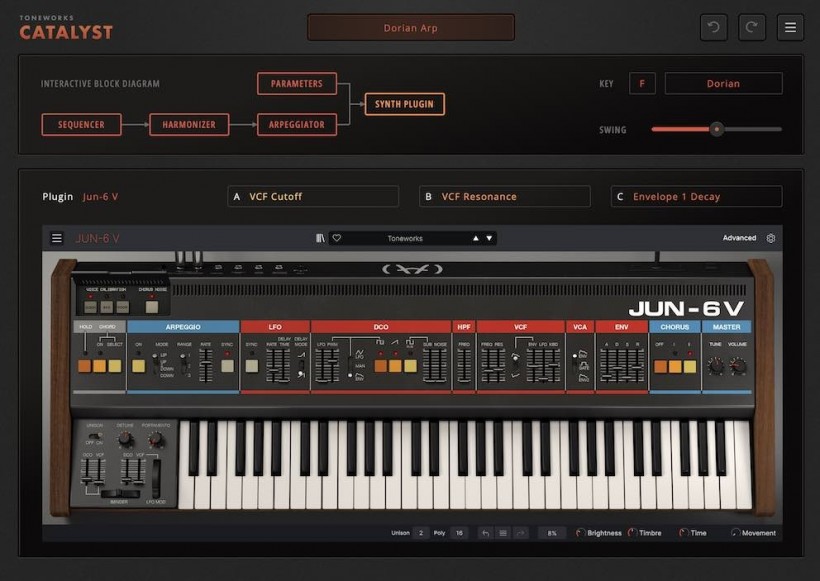 Arpeggiator
Catalyst's arpeggiator converts created chords into single-note patterns. Instead of relying on preset patterns, it allows users to create their own patterns using the same set of controls for pitch, velocity, and gate timing as a step sequencer. Notes can be added above/below the notes present in the incoming chord to create longer patterns, and there is a dedicated set of editing functions for up/down modes.
configuration
Each of Catalyst's modules can be turned on or off for use individually or in any combination, and MIDI from the host DAW is always routed to the first active module. In addition to controlling which notes are played by the loaded instrument, Catalyst also features a dedicated parametric sequencer that applies automation to the corresponding controls. Additionally, the Sequencer, Harmonizer and Arpeggiator sections are capable of sending MIDI back to the DAW, so you can take advantage of the plug-in's capabilities without having to load the instrument directly.
Please watch the introduction video (original video address: https://youtu.be/PmNlAXCgb3c)
Catalyst is suitable for Windows/Mac (compatible with Apple silicon) systems, supports VST2/VST3/AU plug-in formats, the first special price: 49 euros (original price: 79 euros), and the offer ends on March 31, 2023.
Download the trial version from the official website: https://toneworks.io/