The presidential candidate for the FIT, Myriam Bregman and the pre-candidate for national deputy of Javier Milei, Diana MondinoThey staged an intense debate on social networks. "Go and sing the anthem of the United States", It was the last sentence of the leftist leader against the libertarian.
"I didn't really understand the concept of 'shame on others' until I turned on the radio and started listening to a report on Diana Mondino on climate change and ESI", Bregman began on social networks. The PTS leader pointed without a filter against the economist who chose the presidential candidate of La Libertad AvanzaJavier Milei, for deputy for the City.
Mondino's pulse does not tremble for insults, some time ago he had targeted Foreign Minister Santiago Cafiero with a "I take a bath and I speak English", so when he read Bregman he replied immediately: "Few things can make me as proud as receiving insults from someone who doesn't sing our anthem."
Mondino used for his argument the words of Bregman in 2011 who confessed: "Those of us who come from the leftist tradition do not sing the hymn and we respect all the working people who do so and feel identified with their verses".
Bregman did not let the answer pass and retorted: "You want to dollarize and liquidate the national currency, go sing the anthem of the United States."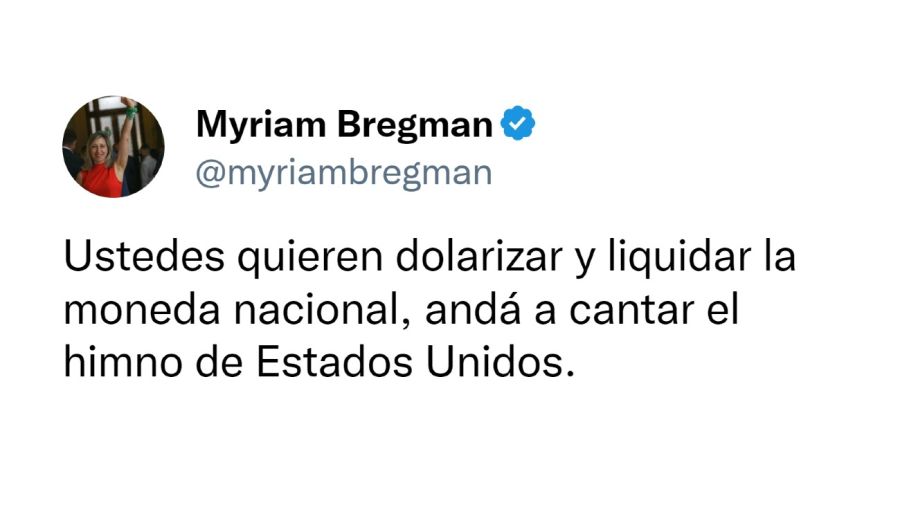 The FIT-Liberal crossing did not stop there, since shortly after Bregman mocked that Buenos Aires legislator Ramiro Marra in his networks he mentioned himself as a candidate for "mayor" of the City. The leftist leader replied to a tweet in which they compare it with the "mayor diamond", a corrupt character from The Simpsons series.
Diana Mondino and her criticism for everyone
It was last May 31 when Mondino chicaned foreign minister Santiago Cafiero: "I take a bath and speak English". It was a ping pong on a show LN+ in which the Liberal candidate gave her verdict on several members of the ruling party and the opposition.
Cristina Kirchner was defined as "cynical", while Alberto Fernández was branded as "useless"in the opinion of the economist born in Córdoba.
Patricia Bullrich, for Mondino, is "a fighter". But her perspective on Horacio Rodriguez Larreta was more severe: "I think he does not have a clear horizon of what he would have to do. A guy who could not choose the tiles of a sidewalk, is he going to choose you for public policy?".
As for Mauricio Macri, the leader stated that the former president "did many things and was left wanting to have done more." With respect to Martín Lousteau, maintained that he is "carindo and nothing more".
RB / ED