Shanghai Famous Brands of CCTV Spring Festival Gala: High-spirited and affectionateFly into the homes of ordinary people
Zhu Jiejing (middle) performing, photo by Jia Ningzhi
Singer Liao Changyong, dancer Zhu Jiejing, opera master Shi Yihong and Lan Tian are the four Shanghai famous brands that shined in the CCTV Spring Festival Gala last night. On New Year's Eve, Shanghai viewers saw familiar Shanghai faces again in the CCTV Spring Festival Gala, and they felt very cordial and high-spirited.

Listening to "The Expedition": The spirit doubles

---
"Every Spring Festival Gala, when it comes to the opera section, it is more refreshing." Shi Yihong has participated in the Spring Festival Gala for the third time. Twenty years ago, she also sang "Mu Guiying in Command" on the stage. This time, she sang "The Golden Drum I Hear" with the other two Mei Pai Tsing Yi on the same stage. The spirit of traditional Chinese people, every time they rehearse the opera section, they can feel a different spiritual outlook, and opera does have such a shocking power." "Many audiences understand Peking opera very well." Shi Yihong hopes that this will be the case in the Spring Festival Gala. The stage can better reflect the state of respecting tradition and respecting the predecessors.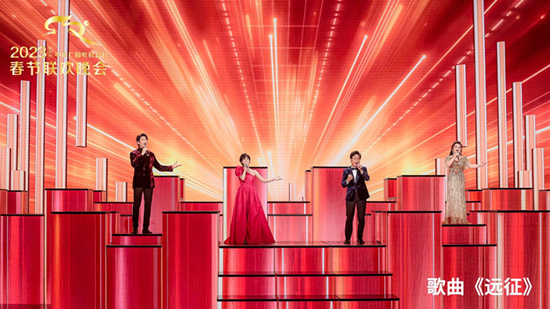 Liao Changyong (second from right) sang "The Expedition"
Being able to dedicate a powerful and hopeful song like "The Expedition" to the people of the whole country, Liao Changyong said bluntly: "For the Chinese, the Spring Festival Gala is an indispensable part of the New Year's Eve dinner. From 1983 to the present, it has 40 years The Spring Festival Gala in history has left many good songs and dances almost every year, and it has become a freeze frame of people's warm memory."

Dance Steps of "The Bridge of Dingbu": Beautiful mountains and beautiful waters

---
Last night, it was the third time that Zhu Jiejing appeared on the CCTV Spring Festival Gala stage. In 2020 and 2021, Zhu Jiejing and the actors of the Shanghai Song and Dance Troupe appeared on the CCTV Spring Festival Gala for two consecutive years, performing original dance dramas "Eternal Wave" and "Crested Ibis". And last night, with the students of the Zhejiang Conservatory of Music School of Dance, they performed "The Bridge of Ik Steps", and the aesthetic atmosphere broke out of the frame. Zhu Jiejing said: "My hometown, Zhejiang, has beautiful mountains, beautiful water, and even more beautiful people. A long bridge with anchor steps is a warm childhood memory."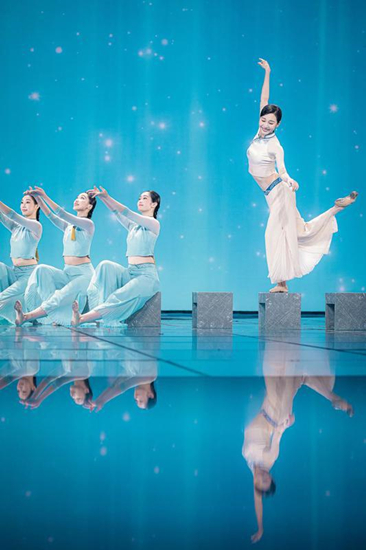 Dance "The Bridge of Ikari Steps" Photo by Jia Ningzhi
With the help of high-tech stage scenery, beautiful Jiangnan women walk on tiptoe across the Dingbu Bridge, and the clear water pours down, looking from a distance like a fairy in the water walking gently on the waves. "You can always trust dance shows, and you deserve to be responsible for your appearance!" No wonder that almost immediately after the performance of the dance "Dingbuqiao", some people lamented that they were once again "purified" by Chinese dance in the circle of friends.

"Meeting Relatives" in Liyuan: Deep and meaningful

---
Lan Tian and Shi Yihong, the actors of Yang Zirong, the sixth generation of Peking Opera Theater, are not only in the same theater, but also in the same performing troupe. One month ago, Lan Tian came to Beijing to participate in the recording of the New Year's Day Opera Gala. At the backstage of the Spring Festival Gala, he met Shi Yihong who was dressed in casual clothes. He recognized him at a glance and said excitedly, "Finally I see my relatives!"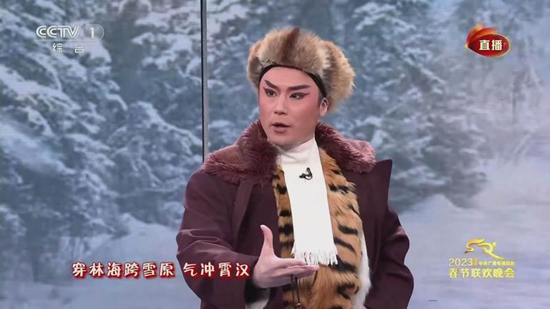 blue sky
Last night, as the end of the "Hua Cai Pear Garden" program, Yang Zirong from the blue sky was full of tunes, and together with the other three "Yang Zirong" wished "the red flag is unfurling from all continents and all over the world". The four actors come from different troupes, so there are naturally differences in performance. Lan Tian said that everyone discussed it during the rehearsal, and everyone recognized the accumulation and inheritance of the Shanghai Peking Opera Theater in "Taking Tiger Mountain Out of Wisdom", so The final performance version was also adjusted based on the Shanghai Peking Opera version. Lan Tian said: "This time I saw a lot of children in the martial arts show, and there was a row of little 'Mulan', I thought of our childhood."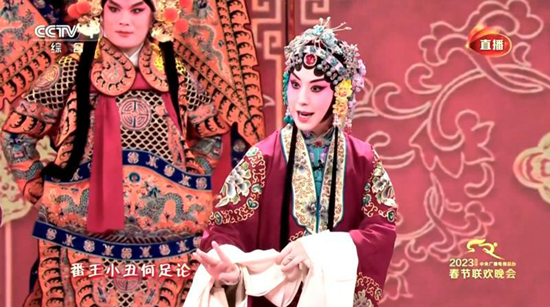 Shiihiro
This year is also the 40th anniversary of the Spring Festival Gala accompanying the audience. Shi Yihong said with emotion: "It's amazing! When I was a child, my parents and I must have stayed in front of the TV after dinner to wait for the Spring Festival Gala on New Year's Eve. The Spring Festival Gala has given Chinese people all over the world a warm New Year It makes them feel like they are at home, which is the most important gift China has given to Chinese people around the world." (Xinmin Evening PostReporter Zhao Yue Zhu Yuan)
Editor: Lu Weixin