[Epoch Times, May 08, 2022](The Epoch Times, Fussen Reporter Station, Germany) On May 7, 2022, the Festspielhaus Neuschwanstein (Festspielhaus Neuschwanstein) in Germany welcomed two Shen Yun World Art Troupes in one day. People from the mainstream society came to watch the performance in costumes, creating a good box office performance. The afternoon session was full, and the evening session was also full.
Professionals greatly admire Shen Yun's artistic achievements, and praise Shen Yun as a magnificent work whose artistic level has reached the top in the world.
Musician: Shen Yun is an artistic masterpiece that has reached the world's top level
Composer and cellist Graham Waterhouse praised Shen Yun as a world-class performer after watching the Shen Yun performance.
He said, "The level of Shen Yun is undoubtedly the highest level. Of course, what attracts me the most is that the combination of many human wisdom and skills are all integrated into such a performance, which is really extraordinary. As a whole artistic creation, Shen Yun performance reached the highest level."
Born into a London musical family, Graham Waterhouse studied cello, conducting, piano and chamber music in the UK and Germany. As a cellist, he has toured around the world, and many of his compositions and performances have won awards internationally.
Waterhouse praised Shen Yun as a holistic work, "subtly blending many different elements, such as music, dance, technique, graphic art, costumes, vocal music, etc., to form a whole work of art. And this place is adjacent to where Wagner once worked. (Neuschwanstein Castle), it fits well too. Such a show is really amazing."
Erhu solo left a deep impression on him. "I was very happy to see that erhu player perform."
He said, "The choreography is amazing, the perfect coordination, and the whole is a unique experience. I hope that Shen Yun will be performed in more cities around the world for a long time to captivate more audiences."
He praised "the cooperation between the dance performance and the orchestra is amazing. I know very well how long it takes to achieve the perfect coordination of the stage music and the canopy art, and Shen Yun has reached the top level, which is extraordinary."
He said: "I can feel the energy from the stage, especially in the dancer's dance moves, which is very light and pleasant. The performance of the actors is so superb that they seem to lose the restraint of gravity and have no sense of weight. Watching a performance like this is so heartwarming and inspiring."
The heir of the world's top clock brand family: everything is so good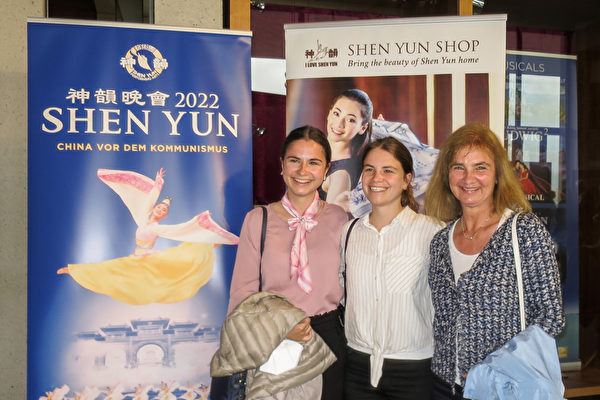 On the afternoon of May 7, after two years of waiting, Stephanie Sattler-Rick took her two daughters to watch the Shen Yun performance. Ms. Sattler-Rick is the family heir and current president of Erwin Sattler, the world's top precision table clock brand in Germany.
"We just absolutely loved it," she said. "It was amazing, so was the costumes, everything was really good."
"Every dancer is excellent and beautiful. The costumes give the impression of being elegant and noble, and everything is wonderful," Sattler-Rick said. "The Shen Yun performance is rich and varied, and people can learn about Chinese culture and watch German ballet. It feels completely different, and I like it a lot."
Sattler-Rick said that he likes the plum blossom dance very much. "From a purely visual point of view and dance, I think the dance that expresses plum blossoms is the most wonderful. Just like spring, it is full of sunshine and everything is beautiful. Erhu is also very attractive. Man, intoxicating."
"What amazes me is that there is a cultural connotation behind the show. She contains very humorous moments – a very funny show, but also a very serious one, showing the political environment (in China today), which I think is very clever. ."
She mentioned the program showing the CCP's organ trafficking crime, "The story about the doctor and her daughter is the most touching. The suppression (of faith) is interpreted through dance. It also impressed me a lot, and of course I was very moved."
The persecution of beliefs by the CCP displayed by Shen Yun is a fact, Sattler-Rick said, "It is like this, there is no doubt that it should be shown. Let others understand the culture, of course, including the positive side and the dark side."
Shen Yun showcases traditional values ​​that both mother and daughter feel are important to today's society. "Shen Yun delivered it very well, and that was very important to everyone," Sattler-Rick said.
She gets a lot of inspiration from the singer's lyrics. "She (Shen Yun) contains beauty and holy places or similar content. There are also gods, which often appear." She said that she would walk out of the theater with a good feeling.
Ballet dancers and choreographers: Shen Yun performers are rare in their expressiveness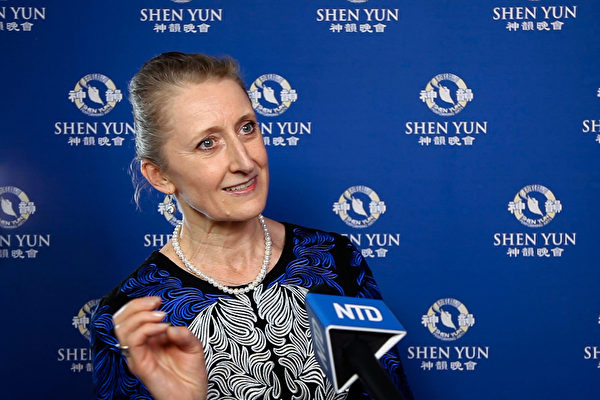 After watching the performance, ballet dancer, choreographer and teacher Kira Lokotkova praised Shen Yun dancers as a rare multi-faceted performer.
She said, "The performances of Shen Yun dancers are very good, because they not only have to dance, but also perform some scenes and express rich emotions. I don't think there are many dancers with such rich expressiveness. It is rare, they must have gone through a special training."
She further said, "They play different roles. I think they are made for the stage. They play their roles and pass them on to the audience."
Kira Lokotkova was born in Russia, she danced ballet, toured around the world for many years, then taught classical ballet, role dance, etc., and is currently working at the Munich Ballet School.
She was impressed by the rich expressiveness of Chinese classical dance and the devotion of the actors to the performance. "I think the dance is very expressive, the dancers are full of emotion, and the combination of jumping and dancing is unique. The music, the extensibility of the dancer's body, the colorful costumes, and the dynamic canopy complement the performance on stage. , these are very impressive to me. The actors are jumping here and jumping into the sky again, which is great."
As a senior dancer and teacher, Lokotkova said that the abilities of Shen Yun performers are extraordinary. "Because I know the average dancer well, they don't have that ability."
She thanked the Shen Yun performance for her creative inspiration, "Yes, I'm reconsidering choreographing a set of Asian dances, because I myself am a choreographer. The (Shen Yun) performance has expanded my knowledge. I must watch more, later ( I) might make something. I want to keep watching, see more shows like this."
Finally, Lokotkova said, "I am very grateful to Shen Yun – a very wonderful performance. Today is a harvest day."
Responsible editor: Zhou Ren#