[Epoch Times March 07, 2022](The Epoch Times reporter Jiang Li reported in Phoenix, USA) On the afternoon of March 6, Shen Yun North American Art Troupe performed its sixth performance at the Phoenix Orpheum in Phoenix, Arizona. It is also the last local performance of Shen Yun in 2022.
For five days in a row, Shen Yun's six shows in Phoenix, Arizona, achieved a box office miracle that was full or even sold out. Whether it is a world-best-selling author or a multimillionaire, whether it is a senior architect or a government official, mainstream elites from all walks of life have fallen in love with Shen Yun.
When walking out of the theater, many audiences felt hope, their lives were sublimated, and some audiences felt that their humanity was reshaped. The pure and beautiful performance presented by Shen Yun and the message of "goodness" conveyed by the artist have left audiences with unforgettable life experiences.
Corporate Philanthropist: Shen Yun Demonstrates Integrity and Delivers "Goodness"
"Beautiful! I've been wanting to see it for the past few years, and this time I finally got the chance to see it," said corporate philanthropist Sonia Hodgin excitedly. It's what we try to practice and always remember, and that's the beauty of life."
Hodgin is a well-known local investor, entrepreneur and philanthropist. She owns 17 companies, including real estate professional investment companies, investment portfolio and investment analysis companies, architecture/design companies, etc. She is also an investment mentor, a core leader and board member of the TRUE WOMEN Tucson nonprofit, and a donor to many theaters.
On the afternoon of the 6th, she and her goddaughter watched Shen Yun's performance together. She said: "The culture is so beautiful and the dance is unbelievably beautiful. I've been dancing my whole life and it's so beautiful to see so many different dances with music accompaniment, choreography, the dance is so extraordinary !"
"From dancing, I see passion, integrity, the culture behind those dances, and the love for life."
She said, "We can come here to watch the show and see them show us 'goodness' and show us their love for dance and art through the show, which is a beautiful enjoyment in itself."
When she saw the dance drama "Restaurant Story" in the performance, she felt a lot, "We all try our best to live a better life, but when you see others can show goodness when they lose everything, you will suddenly be enlightened. , I feel that there is no need to fight anymore, our kindness allows us to help each other."
The most unforgettable thing for Hodgin is that Shen Yun shows the connotation of divinity and the story about the creator of the world leading the gods to descend, "I like this theme very much, I didn't know it before watching the performance, but seeing this presentation, I love it, it's like you're going back to that (long) era, and that's part of it, it's really a great show."
She strongly recommends Shen Yun: "This is a show that everyone should watch, and everyone should be there to enjoy such a performance. Such a performance is a precious experience that all of us should have sooner or later."
Company Founder and CEO: Everyone Should Watch Shen Yun
"It's a great thing to be able to see the performance here and experience Chinese culture and art first-hand," said CEO Bob Bernstein after watching the Shen Yun performance.
Bernstein is the founder and CEO of eSeats.com, a ticketing company headquartered in Phoenix that not only handles local ticketing, but also specializes in helping customers get tickets to major events in the U.S. and around the world, such as the Golf Masters, Olympics, Super Bowl , Broadway theaters, boxing, etc.
"Shen Yun's performances are outstanding, and they are all very good artists," Bernstein said. "Telling stories through art is a great way to let people know about China. Shen Yun expresses China's cultural history in this way, so that people can learn more about China. People are yearning for it, and it's been great!"
According to the Shen Yun program booklet, the show shows China before communism. He said: "It's a good demonstration. I hope to see more shows like this. Unfortunately, the China we see today is all about contemporary politics and conflict, and we don't have the opportunity to see such a beautiful Chinese culture. and history."
"This is a show that everyone should watch. You can learn more about China, understand history, and especially learn about China from a different angle that we can't see in the news," he said.
Bernstein also praised Shen Yun's dynamic background canopy, "The performance combines modern technology and ancient culture, which is a very bold idea, especially the combination of the background image and the dance on the stage, which is amazing. Very cool."
Mrs. Bernstein, Debbie, is an accountant. She said that she was very happy to see the traditional Chinese culture displayed by Shen Yun through art. "It's amazing to be able to see Chinese culture and different ethnic dances."
She said that a program that showed the persecution of the CCP's belief in Falun Gong left a deep impression on her. "The story about living organ harvesting is so shocking."
Vice President of Marketing: Watching Shen Yun feels happy but forgets the unhappiness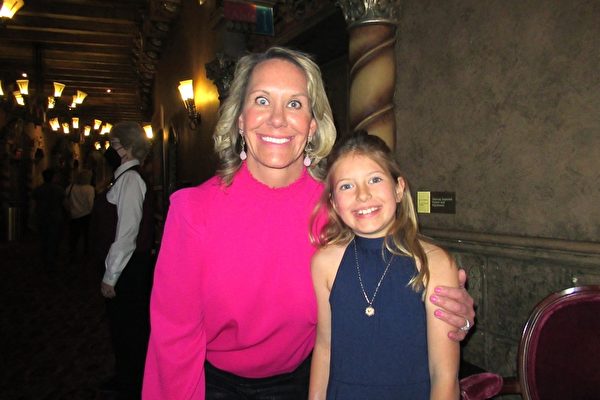 "This is an excellent performance, absolutely outstanding. The colors are so rich, so gorgeous, and so beautiful! I have never seen such a beautiful performance." Kelly Dean, vice president of marketing, praised after watching Shen Yun's performance.
Dean said happily: "I was so happy watching the show, it made me forget all the unpleasant things that happened outside the theater. It was a wonderful feeling."
She admired the story of the show and the way it was presented, "We saw an ancient culture, different shows, different stories, shown through dance, it was amazing, awesome!"
Showing it off in a way that even kids can understand, she said, "is really cool and brilliant."
She was also pleasantly surprised by the divine connotation presented by Shen Yun's performance, "It was something I didn't expect, but it was a great presentation." She said that she liked the first act of the show where the gods descended with the creator. , "Very inspiring and beautiful!"
Finally, she said that she would definitely recommend Shen Yun to her friends.
Responsible editor: Xia Jing#