Looking for a simple cornmeal cake recipe to serve with a nice cup of coffee? I'm sure you will love this recipe.
In addition to being very simple, this cake is super cute and delicious.
How to make cornmeal cake

Without a doubt, cornmeal cake is one of my favorites. Since I was a child, it has always been my favorite flavor and this recipe is very similar to the recipe from my childhood.

The big difference is that in this version, you will use the blender, that is, making this cake will be super practical and fast.

But, without a doubt, you can make your cake in a mixer or by hand.
Tips for making the perfect cornmeal cake
This is likely to be one of those recipes that you can't go wrong with. But we know that it is essential to follow some tips to make the perfect cake.
For example, it's important that the ingredients are all at room temperature. Likewise, choosing good ingredients is essential.
Also, in a blender, it's good to start with the liquid ingredients and then alternate with the solids. As well as leaving the wheat flour and yeast to mix last and very quickly.
Want more tips on how to make the perfect cake? Click here and check it out.
Ideas to make your cake even tastier
As I said, this is a simple cornmeal cake recipe. But without a doubt, you can bring even more flavor to your preparation. For example:
Guava paste: Either in small pieces in the middle of the dough, or in the form of a topping, it will undoubtedly be delicious;
Anise: I, particularly, am not a big fan of this ingredient, but if you enjoy it, it is certainly the perfect choice;
Coco: Here, in addition to including grated coconut in the dough, you can prepare a softer coconut brigadeiro and use it as a topping.
orange zest: How about bringing a citric touch to your cake. That combination.
Check out the simple cornmeal cake recipe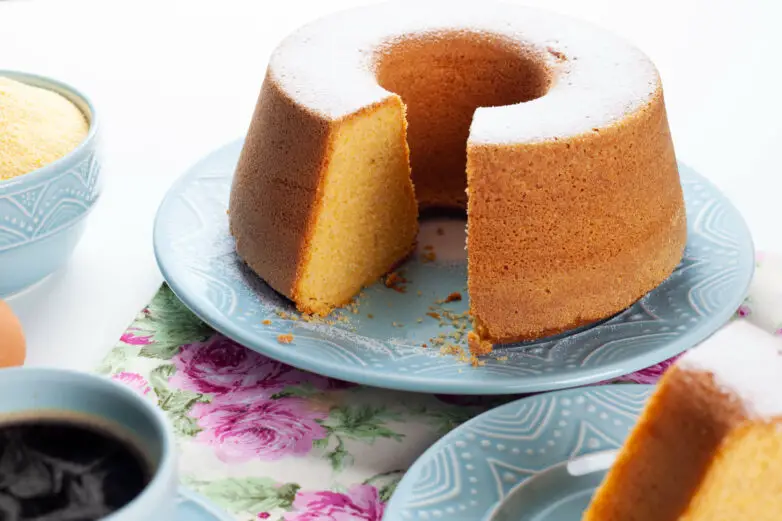 Yield: 10 servings
Simple Cornmeal Cake
Prep Time:
5 minutes
Cook Time:
40 minutes
Total Time:
45 minutes
Delicious, fluffy and made in a blender, this cornmeal cake is the perfect recipe to accompany a delicious cup of coffee.
Ingredients
3 eggs;
2 cups of sugar;
1 cup of milk;
2 cups of cornmeal;
1/2 cup oil;
1 cup wheat flour;
1 tablespoon baking powder.
Instructions
In the blender mix the eggs, sugar, milk, cornmeal and oil and beat until you form a very uniform cream;
Then add the wheat flour and baking powder and, in the pulsar function, beat just enough to mix the ingredients;
Transfer your dough to a greased shape with butter and floured with cornmeal;
Bake in a preheated oven at an average temperature of approximately 200° for 40 minutes or until a toothpick comes out clean.
Wait a few minutes to unmold and serve.
More cornmeal cake recipes
Items that can help make your cake🛍️
By purchasing through the link below, we receive a small commission and that way, you help us maintain our content production. To access just click on the name of the item.
Blender: The advantage of this recipe is that you can use the blender to prepare the dough. Around here we use a model with a glass cup and we love it;
Crockery: In the photos that illustrate this recipe, we use Oxford Porcelain tableware.
Don't miss this recipe! Save to your Pinterest