Sohu Entertainment News (Hammer/Text) Liu Xunzimo directed, Yin Zheng, Deng Jiajia, Yu Entai, Yang Haoyu, Chen Minghao, Qin Xiaoxian, Zhang Benyu, Kodak and other starring "Fame and Li Wan" became a dark horse. The film was released for 11 days and accumulated. The total box office reached 386 million yuan, overwhelming new films such as "Door Lock" and "Railway Hero", ranking first in the single-day box office.
According to this trend, Maoyan's blink of an eye predicts that its final box office may be 700 million yuan.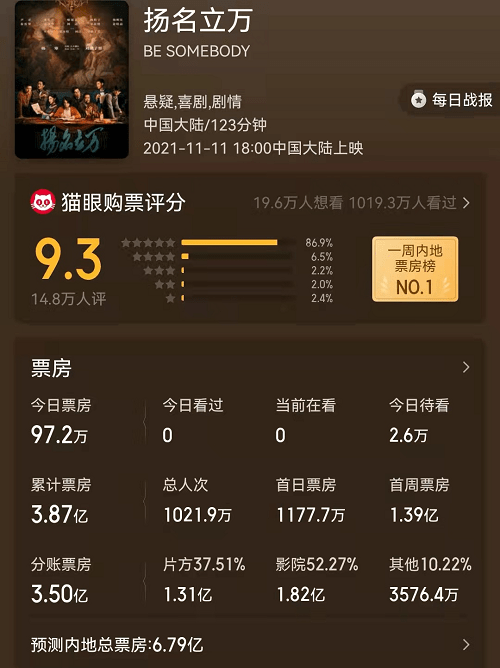 The story of "Rising to the Fame" takes place in a villa, the scene is simple, mainly driven by suspense, the actors do not have high-paying big names, the overall cost is estimated to be not high, and it can be regarded as a small and medium-sized production. At present, the total box office is 386 million yuan, and the film side account is 131 million yuan. It has already paid back and made money. The higher the box office, the higher the profit.
The main producers of this film are Shanghai Mao Eyeshadow, Beijing Wanhe Tianyi, and Shanghai Tingdong Pictures. Wanhe Tianyi is the initiator of the project. Director Liu Xunzimo, starring Zhang Benyu and Kodak are all from the company. Tingdong Pictures is the company at the helm of Han Han. Han Han holds 51.56% of the shares. Ali Pictures and Bona Pictures are the second and third shareholders, holding 13.12% and 11.25% respectively.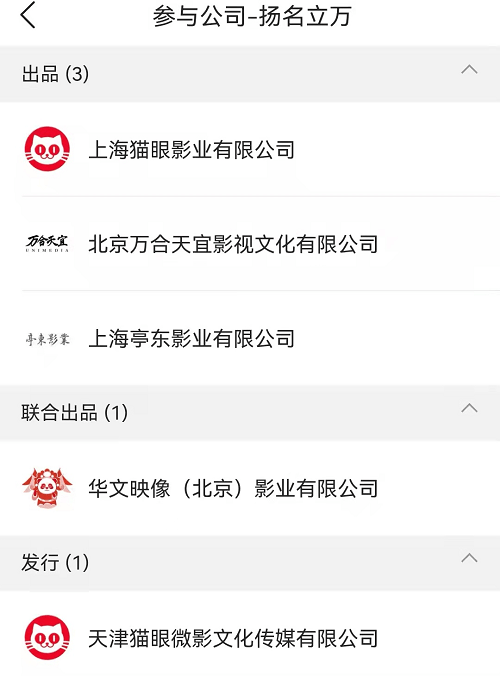 Han Han has a long history with Wan He Tianyi. He once served as the artistic director of the debut feature film "Wonderful Unexpected" called Beast Yi Xiaoxing, and this time he also served as the producer of "Famous Li Wan". "Unexpectedly" is mainly produced by Lu Jinbo's fruit and wheat culture. Lu Jinbo is very familiar with Han Han and has published many of his books. Han Han's Tingdong Films also participated in "Unexpectedly".
Han Han's Tingdong Films not only invests in Han Han's own films "Riding the Wind and Breaking the Waves", "Speeding Life" and "The Four Seas", but also participated in the "Unexpectedly", "Slaying the Wolf Greedy Wolf", "Worry-free Grocery Store" and "The Earth" in recent years. For movies such as "The Last Night" and "Sunshine Robbers", a wide range of companies have cooperated with, including Bona, Wanda Films, Huace Films, Laurel Films, Cat Eye Films, etc.
In addition, it also controls and casts films that are not directed by Han Han, and future projects include "Forget Your Thoughts", "The King of the Sky", "Youthful Things" and "Playing with Fire". Among them, "Nian Nian Xiang Forgotten" is directed by Liu Zhenyun's daughter Liu Yulin, starring Liu Haocun and Song Weilong. It is scheduled to be released on Chinese Valentine's Day in 2022.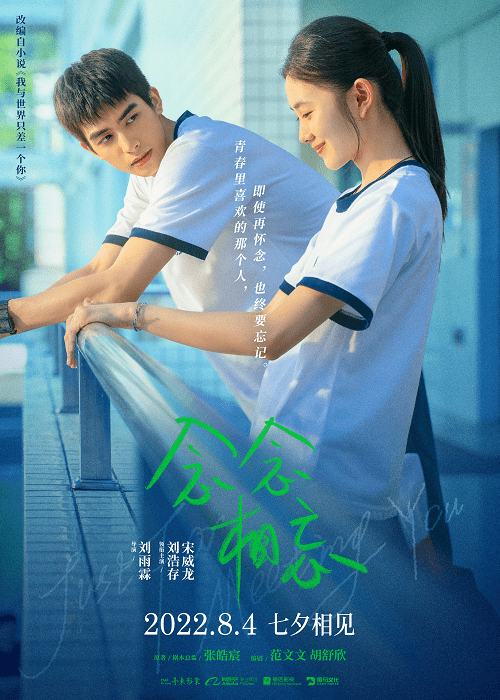 Return to Sohu to see more
Editor:
Disclaimer: The opinions of this article only represent the author himself. Sohu is an information publishing platform. Sohu only provides information storage space services.
.